Great time at Plane Crazy Saturday with Dick Rutan! His presentation was very interesting and gave everyone a glimpse of his adventure at the North Pole when our friend Ron Sheardown lost his AN-2 in the ice.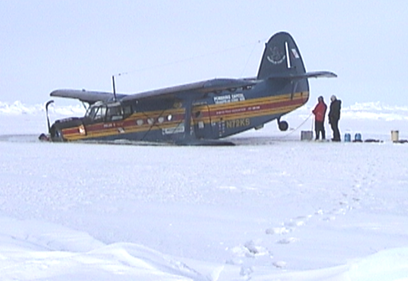 Beautiful winter day in Mojave! Not too cool and no wind! Wow! Lots of airplanes flew in and it was a packed house for Rutan's talk. 
We also celebrated the fact that it was the 32nd anniversary of Dick Rutan and Jeana Yeager's epic flight around the world in the Voyager Aircraft, non-stop and unrefueled in 1986 – Dec. 14-Dec. 23 – 9 days, 3 minutes and 44 seconds!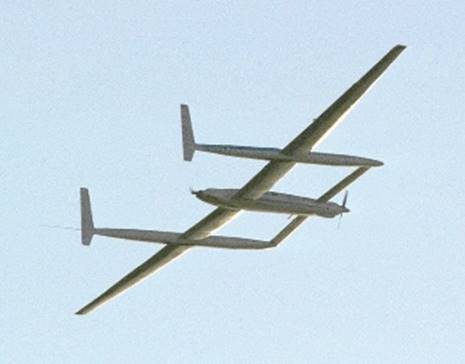 There was a nice mixture of aircraft types on the ramp at Mojave Air & Spaceport! Everything from Rutan VariEze designs, Cessna's, Beechcraft Bonanza's, Ercoupe's and vintage warbirds.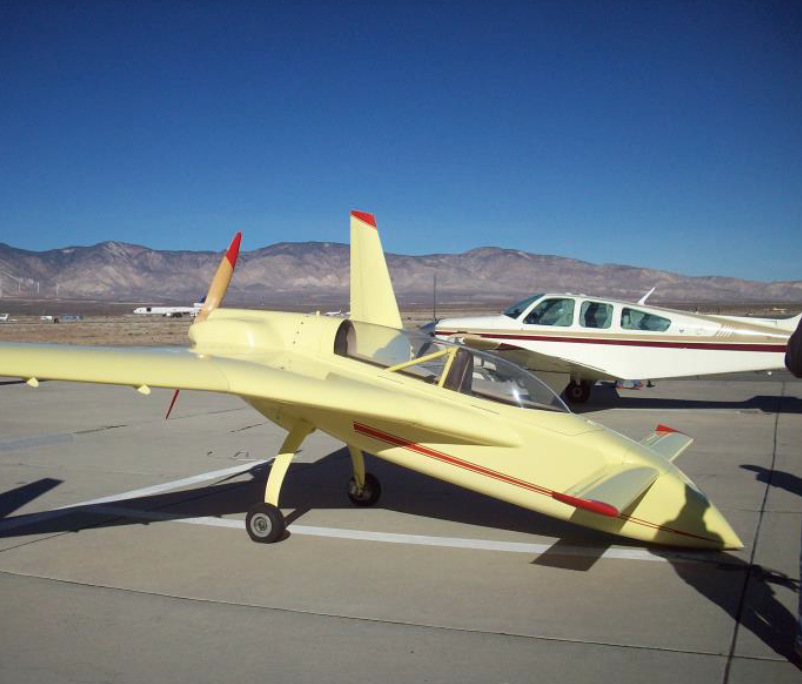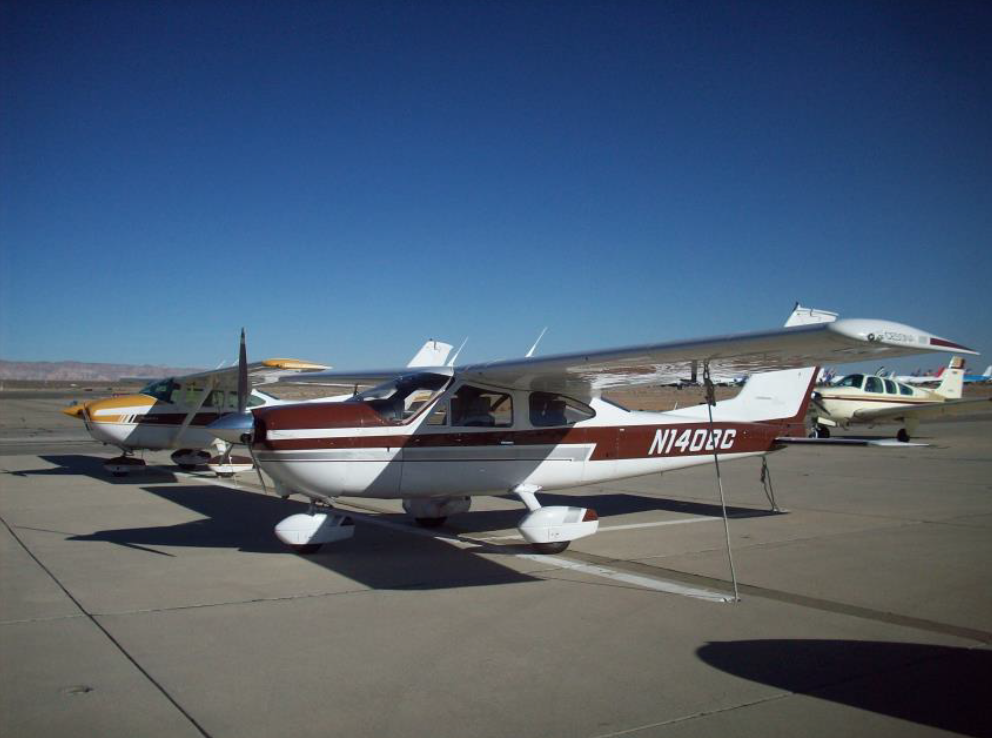 It was so good to see a beautiful example of a 1977 Cessna 177B Cardinal from Riverside in the lineup of aircraft. No struts on wings – The Cessna 177 was designed in the mid-1960s when the engineers at Cessna were asked to create a successor to the Cessna 172. The resulting aircraft featured newer technology such as a cantilever wing lacking the lift struts of previous models, and a new laminar flow airfoil. Despite these upgrades, the 177B was outsold by the 172 Skyhawk, the airplane it was intended to replace. Today both the 177 and 177RG (Retractable Gear) are considered desirable aircraft to own, mostly because of the large doors which offer easy entry, the aircraft's reasonable performance for the power, active owners groups and the aircraft's attractive looks. 
The 177 offers much better upwards visibility than a 172 because of its steeply raked windshield and more aft-mounted wing. The absence of an obstructing wing support strut makes the aircraft an excellent platform for aerial photography. 
Look at this 1979 Beechcraft F-33A Bonanza Debonair! Nice! The Beechcraft Bonanza is an American general aviation aircraft introduced in 1947 by The Beech Aircraft Corporation of Wichita, Kansas.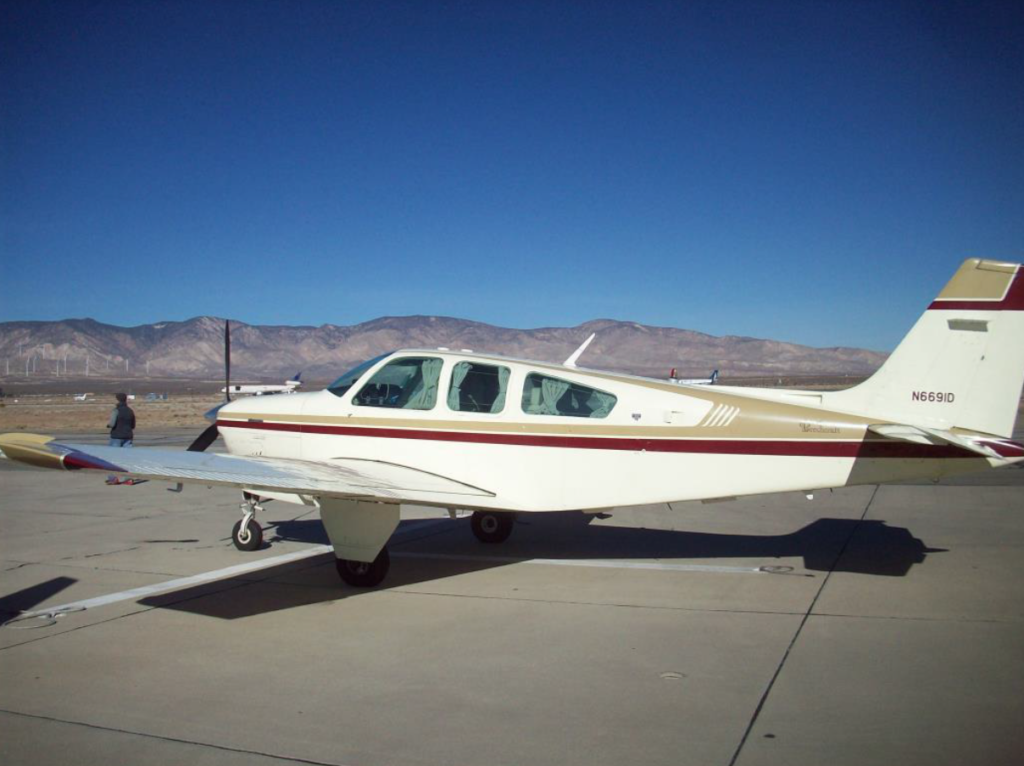 The V-tail Bonanza was the first airplane I could recognize in the sky. Designed by a team led by Ralph Harmon, the model 35 Bonanza was the first truly modern high-performance personal aircraft. It was a very fast, low-wing monoplane at a time when most light aircraft were still made of wood and fabric. 
The Model 35 featured retractable landing gear and its signature V-tail (equipped with a combination elevator-rudder called a ruddervator), which made it both efficient and the most distinctive private aircraft in the sky. The prototype 35 Bonanza made its first flight on 22 December 1945, with the first production aircraft debuting as 1947 models. The first 30-40 Bonanzas produced had fabric-covered flaps and ailerons, after which those surfaces were covered with magnesium alloy sheet). 
In 1982 the V-tail Bonanza was dropped from production, though more than 6,000 V-tail models are still flying today. The conventional-tail Model 33 continued in production until 1995. Still built today is the Model 36 Bonanza, a longer-bodied, straight-tail variant of the original design, introduced in 1968.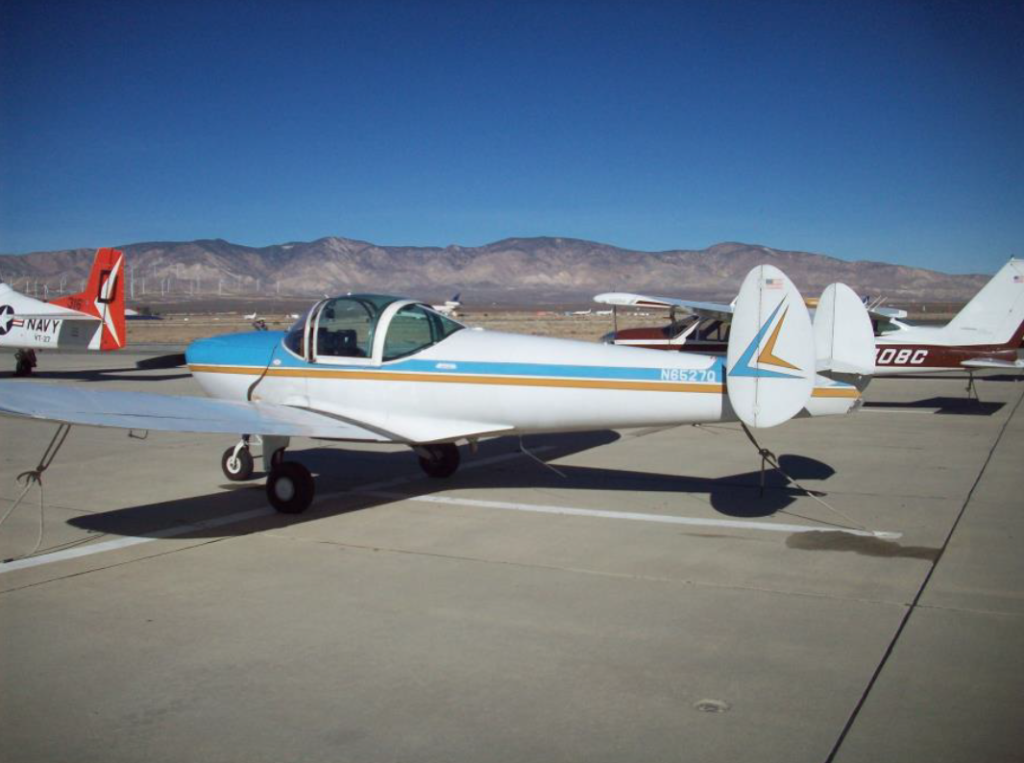 The sweet 1966 Alon A2 flew in from El Monte Airport. The original manufacturer of this type aircraft was ERCO. 
The ERCO Ercoupe was a low wing monoplane first manufactured by the Engineering and Research Corporation (ERCO) shortly before World War II, production continued after World War II by several other manufacturers until 1967. It was designed to be the safest fixed-wing aircraft that aerospace engineering could provide at the time, and the type still enjoys a very faithful following today. The Ercoupe contained many innovative design features that produced an aircraft that was safe, easy to fly, and certified by the Civil Aeronautics Administration (CAA) as "characteristically incapable of spinning." The aircraft was designed by Fred E. Weick, a noted aeronautical engineer, who before coming to ERCO in 1936, worked for the National Advisory Committee for Aeronautics (NACA). 
From 1964 to 1967, the Aircoupe was built by Alon, Inc. John Allen and Lee O. Higdon (first two letters of John and last two letters of Higdon produced the name Alon). Both men had been executives at Beechcraft Aviation and left to form their own aircraft company. They purchased the type certificate for the Aircoupe on March 16, 1964.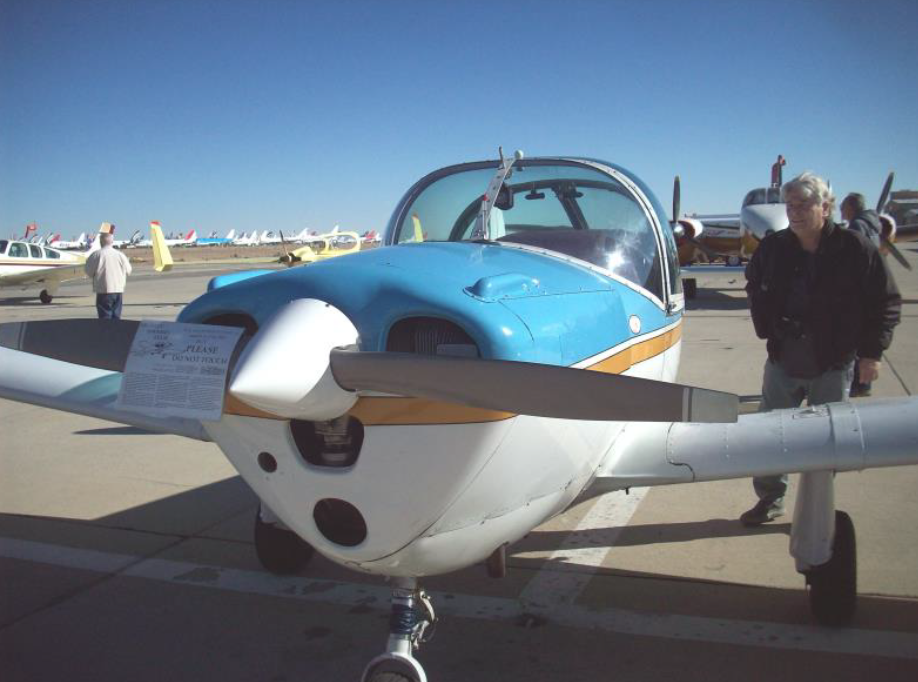 The Alon A-2 and A-2A Aircoupes were much improved upon models of the original Ercoupe which differed from it in several ways. The Alons featured a sliding canopy, a more powerful 90 hp (up from 75) Continental engine, separate bucket seats and a much improved instrument panel. The A-2 also differed from earlier models in having limited movement rudder pedals, which also controlled the nosewheel steering. 
Zach and Rebecca Reeder were at Plane Crazy with their RV-7 and baby Zoe! Zach gave a little friend his first ride in an airplane! So exciting!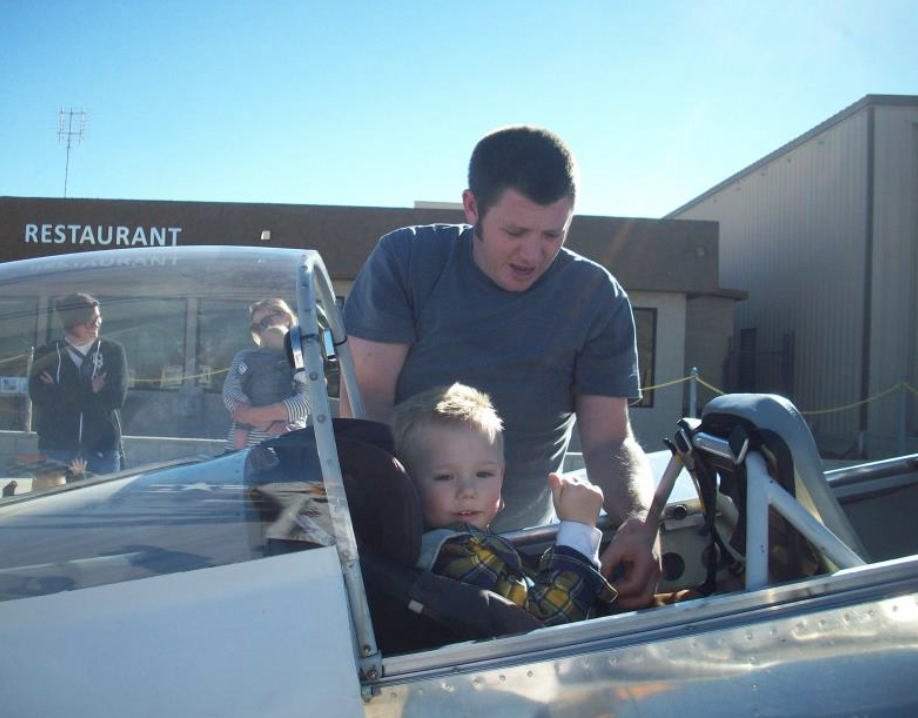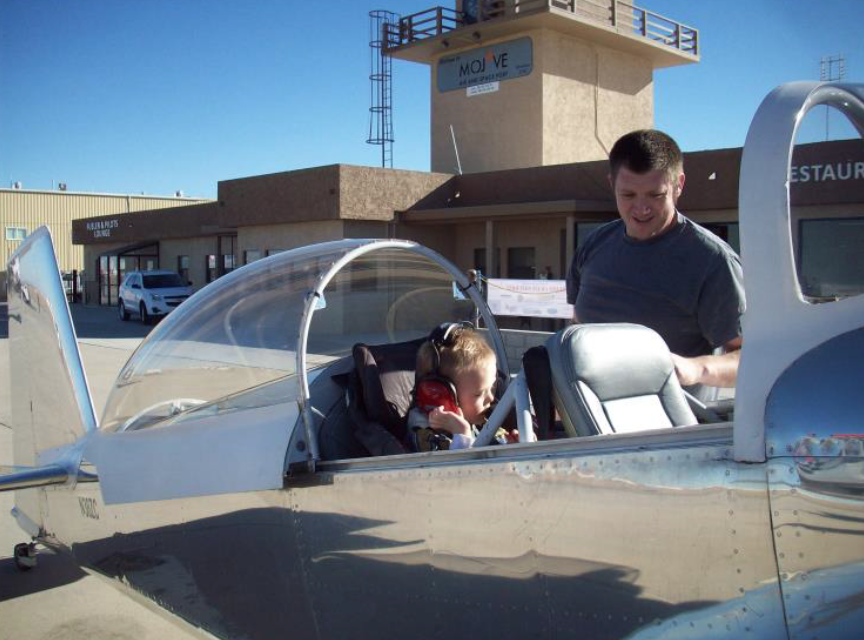 Doug Castleman had some new paintings on display and my husband Al couldn't resist. He bought another airplane painting! Thanks for coming Doug! We always enjoy seeing you!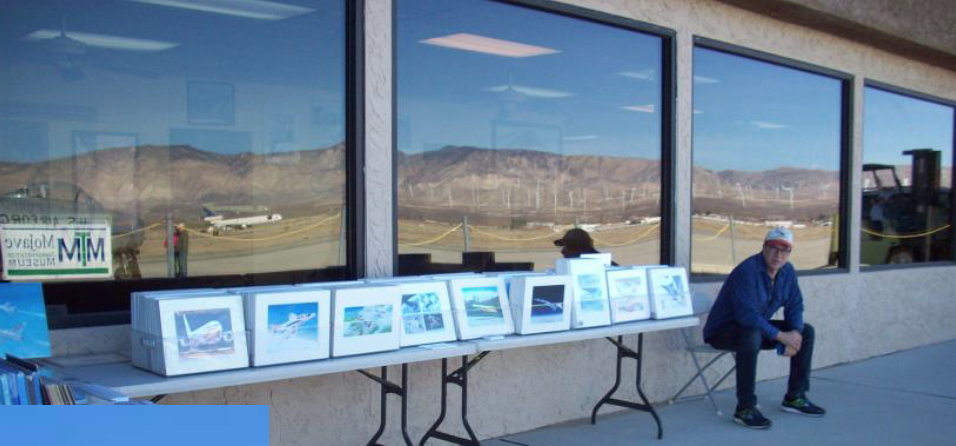 Check out his new paintings at www.DouglasCastlemanAviationArt.com 
Photo by Doug Castleman 
Al Hansen's North American T-28B and Canadair MkVI – F-86 Sabre. 
Thanks Doug for taking this photo!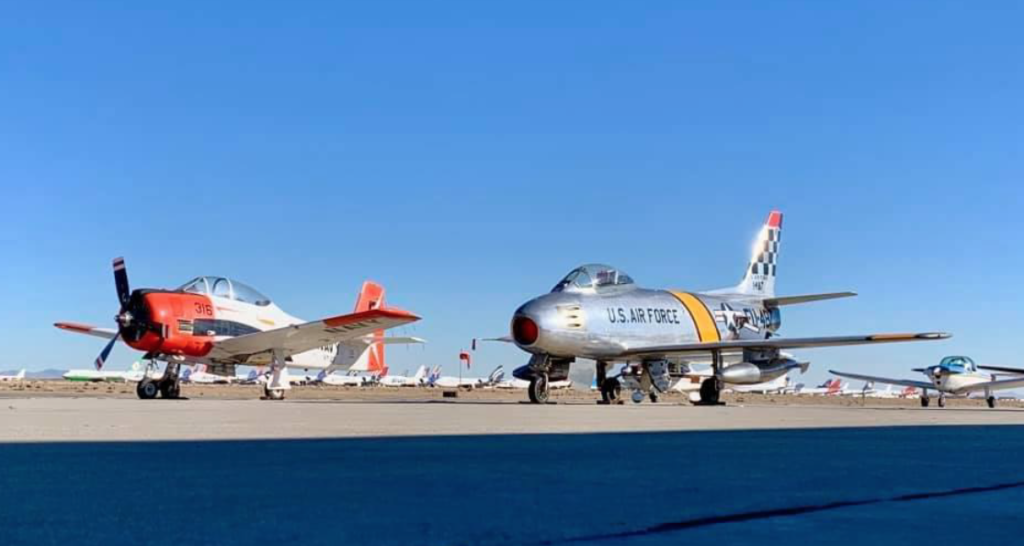 ---
Thank you to our sponsors!
Voyager Restaurant – Mojave  |  Kieffe & Sons Ford – Mojave/Rosamond  |  Thom Lapworth  |  Karl's Hardware – Mojave/Rosamond/Boron  |  Scaled Composites  |  Mission Bank – Mojave  |  Rosamond News – Rosamond  |  The Loop Community Newspaper  |  Civ-Mil Support Group