AFTER ACTION REPORT: July 15, 2017
July Plane Crazy Saturday 'Wings & Wheels' was a winner! The Bakersfield British Car Club came out in force and many of our aviation friends flew in to hear Peter Merlin tell about Area 51!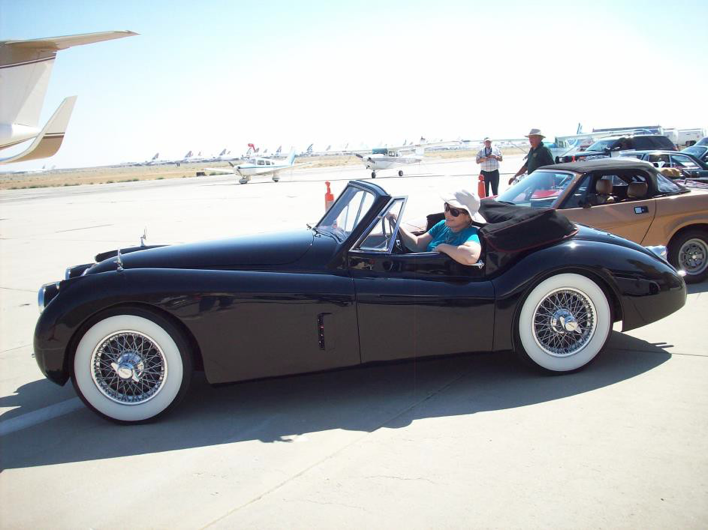 Even though the temp was a blistering 105-degrees, the enthusiasm of visitors wasn't wilted. A big thank you to MASP Operations Director, John Himes, for his help and support bringing in extra chairs for our guests to witness the Area 51 presentation.
Ron Langford always supports us with tables and chairs for set up outside and we appreciate him so much!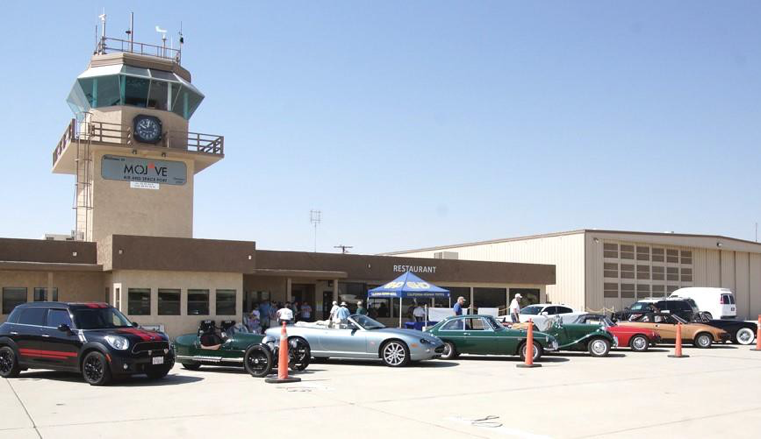 Visitors enjoyed seeing rare vintage British vehicles, including this 3-wheeled Morgan. The Morgan Motor Company is a family-owned British motor car manufacturer that was founded in 1910 by Henry Frederick Stanley Morgan. The Morgan on display looks like a 1937 Super Sport model, but I'm not positive. It has a V-Twin engine in the front. Advertisements tout a cockpit like an airplane, so you feel like you are flying on the road! Sounds good to me!
Thank you Vinnie Apicella for putting this show together! Bravo!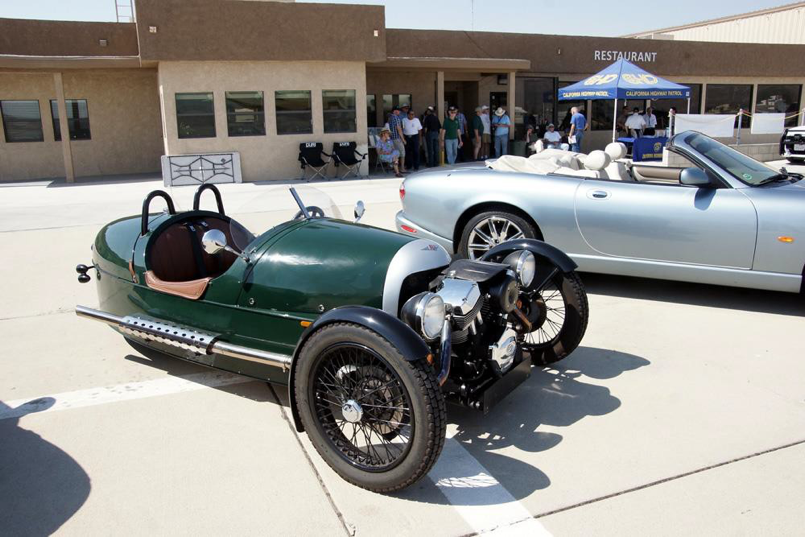 Al Hansen brought his British 432 APC out for the car show, as it has a Jaguar engine and is truly a British motor vehicle. He parked it next to the Canadair Mk-VI F-86 Sabre Jet and North American T-28B.
Many beautiful aircraft on the ramp even though the heat was high!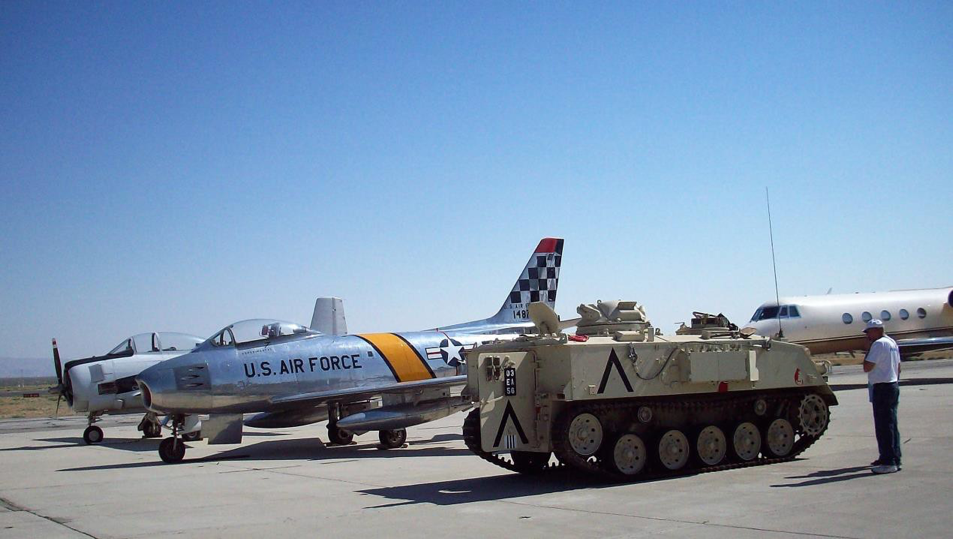 Dave VanHoy flew his North American T-6 Texan and then parked on the flightline, so warbird enthusiasts could enjoy the history of this pristine example of a round engine veteran of World War II.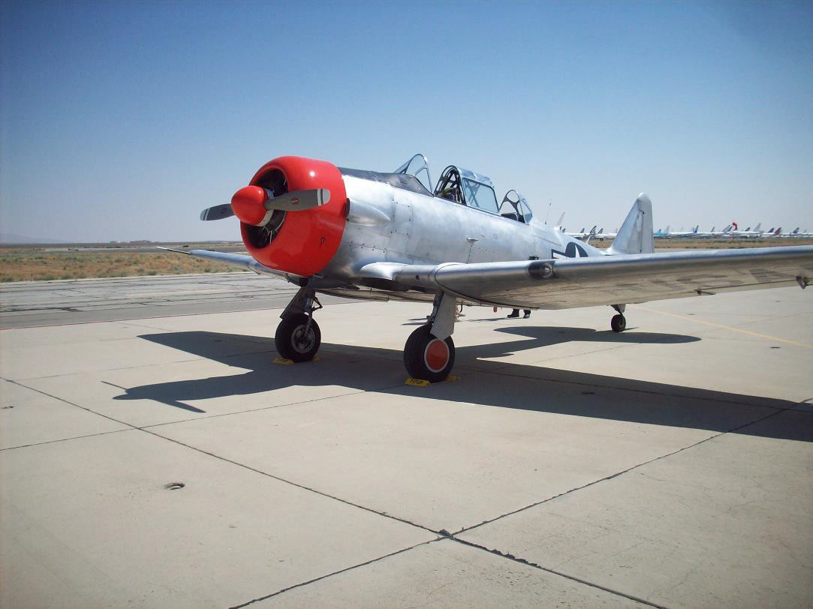 Thank you to the California Highway Patrol for setting up a table at Plane Crazy! Public Information Officer, Darlena Dodson and crew answered questions and handed out brochures. Thank you Al Hansen for bringing additional chairs for the CHP booth.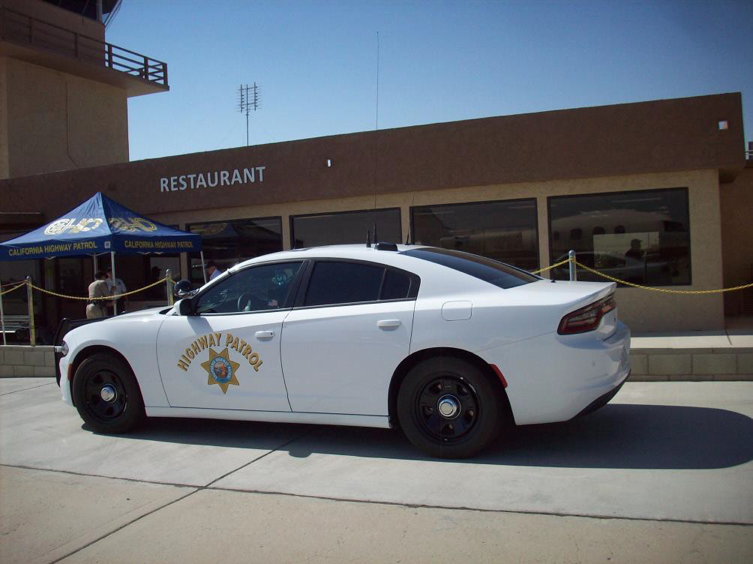 A favorite airplane of mine is this 1939 Piper J-3 Cub that belongs to Chris
McMurtry. This Cub was manufactured in Lockhaven, PA in 1939 and the airframe logs show that it was restored in Santa Paula, CA in 1987. Chris's father, Tom McMurtry
purchased it in 1996 to give his kids flight instruction. It has a 65 hp Continental motor and two 8-gal extended-range wing tanks, giving a total flight time of a little more than 5
hours.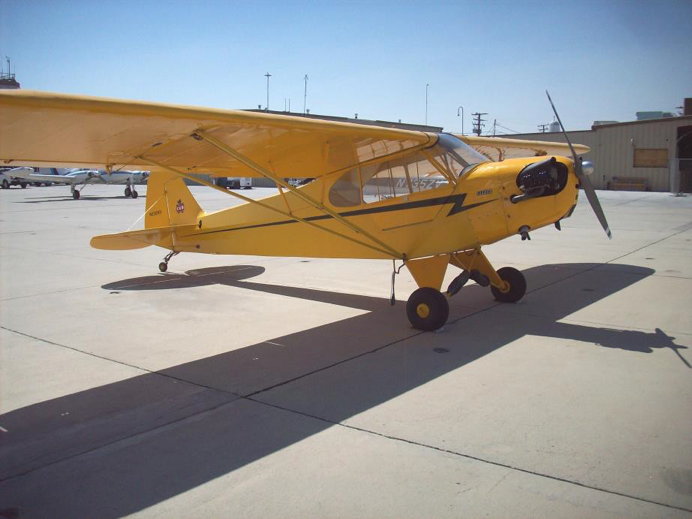 The Cub is one of the best known light aircraft of all time. Piper Aircraft built J-3 Cub's between 1937 and 1947. It was affordable and was a great trainer. It was produced in large numbers during World War II as the L-4 Grasshopper.
The military used L-4s as reconnaissance, liaison and ground control missions.
Nice 1980 Cessna P210N with a TSIO-520 Continental engine! Fast and dependable!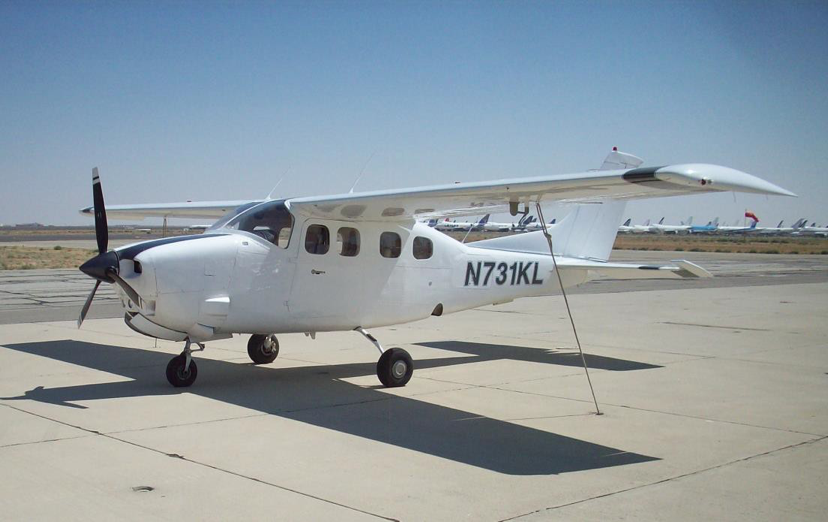 Vinnie wanted photos of his lovely 1953 Jaguar with Al Hansen's Sabre and APC!
Just look at this beautiful engine!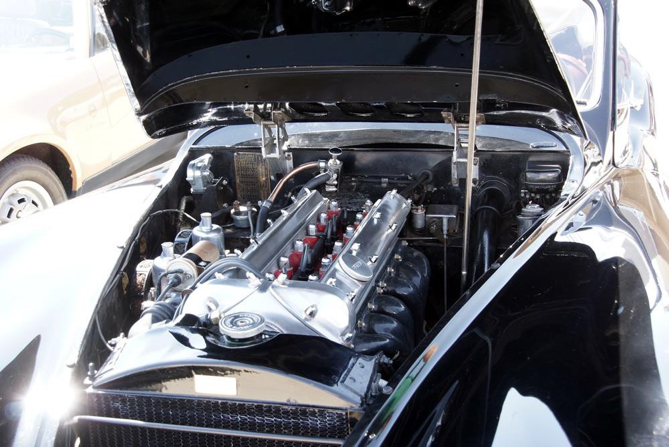 Guest speaker, Peter Merlin, received a Plane Crazy Saturday hat from the Mojave Transportation Museum.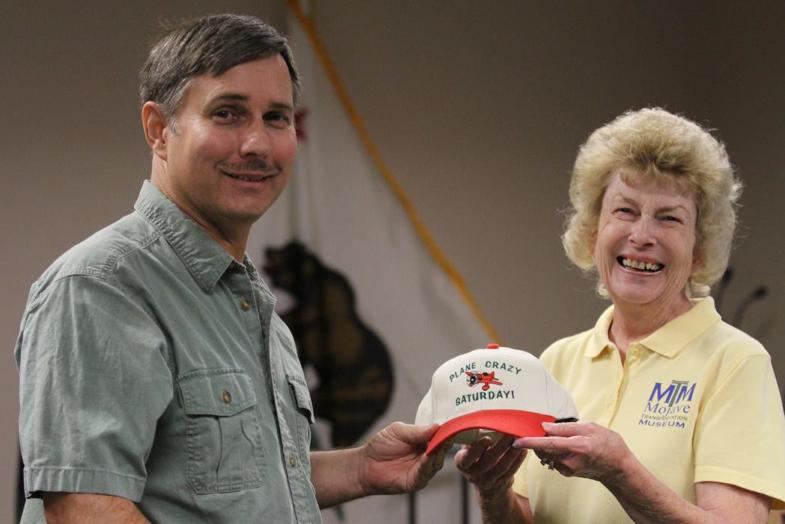 He is an amazing wealth of knowledge and has written many books! Peter W. Merlin is an aerospace historian who has been researching the history of Area 51 since 1984 and has written numerous articles on the subject. He has also appeared on such television programs as Modern Marvels, Mystery Hunters, Man-Moment-Machine, Inside Area 51, UFO: Down To Earth, Return to Area 51, Atomic Journeys, UFO Hunters, MysteryQuest, and others.
As a freelance writer Merlin has published articles in a variety of periodicals, covering subjects from aerospace history to nuclear weapon accidents. He is the author of Mach 3+: NASA/USAF YF-12 Flight Research, 1969-1979 (NASA, 2001), From Archangel to Senior Crown – Design and Development of the Blackbird (American Institute of Aeronautics and Astronautics, 2008), Ikhana Unmanned Aircraft System Western States Fire Missions (NASA, 2009), "The Evolution of Remotely Piloted Research Vehicles," NASA's Contributions to Aeronautics, Vol. 2, edited by Dr. Richard P. Hallion (NASA, 2010), and X-Plane Crashes – Exploring Experimental, Rocket Plane and Spycraft Incidents, Accidents and Crash Sites, with Tony Moore (Specialty Press, 2008). He also co-authored Donald L. Mallick's autobiography, The Smell of Kerosene: A Test Pilot's Odyssey (NASA, 2003).
Merlin was born in Hollywood, California. He received his Bachelor of Science degree in Aeronautical Studies from Embry-Riddle Aeronautical University in Daytona Beach, Florida. Merlin is a member of the Flight Test Historical Foundation, Nevada Test Site Historical Foundation, National Atomic Museum Foundation, Nevada Aerospace Hall of Fame, and is an Associate Member of Roadrunners Internationale. He spends much of his time exploring the southwestern United States in search of ghost towns, mines, caves, prehistoric ruins and rock art, nuclear test sites, abandoned missile silos, fossils, and interesting natural features. He has also journeyed to the mountains of Baja California, Mexico, and the Tassili N'Ajjer plateau region of the central Sahara Desert in Algeria to photograph prehistoric cave paintings. Merlin occasionally lectures on aerospace history and prehistoric archeology.
---
Thank you to our sponsors!
Voyager Restaurant – Mojave  |  Kieffe & Sons Ford – Mojave/Rosamond  |  Thom Lapworth  |  Karl's Hardware – Mojave/Rosamond/Boron  |  Mariah Country Inn & Suites – Mojave  |  Mission Bank – Mojave  |  Rosamond News – Rosamond  |  The Loop Community Newspaper
SaveSave
SaveSave
SaveSave
SaveSave