After Action Report – JUNE 17, 2017
Photos by Roy Gant, Kane Wickham and Cathy Hansen 
Hot! Hot! Hot! Temperatures soared upward on Saturday and they promise to keep rising as the summer months continue! Thank you to Bill Deaver, Ursula Finkbeiner, Rebecca Reeder and Steve Rushford for their dedication to Plane Crazy Saturday!
Rebecca helped speaker Jimbo Reed set up the computer in the MASP Meeting Room with the fantastic technical assistance of Jason Buck, MASP Director of Technology. Thank you Jason!
Dick Rutan was giving a ride in the Berkut to a very generous man who donated thousands to the Lancaster Performing Arts Center (LPAC) during a fund-raising program recently. The red, white and blue Berkut always looks and sounds good as she flies by at the airport.
Dick Rutan purchased this Berkut project in its early progress stages and he quickly completed the composite structure. The custom propeller was expertly painted by American Propeller and the Berkut received a very flamboyant and patriotic paint scheme by Art Siorta.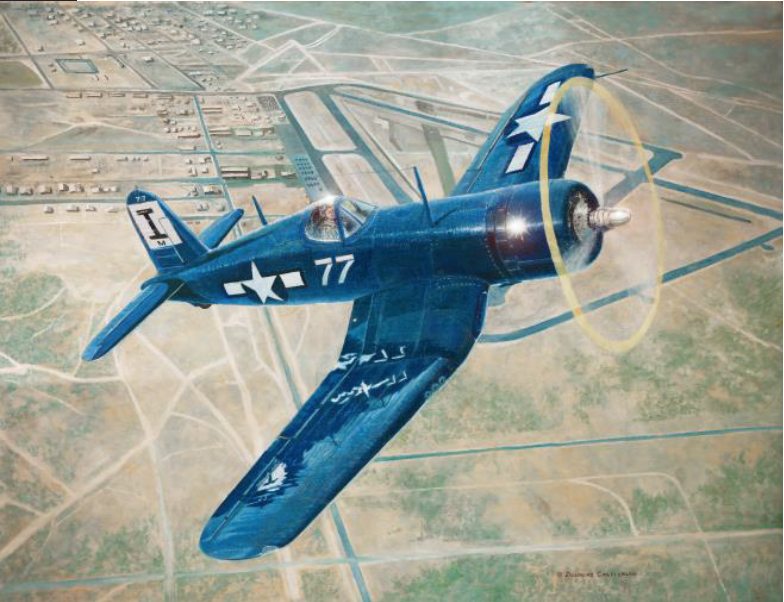 Great to see our friend Doug Castleman at Plane Crazy this month. His MCAS Mojave Corsair flying over the base from VMF-511, a squadron formed here in Mojave during WWII, is spectacular! Go to: http://www.douglascastlemanaviationart.com/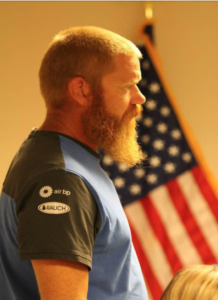 Jim 'Jimbo' Reed Technical Director for Red Bull Air Race gave a detailed overview of trying to keep teams safe and honest!
Jim Reed grew up in Salina, Kansas, an area immersed in aviation history. He was a volunteer for the Global Flyer project that took-off and landed in Salina. When the project was completed he moved to Mojave to work for Scaled Composites, where the Global Flyer was designed and constructed. In 2009, he began working as a technician for Red Bull Air Race, as a second job, just for fun! Jim travels all over the world with this 'second' job!
Presently, Jim works as an Engineer at The SpaceShipCompany and also works for Red Bull Air Race as the Technical Director.
All of the aircraft use smoke so spectators can see where they are on the course.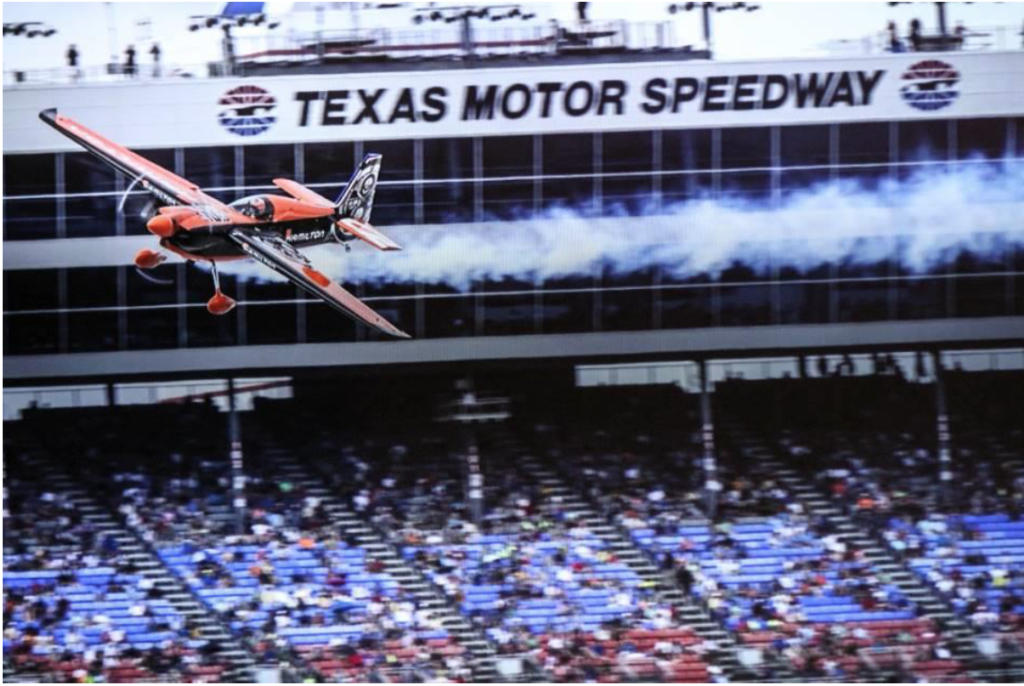 The favorite aircraft of Red Bull Air Race teams is the Edge 540, manufactured by Zivko Aeronautics. Zivko Aeronautics is located in Guthrie, Oklahoma. The Edge 540 is a highly aerobatic aircraft. Capable of a 420 degree per second roll rate and a 3,700 foot per minute climb rate.
This information from The Red Bull Air Race website:
"In previous years, the race teams were allowed to modify their aircraft, but since 2014, the engines and propellers have been standardized for all teams. The Lycoming Thunderbolt AEIO-540-EXP engine and the Hartzell 3-bladed 7690 structural composite propeller have both undergone rigorous testing and have performed to specification. Both the pilots and their teams have instead dedicated their efforts to perfecting airframe aerodynamics, as well as pilot skill and ability.

Designed to be as agile in the air as possible and streamlined to perfection, the race planes flown in the Red Bull Air Race World Championship are at the forefront of light aviation technology.

Constructed to be as light as possible to ensure maximum speed, they also have to be extremely robust, and tolerate stressed of up to 10 times the force of gravity (10Gs)."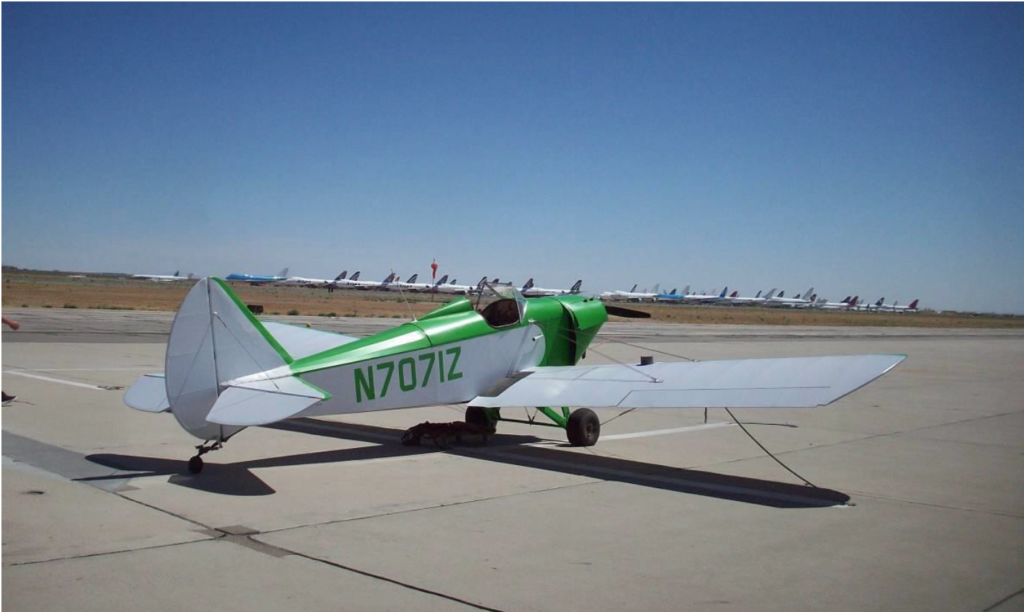 Haven't seen a Fly Baby for a long time! Thank you Chuck Christman for bringing your Fly Baby out to Plane Crazy! The Bowers Fly Baby is a homebuilt, single-seat, open-cockpit, wood and fabric low-wing monoplane that was designed by famed United States aircraft designer and Boeing historian, Peter M. Bowers. Fly Baby aircraft kits can be ordered from Aircraft Spruce!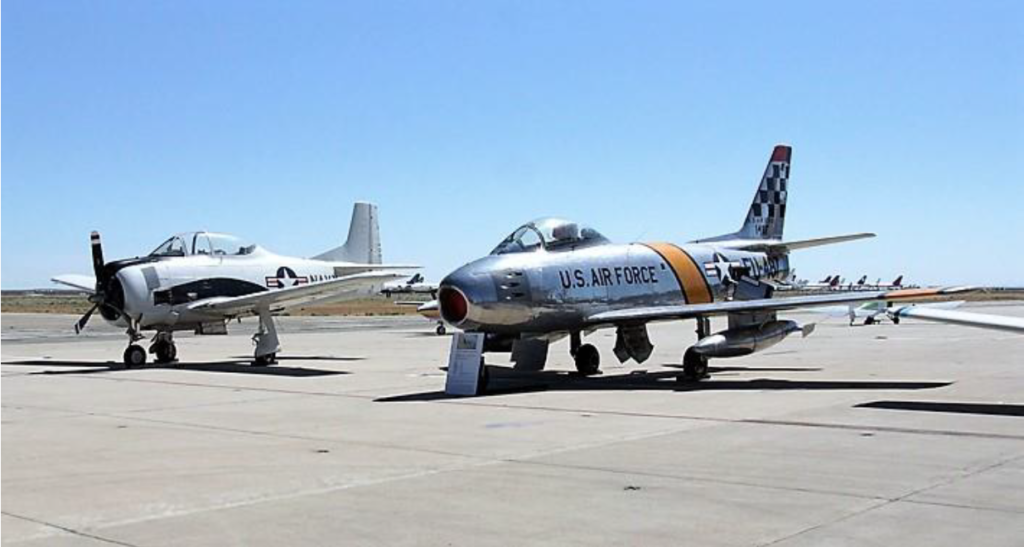 Canadair Mk-VI F-86 Sabre was on display with the North American T-28B.
In 1948 North American won the Air Force design competition for a new trainer and two years later the first T-28As entered service with the USAF. With tricycle landing gear, hydraulically steerable nose wheel, and complex systems. It had armament capability and a cockpit design similar to early jets.
During the early 1950s the U.S. Navy conducted a number of evaluation trials of USAF T-28As to determine if the aircraft would be a suitable replacement for the aging North American SNJ.
In order to meet Navy training requirements major modifications to the aircraft were required which resulted in North American designing a derivative aircraft, the T-28B, the "B" model differed in having a more powerful radial engine (1425 hp), a 3 bladed propeller, a hydraulically operated speed brake, a low profile canopy and structural modifications that permitted higher performance.
The Navy purchased 489 T-28Bs with delivery concluding in 1955, however a further review of training requirements brought the Navy back to North American for the T-28C; essentially a "B" model with structural modifications and a tail hook for use in pilot carrier landing qualifications. Deliveries of the new "C" model started in 1955 and continued until 1957. The Navy received 299 of these aircraft from North American. The T-28B/C was in use by the U.S. Navy from 1955 until 1984, when the last "Charlie" models were retired from service.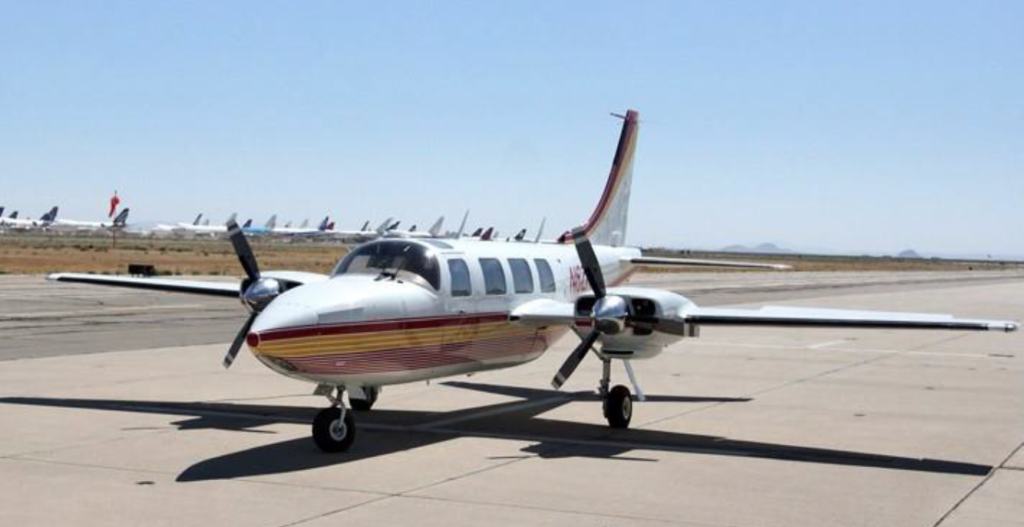 Wow! Look at this beauty! A 1980 Piper AeroStar 601P with Lycoming IO-540 engines! Sweet! Paul Breed from Calabasas flew in to hear Jim Reed talk about the Red Bull Air Race. Paul also owns a Super Breezy and came to Plane Crazy Saturday in August 2015 when the temp was 104-degrees!
The AeroStar is an American twin-engined propeller-driven executive or light transport aircraft, designed by Ted R. Smith. It was originally built by Ted Smith Aircraft Company, which after 1978 became part of the Piper Aircraft Corporation. Ted Smith is one of my favorite aircraft designers. I love the wing on the Aero Commander and it is akin to the wing on the Douglas A-26.
Ted R. Smith (1906–1976) was an American aircraft designer. He worked for the Douglas Aircraft Company, Aero Design and Engineering Company, and Rockwell Standard Corporation. In 40 years, his designs included the Douglas A-26 Invader (under the direction of Ed Heinemann), and the first all metal small twin engine business aircraft for Aero Commander, a company that he helped to start. 
Thank you to our sponsors!
Voyager Restaurant – Mojave  |  Kieffe & Sons Ford – Mojave/Rosamond  |  Thom Lapworth  |  Karl's Hardware – Mojave/Rosamond/Boron  |  Mariah Country Inn & Suites – Mojave  |  Mission Bank – Mojave  |  Rosamond News – Rosamond  |  The Loop Community Newspaper
Plane Crazy Saturday next month – July 15, 2017 – Famous author Peter Merlin will be speaking about Area 51! Don't miss it!
SaveSave
SaveSave