AFTER ACTION REPORT: May 19, 2018
Windy, windy, windy, but we had a good time anyway! Lots of wonderful folks came to visit Plane Crazy Saturday and our good friend Susan Mallet and her lovely grand-daughter, Ryan, came all the way from Alabama! Susan Mallett, is with the National Civil Air Patrol Youth Development Program – CAP Aerospace Education.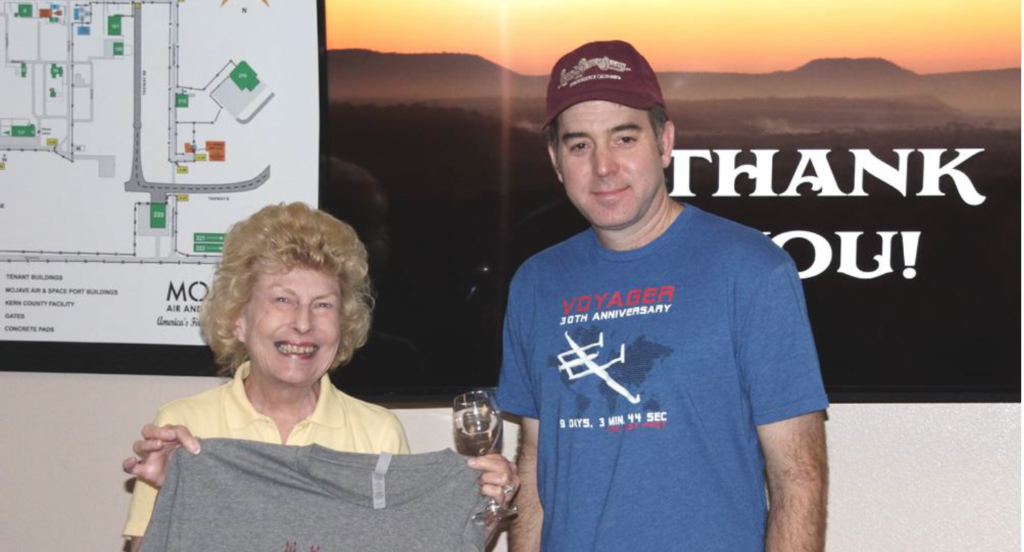 Thank you Mike Massee for the great educational presentation about the Garrett steam trains in Zimbabwe! Your photos from the helicopter of Victoria Falls were breath-taking!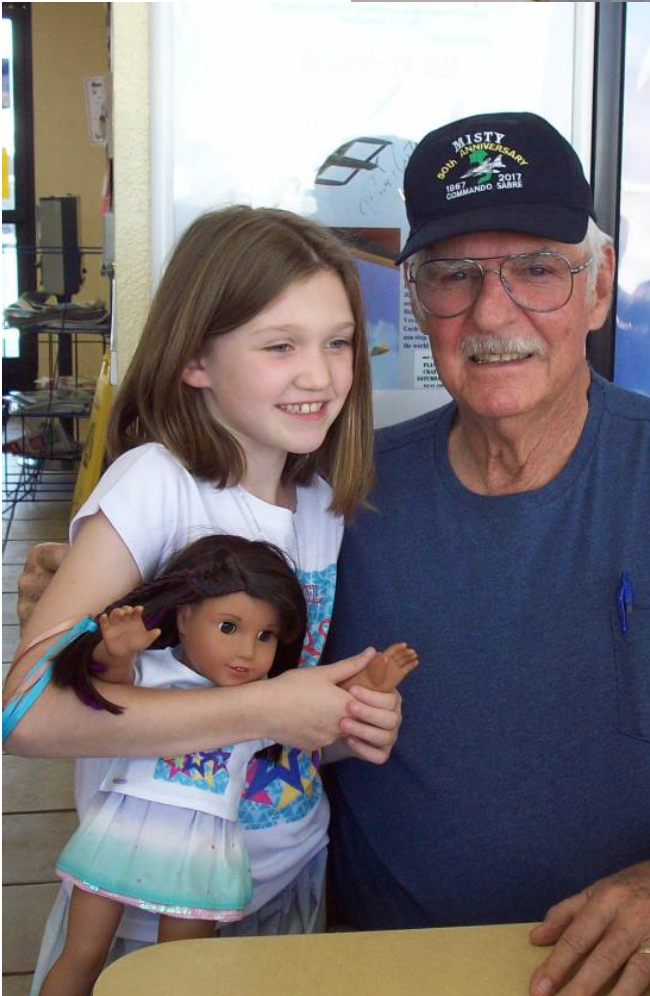 It was wonderful to see our friend, Susan Mallet, from the Youth Development Program Coordinator, National Headquarters, Civil Air Patrol, Montgomery, AL, along with her lovely grand-daughter, Ryan! 
Miss Ryan certainly made a big impression on the famous aviation adventurer and former fighter pilot, Dick Rutan! 
Bakersfield Model A Club displayed their pristine ole-time Ford's in front of the MASP Admin building. 
Plane Crazy was advertised as 'Planes, Trains and Model A's!' Wow! They sounded as good as they looked! 
Thank you to Sally Kendall, Julia Pengilley, Ursula Finkbeiner, Bill Deaver, Steve Rushford and Rebecca Reeder for your help with the MTM booth. So sorry that Sally and Julia had to move indoors due to the gusty wind!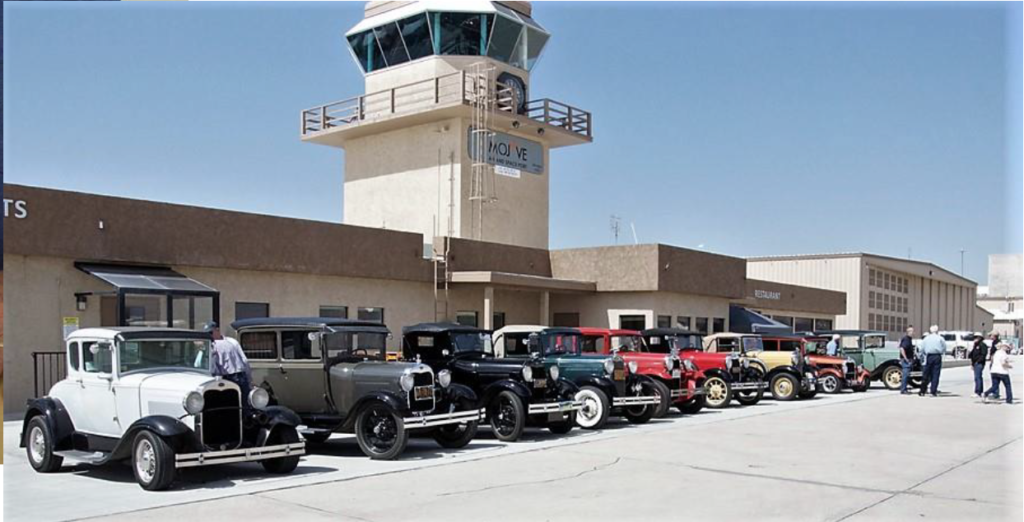 This little Ford isn't stock! She is powered with a 327 cubic inch Chevy! Sounds great!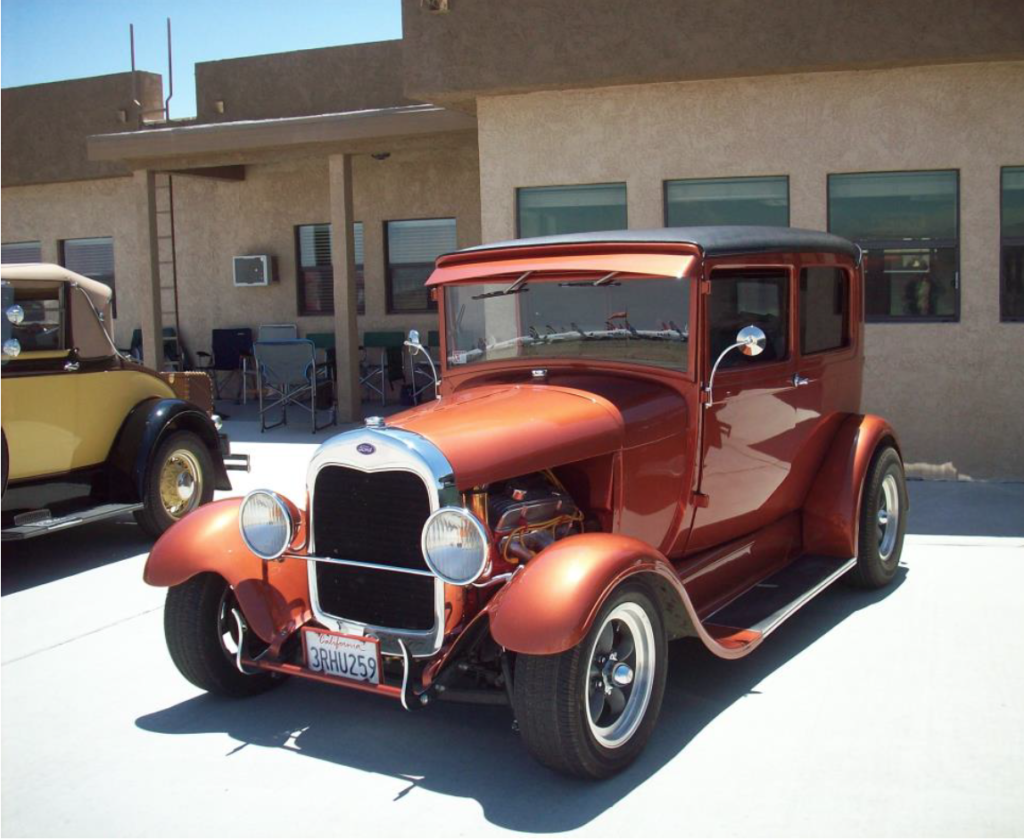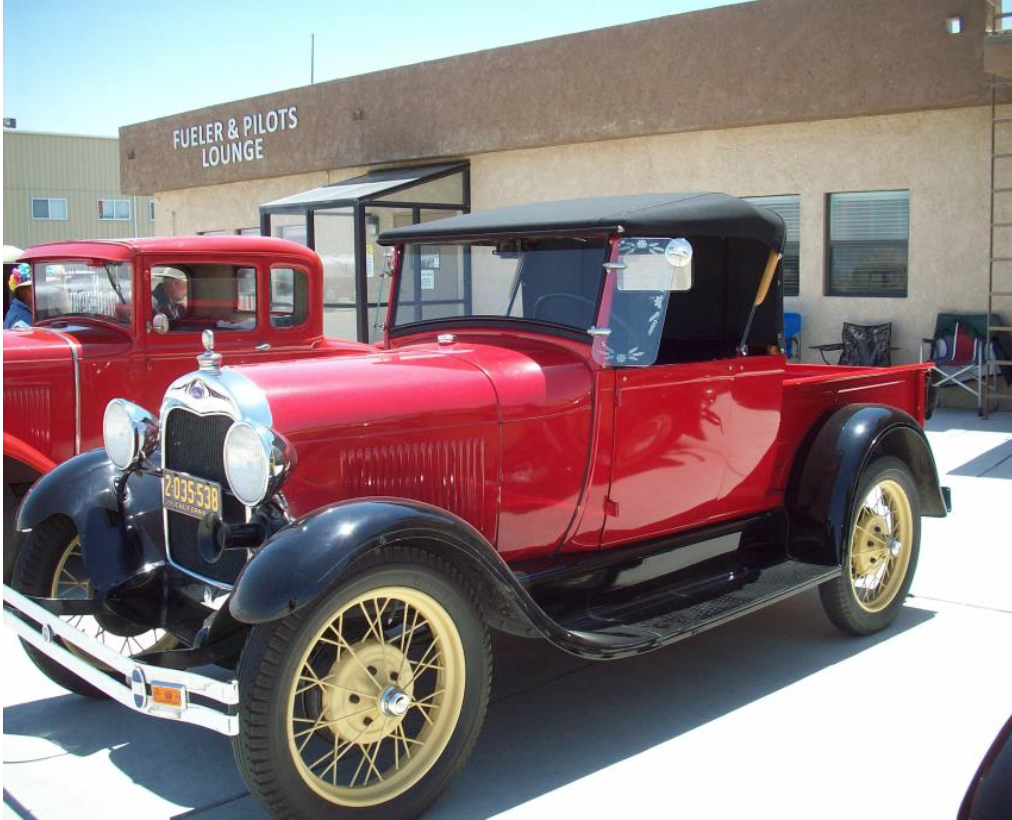 Thank you to John Himes and MASP Security for all of your kind assistance with the Model A's!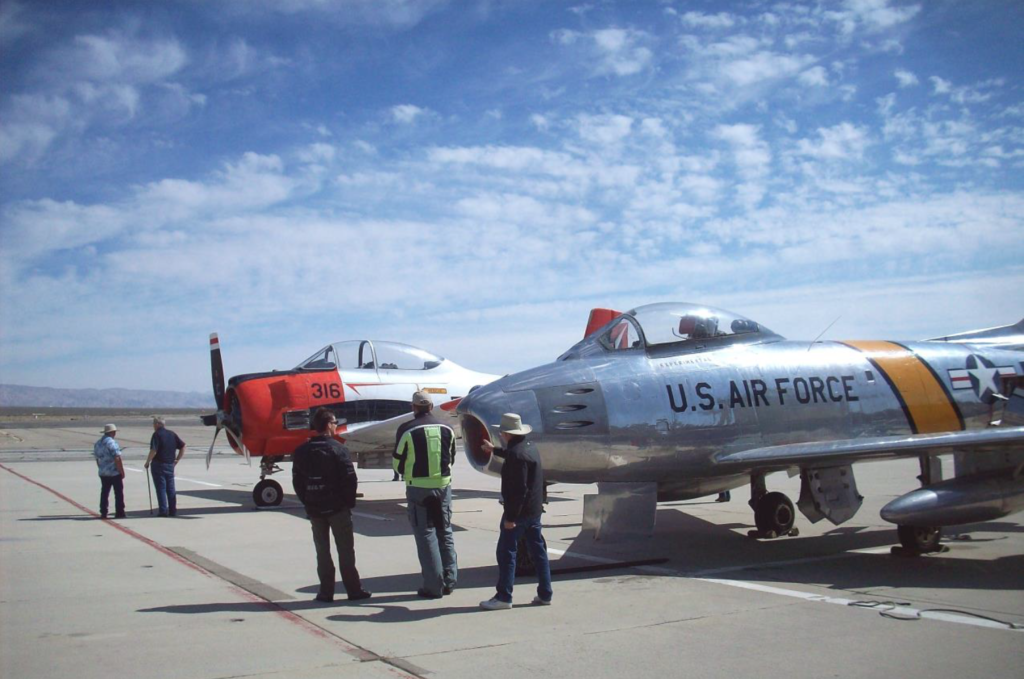 Not many planes on display this time. Al Hansen had his F-86 (Canadair Mk-VI) and North American T-28B out. Guess the winds kept them away.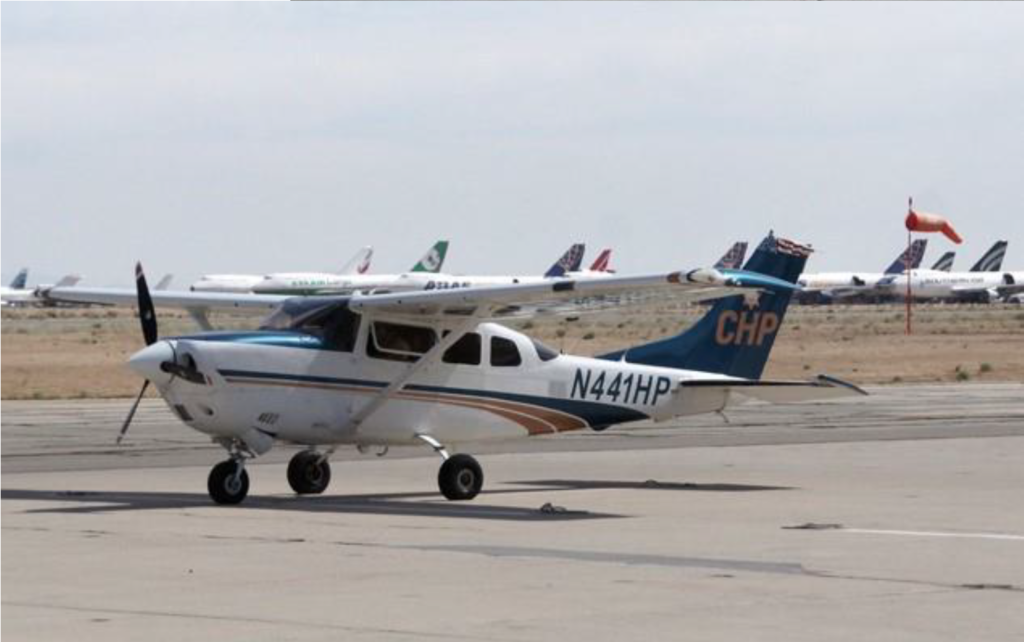 Chris McMurtry flew in with his J-3 Cub though. If a J-3 could be out in the wind, I would think anyone could! 
It was good to see our local CHP stop by with their 2000 Cessna T206H Stationair with a TIO-540 Continental for lots of power. Cessna describes the 206 as "the sport-utility vehicle of the air." These airplanes are also used for aerial photography, skydiving and other utility purposes. They can also be equipped with floats, amphibious floats and skis. Alternatively, they can be fitted with luxury appointments for use as a personal air transport. The combination of a powerful engine, rugged construction and a large cabin has made these aircraft popular 'Bush Planes.' Obviously, the CHP thinks it is a good aircraft too!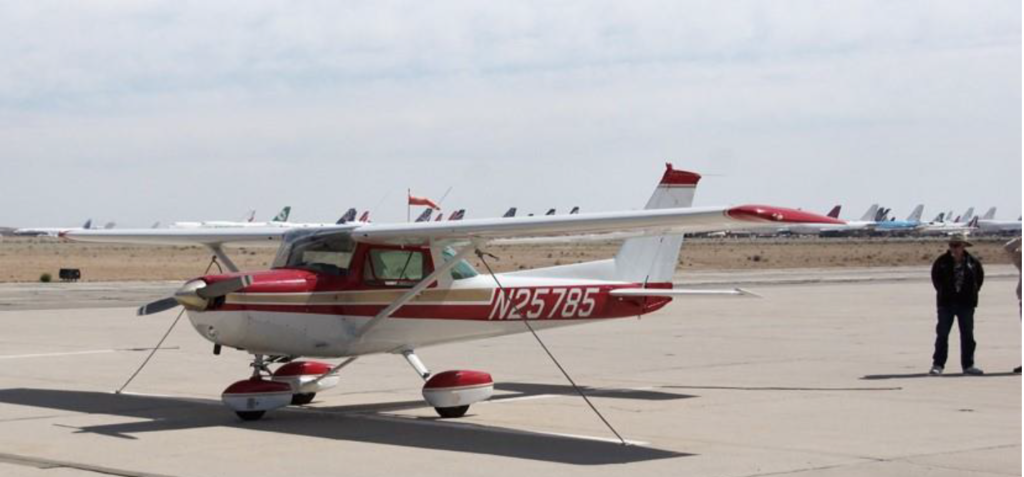 A nice example of a 1977 Cessna 152 stopped by to visit from Lancaster.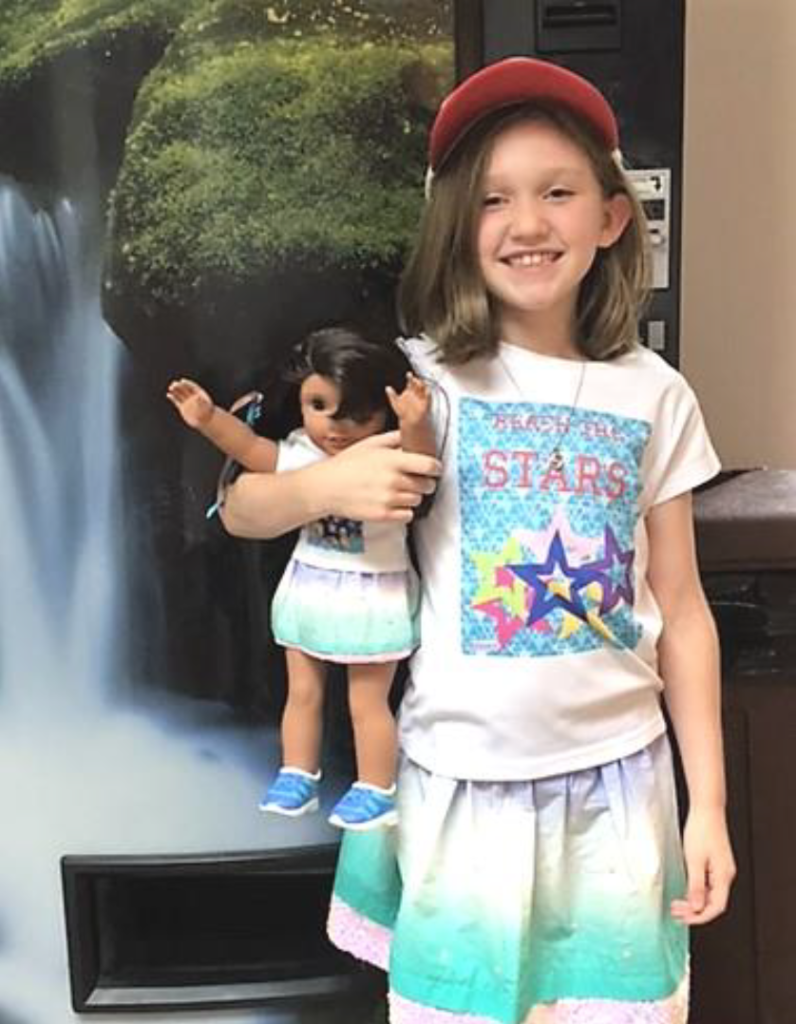 Miss Ryan is dressed to match her doll and she wants to go to Mars! The doll, Luciana, is the first American Girl character created to encourage an interest for science, technology, engineering and math, or STEM. And now she has a Plane Crazy Saturday hat too! 
After Plane Crazy Saturday ended, the Model A Club was escorted down to see Orbital ATK's L-1011 'Stargazer' aircraft. They invited Susan Mallet and her grand-daughter to tag along. 
'Stargazer' will be departing Mojave soon to fly to Vandenberg to stage for a June missile launch at the Ronald Reagan Test site at Kwajalein Atoll, in the Marshall Islands.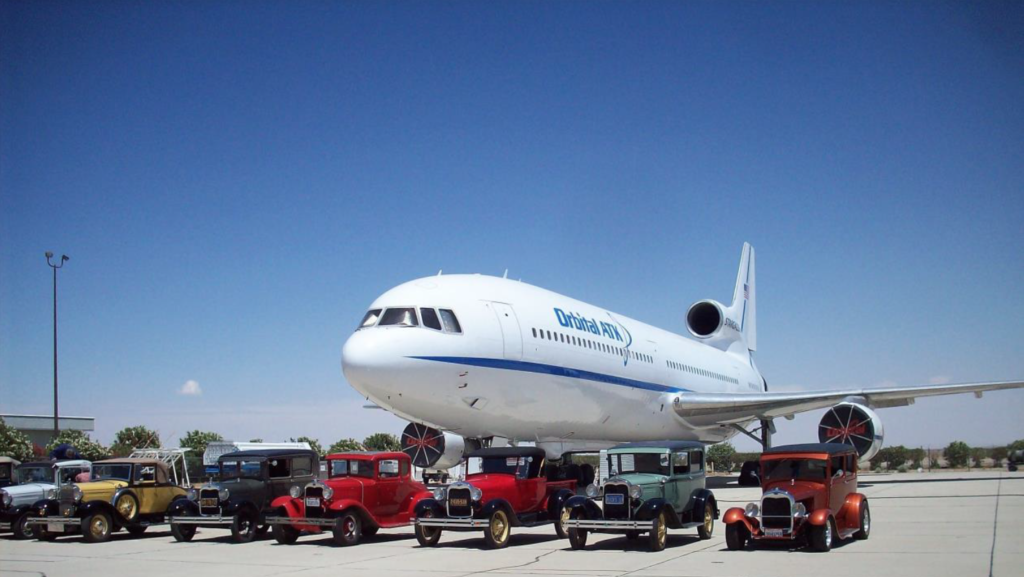 They will be launching a Pegasus XL rocket carrying NASA's Ionospheric Connection Explorer (ICON) to begin a study of Earth's ionosphere, a vitally important region when attempting to understand the dynamics between Earth's atmosphere and solar weather. ICON sets out to reveal the mechanisms of ionospheric disturbances caused by solar storms or terrestrial weather activity in the upper atmosphere which can have implications on the operation of satellites and the propagation of radio waves. 
Orbital ATKs L-1011 is the last flying L-1011 in the world! All Tri-Stars were assembled at the Palmdale, Plant 42 site. Between 1968 and 1984, Lockheed manufactured a total of 250 Tri-Stars. 
Stargazer, registration number N140SC, is a Lockheed L-1011 TriStar built in 1974, that was modified in 1994 to be used by Orbital Sciences (now Orbital ATK) as a mother ship launch pad for Pegasus rockets. As of December 2016, 43 rockets (containing 94 satellites) have been launched from it, using the Pegasus-H and Pegasus-XL configuration.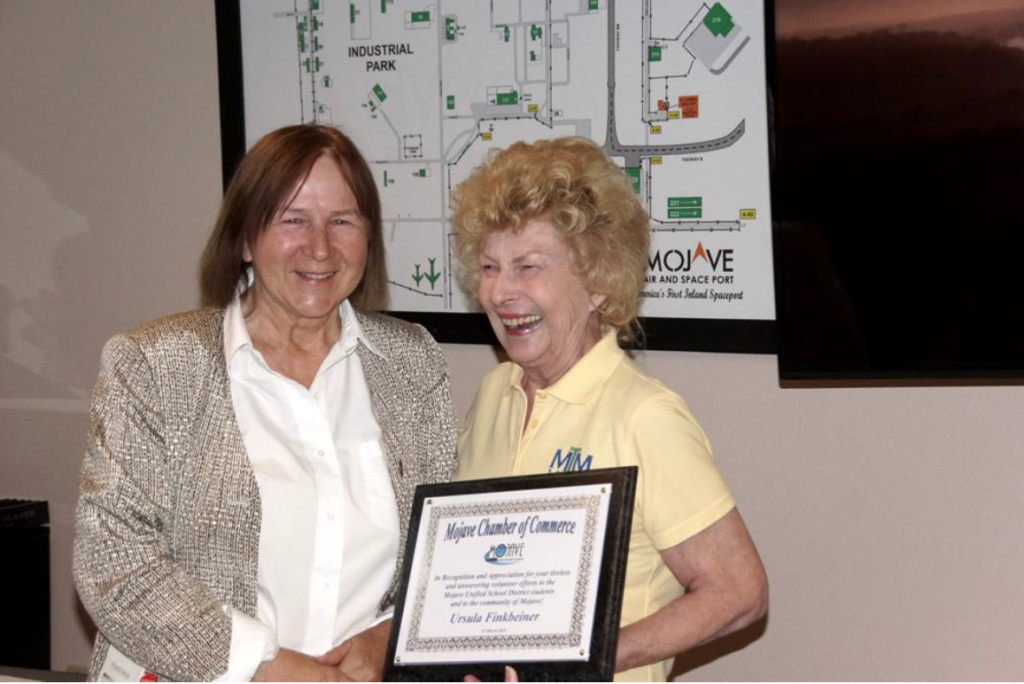 We surprised Ursula Finkbeiner will a Plaque of Appreciation from the Mojave Chamber of Commerce too! She put forth so much effort in the Grit & STEAM Challenge, the scholarship program that MTM and the Mojave Chamber presented this year and we wanted her to know how much we appreciated her! She is the one that encourages the high school seniors to participate, even though they have never stepped out and competed before. Our motto is, 'Yes, you can!' Thank you Ursula!! 'YES, YOU DID!' 
After Mike Massee completed his presentation, he introduced his wonderful wife, Lisa Butters-Massee, Kern County '2017 School Teacher of the Year.' While in Zimbabwe, she wanted to visit a school and meet the children and educators. The school was in need of windows and a roof. She came home with a new educational mission for her students in the Mojave Unified School District. She thought it would be beneficial for her elementary students to know that there were children who were in need and how wonderful it would be to reach out and help them. 
Lisa expressed how nearly 90% of the students in our school district is on some sort of government assistance and when she told the story of the students in Zimbabwe needing windows and a roof for their school, her students were willing and excited to help. They have formed pen-pal relationships with the kids in Zimbabwe and sold little plastic bracelets for $1.00 to help raise funds for their new friends. "They were so proud to wear the little plastic $1 bracelets," Lisa said. 
What a wonderful example of more blessed to give than receive! Thank you Lisa Butters-Massee! You will always be TEACHER OF THE YEAR to me! 
The students formed a GoFundMe page "Helping kids like us in Zimbabwe" with wonderful videos and photographs.
---
Thank you to our sponsors!
Voyager Restaurant – Mojave  |  Kieffe & Sons Ford – Mojave/Rosamond  |  Thom Lapworth  |  Karl's Hardware – Mojave/Rosamond/Boron  |  Mariah Country Inn & Suites – Mojave  |  Mission Bank – Mojave  |  Rosamond News – Rosamond  |  The Loop Community Newspaper
SaveSave
SaveSave
SaveSave
SaveSave