Scott Glaser
August 19, 2023
10am – 2pm
Talk begins at 11am ($2 donation)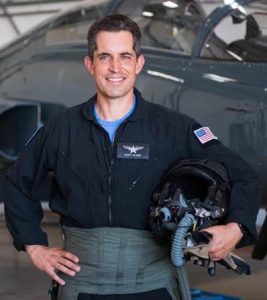 "Being Aviators – The Restoration of Aviation Fundamentals in Pilot Training"
Scott T. Glaser – CEO Aerospace Operations, LLC / CEO The Airmanship Foundation / Chief Test Pilot TACAIR 
Scott has a Bachelor of Science in Aerospace Engineering and Master of Science in Aerospace Engineering from Pennsylvania State University in University Park, Pennsylvania and earned his PhD in Biomedical Engineering from Drexel University in Philadelphia, PA.
Scott grew up in Western PA flying his Dad's Navion and Beech Debonair.  He learned turns about a point over Three Rivers Stadium while his Dad watched Steelers games.  Scott worked his way through the FAA rating system looking to fly higher performance aircraft in more dynamic environments.
Scott's pursuits also lead him to the purchase a Yak-52 and subsequently join the RPA in 2006.  Through the RPA and it's members, Scott received instruction in basic military flying skills such as aerobatics, formation, tactical formation and basic fighter maneuvering. This also led him to move into joining the Classic Jet Aircraft Association (CJAA) and use these skills in tactical jet aircraft such as the T-33, MiG-15 and F-86 where he received several ratings and is now a professional instructor pilot in a multitude of aircraft. He is on the National Board of Directors for the RPA as well as the CJAA.
This also lead to a professional career in flight test engineering in both the airborne and commercial space industries where is he has conducted performance, handling qualities, loads, avionics, flutter, systems and operational flight testing. He has worked with several interesting programs and facilities including Virgin Galactic's SpaceShipTwo and WhiteKnightTwo, the F-22 Raptor, Lockheed Skunk Works and the Stratosphereic Observatory for Infrared Astronomy (SOFIA) to name a few.
Talk begins at 11:00 a.m. in MASP Board Room (enter through the Voyager Restaurant)
Seating limited and RSVP required to attend talk.
Please RSVP: cathy@mojavemuseum.org or 661.342.0604

Donation for talk $2.00
DAY OF INFO
PLEASE NO SMOKING AND NO DOGS OR OTHER ANIMALS ON THE FLIGHT LINE
General Car Parking at Voyager Restaurant (1434 Flight Line # 58, Mojave, CA 93501)
Transient Parking Area – By Old Tower
KMHV – TWR 127.6 WX AWOS-3 (132.225) (661.824.5218)  |  Ground 123.9 Joshua Approach 133.65
www.airnav.com/airport/KMHV or www.mojaveairport.com
Thank you to our sponsors!
Voyager Restaurant (Mojave)  |  Comfort Inn & Suites (Mojave) |  Golden Queen Mining   |  Thom Lapworth  |  Karl's Hardware (Mojave/Rosamond/Boron)  |  Scaled Composites  |  Mission Bank (Mojave)  |  Rosamond News   |  The Loop Community Newspaper  |  Civ-Mil Support Group  |  Mojave Air & Space Port