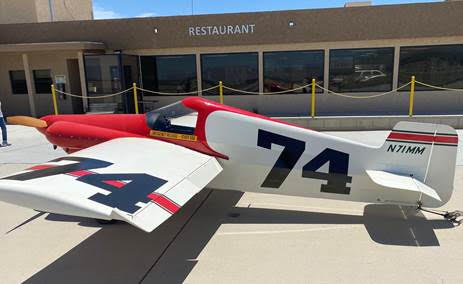 Shaun Milke – Professional Pilot & Founder of Golden Age Flight Museum
March 16, 2022
10am – 2pm
Talk begins at 11am ($2 donation)
1978 Melanson Cassutt
Shaun will tell us about his 1978 MELANSON CASSUTT III M Formula One Race Plane ("Cassie") race #74 that he raced in the 2021 Reno Air Races!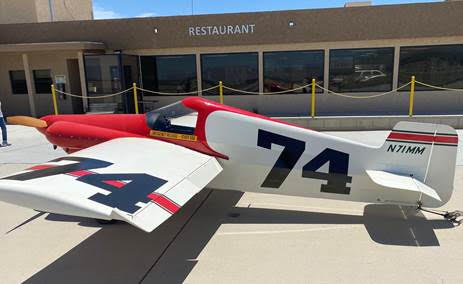 Designed by ex-TWA captain Tom Cassutt, it is a mid-wing cantilever monoplane with fixed tail wheel undercarriage. Shaun is an Aerospace Engineer and lives in Anchorage, Alaska. He earned his BS & MS Mechanical Engineering from the University of Alaska Fairbanks. He is presently an Independent Contractor here at Mojave Air & Spaceport. Previously worked as an Aerospace Engineer, FAA, Northwest Flight Test Section/Anchorage Aircraft Certification Office.
Talk begins at 11:00 a.m. in MASP Board Room (enter through the Voyager Restaurant)
Seating limited and RSVP required to attend talk.
Please RSVP: info@mojavemuseum.org or 661.342.0604

Donation for talk $2.00
DAY OF INFO
PLEASE NO SMOKING AND NO DOGS OR OTHER ANIMALS ON THE FLIGHT LINE
General Car Parking at Voyager Restaurant (1434 Flight Line # 58, Mojave, CA 93501)
Transient Parking Area – By Old Tower
KMHV – TWR 127.6 WX AWOS-3 (132.225) (661.824.5218)  |  Ground 123.9 Joshua Approach 133.65
www.airnav.com/airport/KMHV or www.mojaveairport.com
Thank you to our sponsors!
Voyager Restaurant (Mojave)  |  Comfort Inn & Suites (Mojave) |  Golden Queen Mining   |  Thom Lapworth  |  Karl's Hardware (Mojave/Rosamond/Boron)  |  Scaled Composites  |  Mission Bank (Mojave)  |  Rosamond News   |  The Loop Community Newspaper  |  Civ-Mil Support Group  |  Mojave Air & Space Port