AFTER ACTION REPORT: August 19, 2017
Plane Crazy Saturday has some new sponsors this year! Welcome Scaled Composites and welcome back to Thom Lapworth; Rosamond News; Mission Bank; Karl's Hardware (Mojave/Rosamond/Boron); Voyager Restaurant; Kieffe & Sons Ford (Mojave/Rosamond); The Loop Community Newspaper – Tehachapi and the Mariah Country Inn & Suites!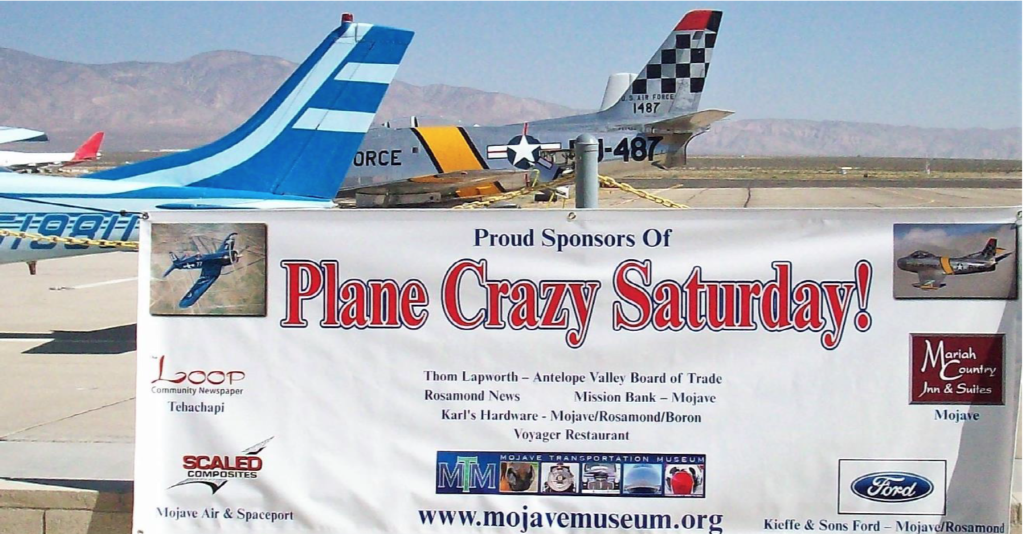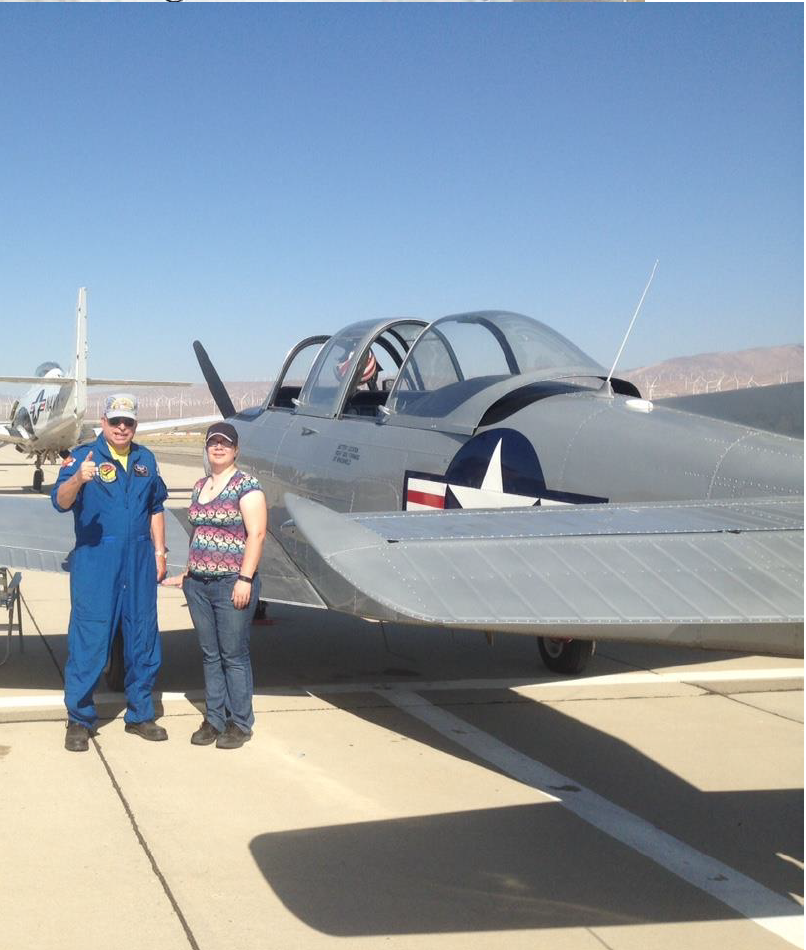 Gorgeous, perfect flying weather!
Our friend Bob "Stambo' Stambovsky flew over to Plane Crazy with his student, Allyson Darrin. She is almost ready for her Private Pilot License check ride! Good luck Allyson!
Anyone needing a Bi-Annual or flying lessons – contact Stambo! 661.816.5101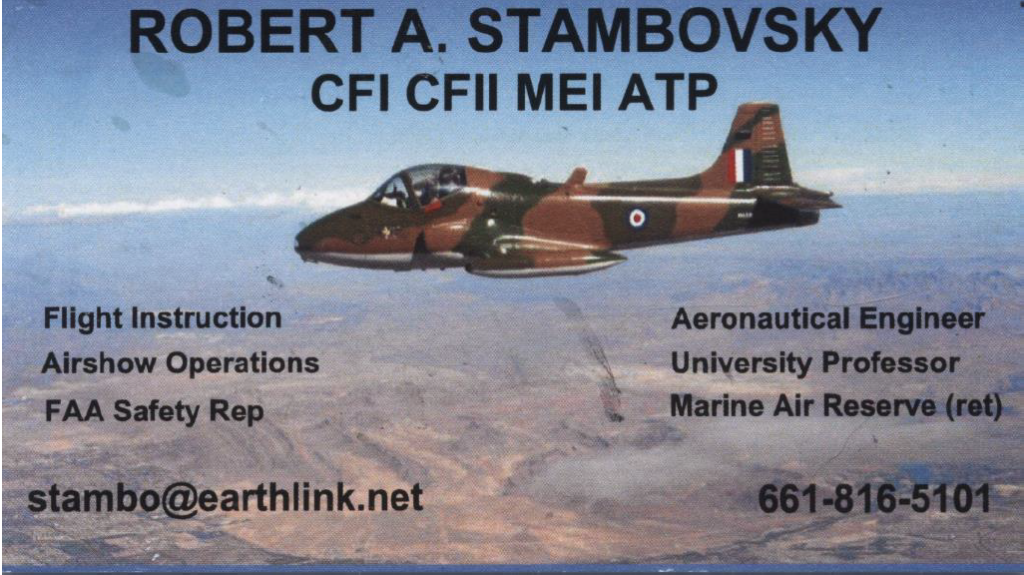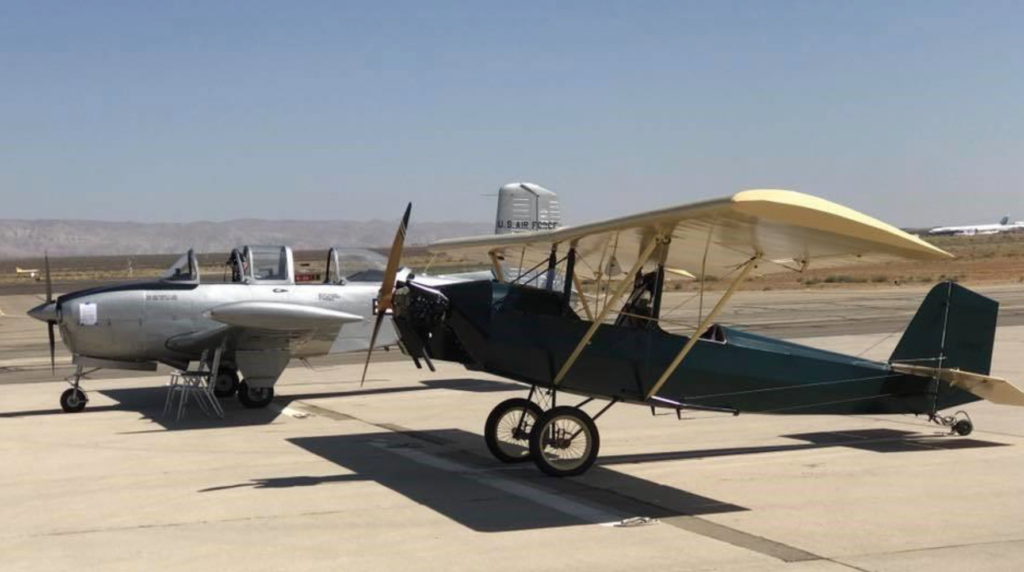 Scott Liefeld said the air temperature was perfect for flying his 1972 open cockpit Pietenpol AirCamper from William J. Fox Airfield to Mojave! Like most pilots who fly in for Plane Crazy, Scott enjoyed visiting with other pilot friends. The weather was so nice that after he left Mojave, he flew to Tehachapi to visit with more friends. The Density Altitude at Mojave was 5000-feet and at Tehachapi, it was 6600-feet. He said that it had been a couple of months since he was last up and flying, so it was refreshing and invigorating to fly again!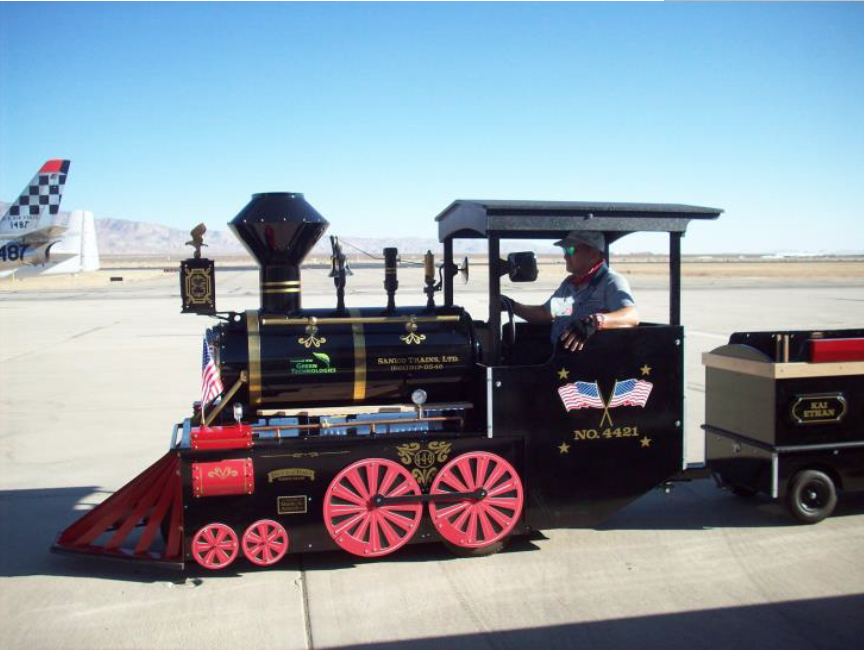 Since Mike Massee was giving a presentation on trains, we had trains at Plane Crazy too! Sanico Trains LTD with Emmanuel Sanico came and gave rides in his electric powered train down the flightline to kids for a small fee.
Give him a call for your next birthday party or corporate event!
661.917.0546 or email sanicotrainsltd@gmail.com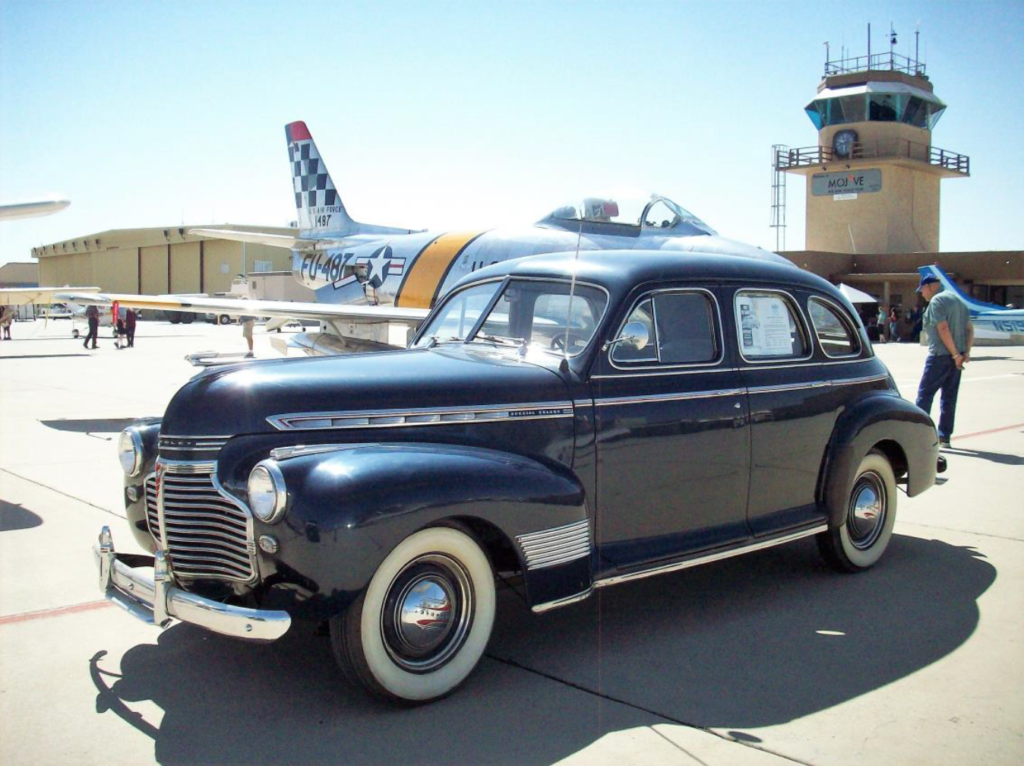 Mojave Transportation Museum Foundation's 1941 Chevrolet Sedan Deluxe was a big hit. This automobile was donated to MTM by Chris and Darla Manley. She is still running and still beautiful with her Victory Six engine.
This car is like a 'time machine' because when you climb into the driver's seat, it seems you are transported back in time.
The roomy interior, the fabric on the seats, the huge steering wheel, the 3-speed stick shift on the column, a dimmer switch on the floor, even the smell inside the car in reminiscent of your childhood or the earlier years in your life. Sally Kendall said it reminded her of her first car that was a stick shift and had a dimmer switch on the floor.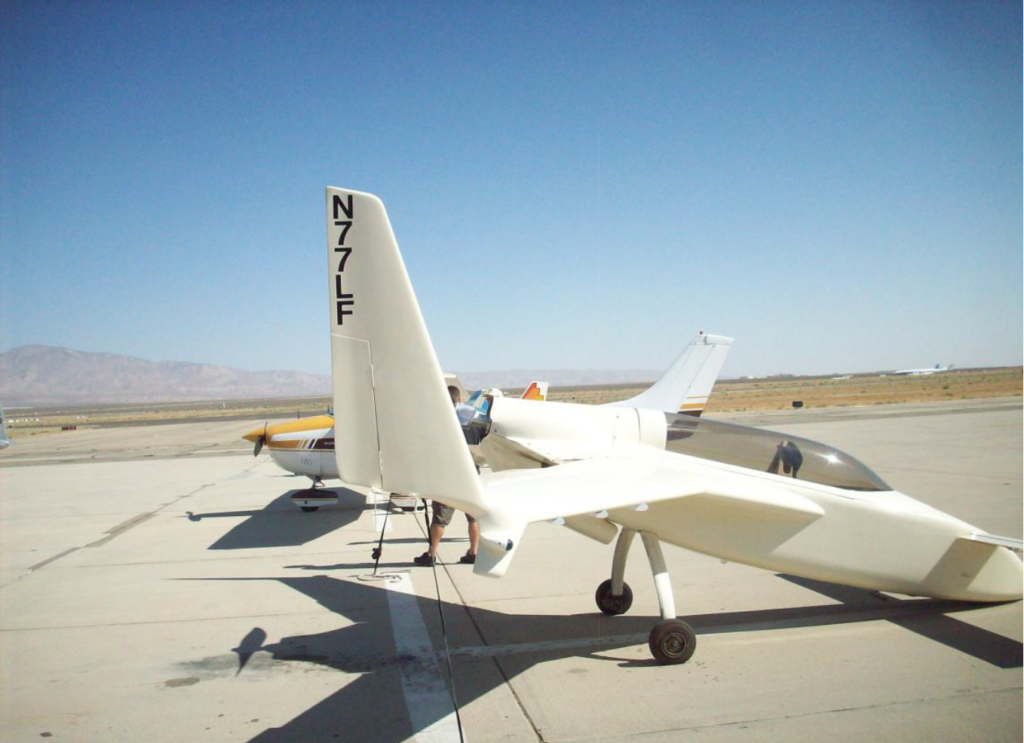 Dustin Wallace from Redondo Beach had his Varieze parked on the ramp. He is in the U.S. Air Force and was attending classes at Edwards Test Pilot School. He just happened on to Plane Crazy Saturday and had a good time showing his homebuilt to some of our foreign visitors.
Marcel Davids, president of a glider flying club in the Netherlands was interested in Dustin's Varieze.
Marcel is an experienced glider pilot with 20 years of expertise. He said that his glider club has about 90 members.
There were also visitors from other parts of the U.S. (Wisconsin) and from other countries, including Sweden.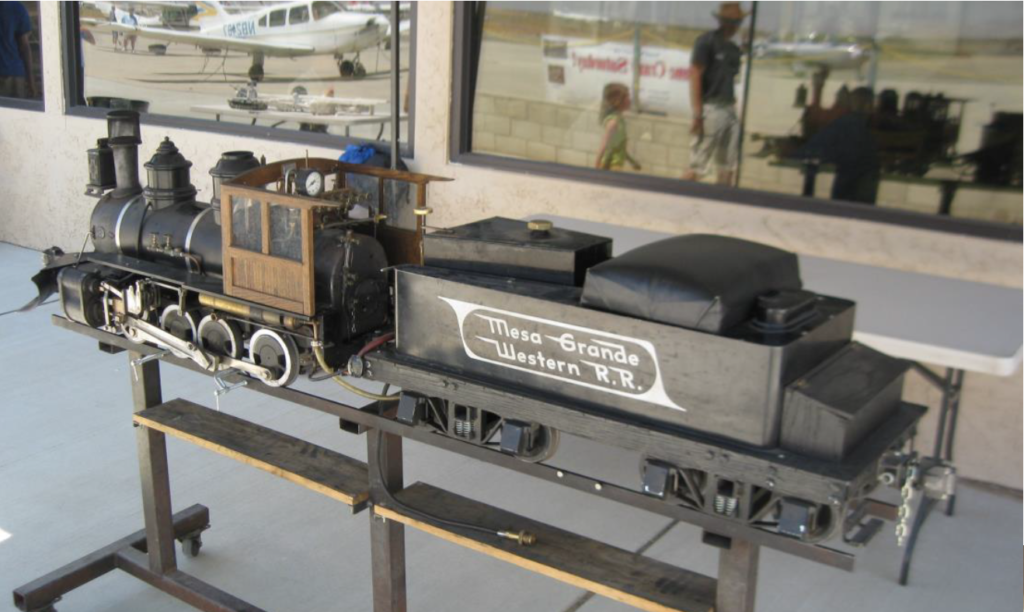 Doug Triplat took these two photos: Eber West's meticulously hand constructed 7.5-inch scale steam engine with hand built riding car. Eber's steam engine is an oil burning design.
Al and Cathy Hansen had the 7.5-inch scale coal burning Shay with caboose on display, as well as an original Fairmont Speeder.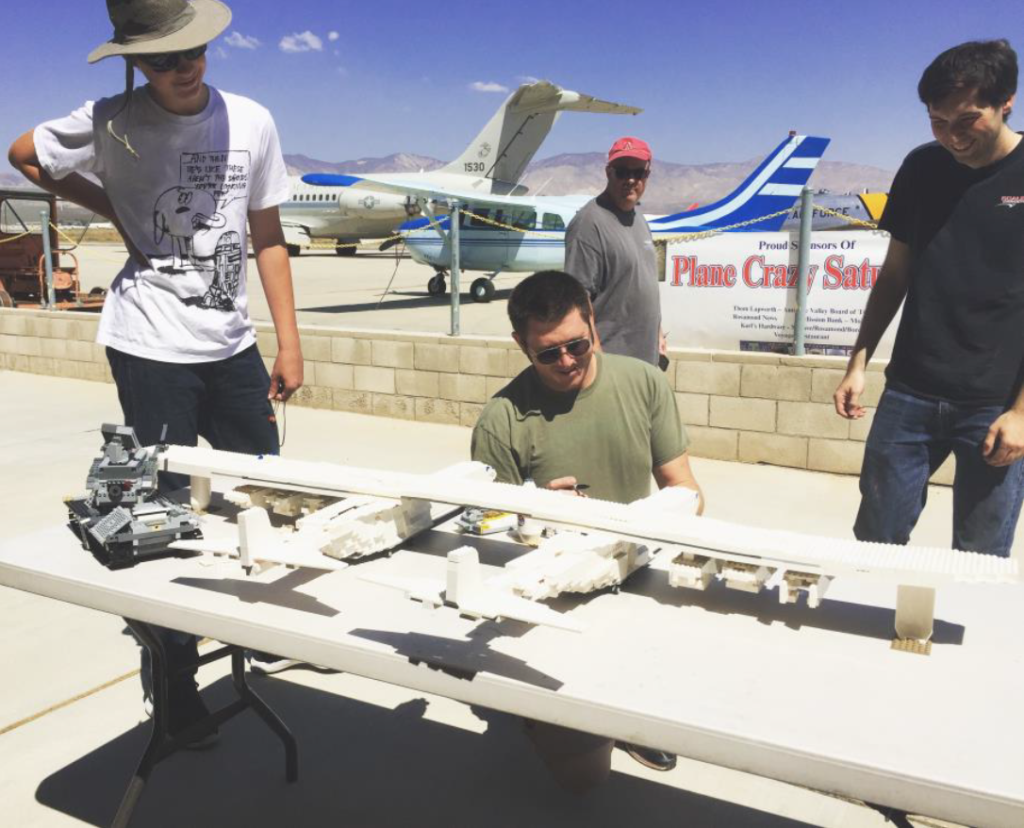 A regular attendee at Plane Crazy Saturday is Alexander Teteriatniaov. He is so impressed with the StratoLaunch aircraft that he built a Lego version of the large launch plane and asked pilot, Zach Reeder and the Flight Engineer to sign it.
We hope to have this model on display at Mojave Air & Spaceport for all to see. As soon as we can build a display case large enough to house it, you will be able to enjoy Alexander's enthusiasm! He is undoubtedly a future Aerospace Engineer and pilot!
Happy Birthday Alexander! He turned 14 on Saturday and has a wonderful and exciting life ahead!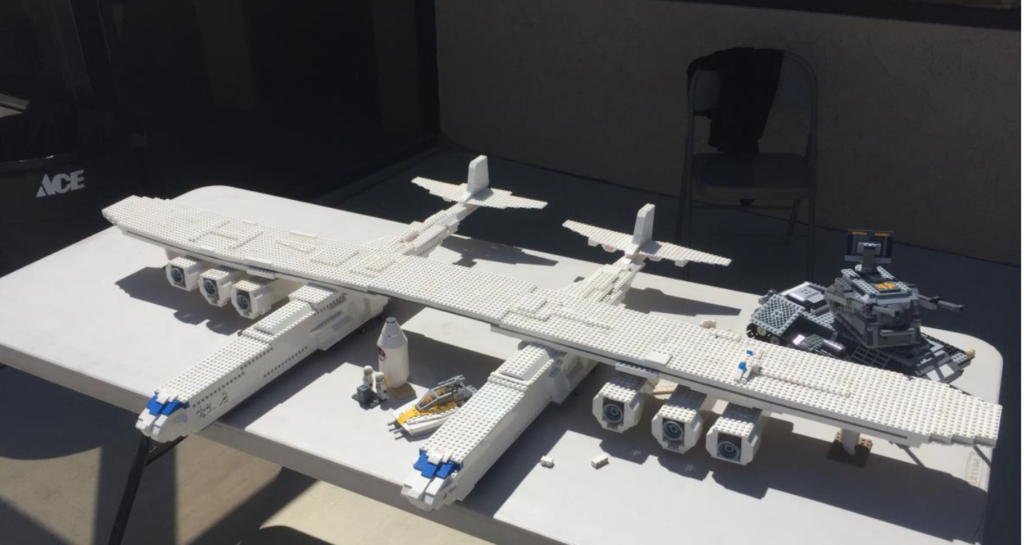 Rebecca Reeder took these photos of Alexander's creation. Congratulations Alexander! Great job!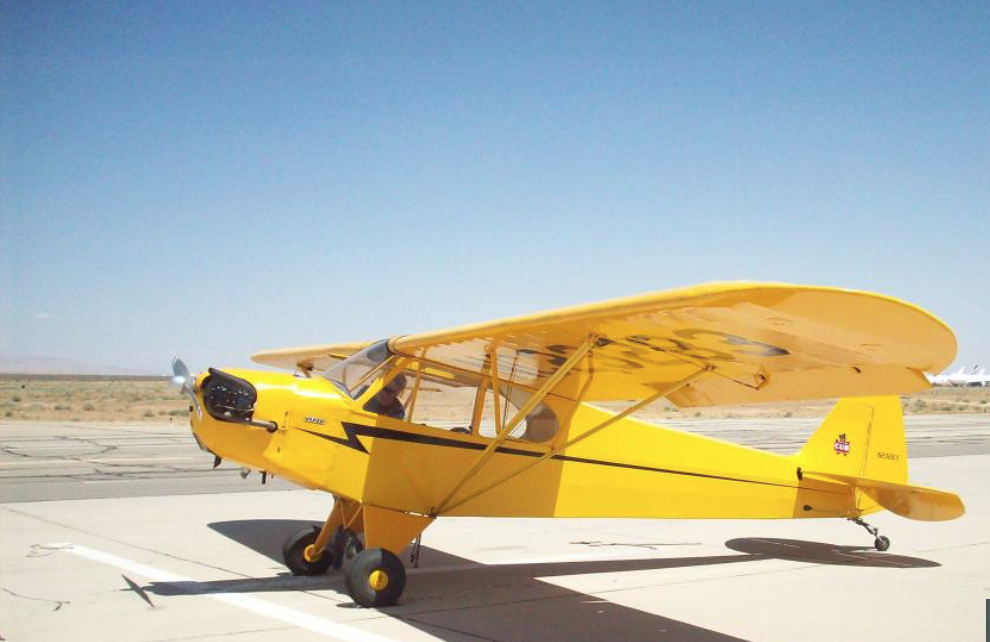 Our good friend, Chris McMurtry flew his 1939 Piper J-3 Cub in for display. I love the story about how his Dad, Tom McMurtry, purchased the Cub in 1996 to give his kids flight instruction.
Chris soloed in the Cub when he was 21. He purchased the Cub from his Dad in 2014.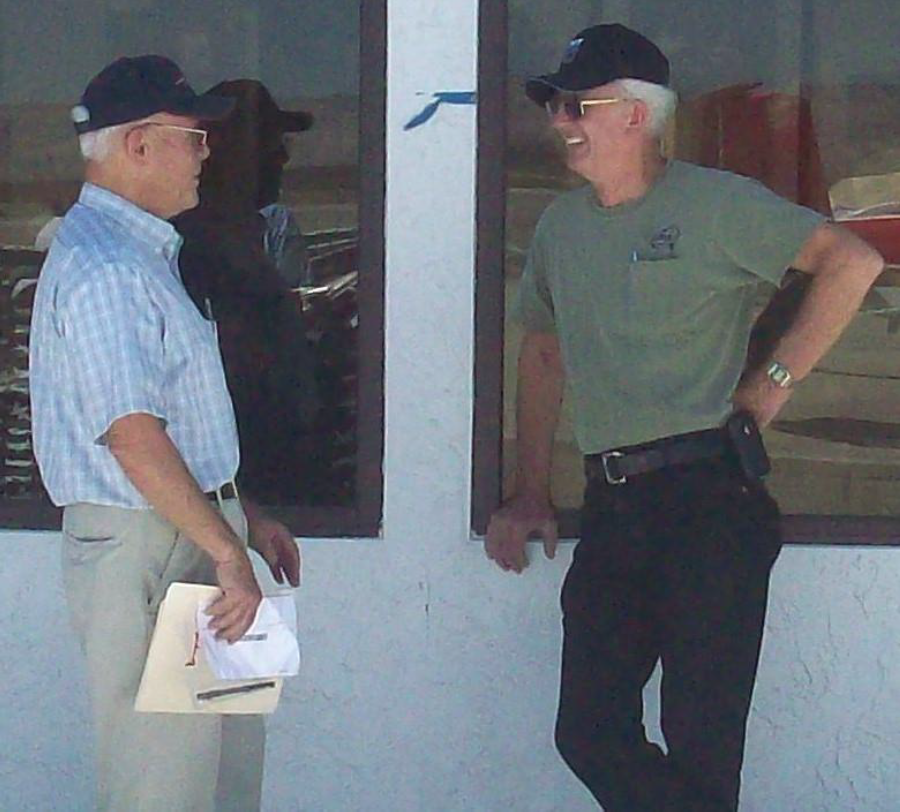 We were so saddened when Tom passed away on January 3, 2015. He loved coming to Plane Crazy Saturday. This photo shows Tom doing a little 'hangar flying' with his good friend, Phil Schultz in August 2010.
Tom's achievements and contributions to aviation are legendary. A U.S. Navy pilot in Douglas A-4s, graduate of the U.S. Naval Test Pilot School, and later flew with NASA as a research test pilot.
The first project he was assigned to as the project pilot was the F-8 Supercritical Wing project. He piloted its first flight on March 9, 1971 and that of the AD-1 on December 21, 1979. He was co-project pilot on the F-8 Digital Fly-By-Wire Airplane, and the 747 Shuttle Carrier Airplane and performed digital electronic F-15 engine efficiency control tests. He co-piloted the 747 Carrier Aircraft as it transported the Shuttle Enterprise to its first launch on August 12, 1977.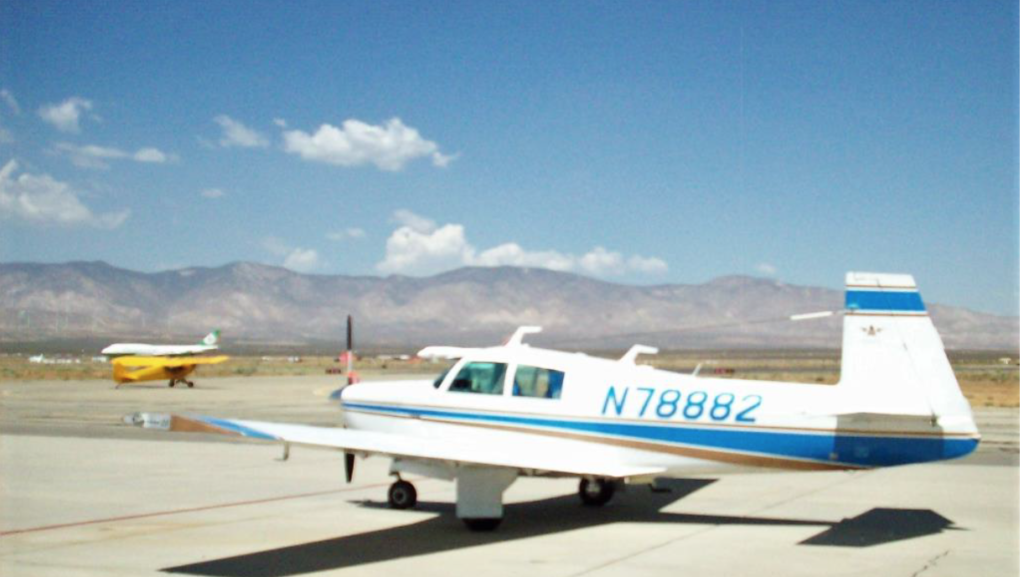 Doug Triplat's 1964 Mooney from Rosamond SkyPark. Fast, reliable airplane.
I'm sure Doug must be a member of the Vintage Mooney Group.
The Vintage Mooney Group (VMG) is a group Mooney aircraft owners and enthusiasts that share a devoted passion for what they consider to be the most incredible aircraft of its class and category. They strongly believe that the M20 Mooney's are the most incredible four-place aircraft ever manufactured.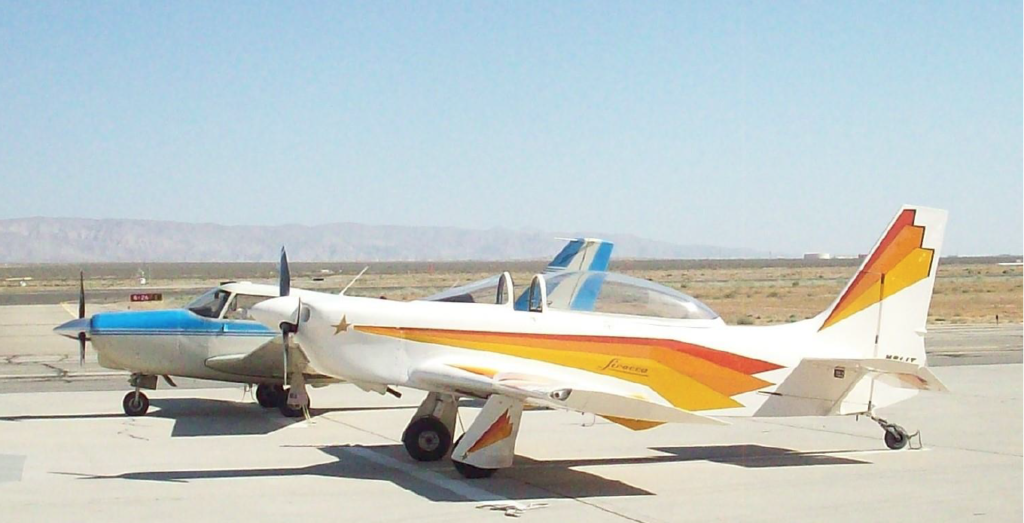 John Tumilowicz of Tehachapi flew his beautiful Experimental MJ-5 Sirocco in for display.
John's Sirocco has a 200 horsepower Lycoming IO-360 engine.
The Jurca MJ-5 Sirocco is a two-seat sport aircraft designed in France in the early 1960s and marketed for homebuilding. It is one of many wooden homebuilt designs from Romainian born designer Marcel Jurca.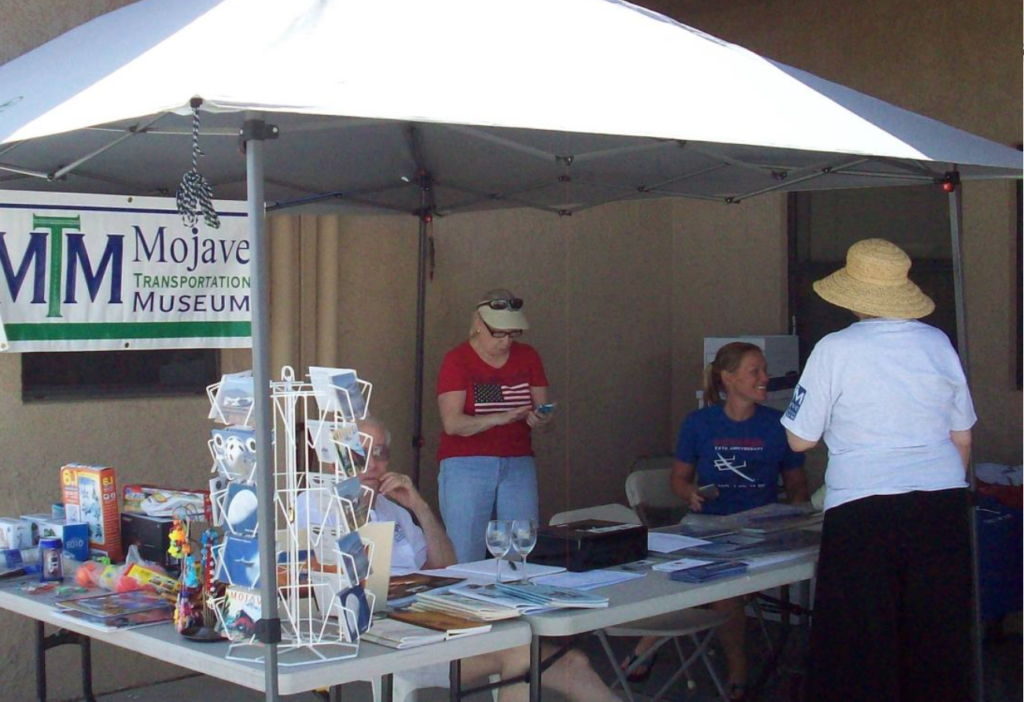 Thank you Bill Deaver, Steve Rushford, Rebecca Reeder, Ursula Finkbeiner and Sally Kendall for all of your wonderful help at the MTM table on Saturday.
Everyone had fun visiting with you!
Special thanks to Ron Langford for your assistance with table and chairs too!
Thank you to John Himes, Airport Ops Director for being on hand, as well! It was a great day!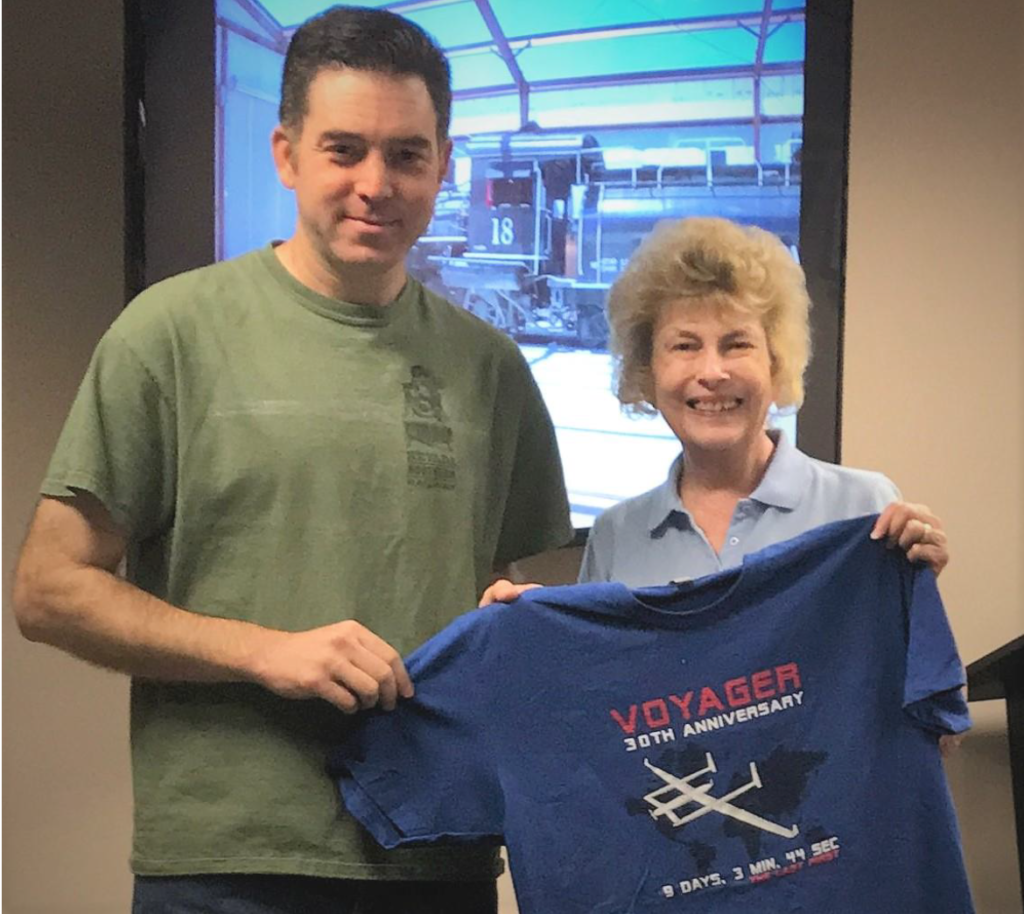 Mike Massee gave a most informative presentation about the Southern Pacific Narrow Gauge in the Owens Valley, which connected with the Jawbone Branch that terminates in Mojave.
Mike Massee is working on a project to catalog and eventually publish railroad photos taken by the late Donald Duke, one of the premier rail historians of the last century.
He introduced Steve Crise who gave the introduction about Donald Duke, the photographer who took most of the black and white photos of steam trains used in the presentation.
Steve is a nationally recognized specialist in major transportation company imaging, providing services to the largest brands in the American rail industry.
Mr. Donald N. Duke was the creator of Pacific Railroad Publications and Golden West Books.
---
Thank you to our sponsors!
Voyager Restaurant – Mojave  |  Kieffe & Sons Ford – Mojave/Rosamond  |  Thom Lapworth  |  Karl's Hardware – Mojave/Rosamond/Boron  |  Mariah Country Inn & Suites – Mojave  |  Mission Bank – Mojave  |  Rosamond News – Rosamond  |  The Loop Community Newspaper
SaveSave
SaveSave