AFTER ACTION REPORT: August 18, 2018
It must have been too hot and windy, so not too many aircraft flew in for Plane Crazy this month.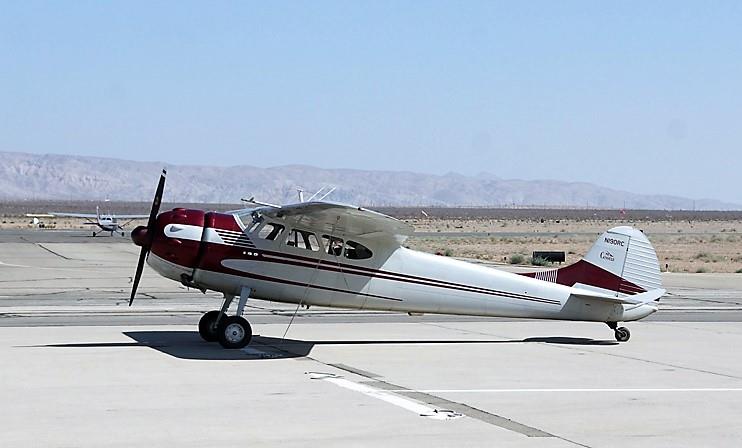 JB Brown brought his beautiful 1953 Cessna 190 Business-Liner. Always a treat to hear him taxi in! Love the sound of that round engine! A 225 horsepower, seven cylinder, air cooled, Continental R-670 powers JB's Cessna. Later models of the Cessna 195 featured a crosswind gear that allowed the wheels to swivel for slight drift or a crab during landing.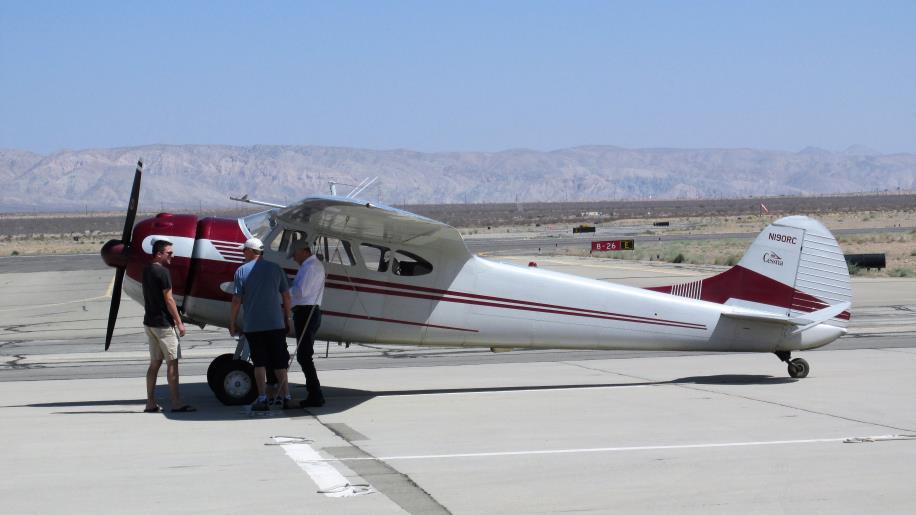 When Clyde Cessna was 47-years-old in 1925, Walter Beech and Lloyd Stearman offered him a partnership in the Wichita Travel-Air Company. He served as President of the company for two years, but moved on after a disagreement with his partners over aircraft design. Cessna preferred the cantilevered wing monoplane (single wing) and Beech was determined to build a biplane (two wings). The unforgettable Staggerwing Beech is both beautiful and timeless.
The two General Aviation pioneers built classic designs that are still popular today, proving that opposing ideas can sometimes produce two good products. When World War II broke out, the Airmaster assembly line ended after building a total of 180 aircraft, but after the war, the design reappeared as an all-aluminum Cessna 195 Business-liner and was produced from 1947 until 1954. That same year, Clyde Cessna passed away, at the age of 74.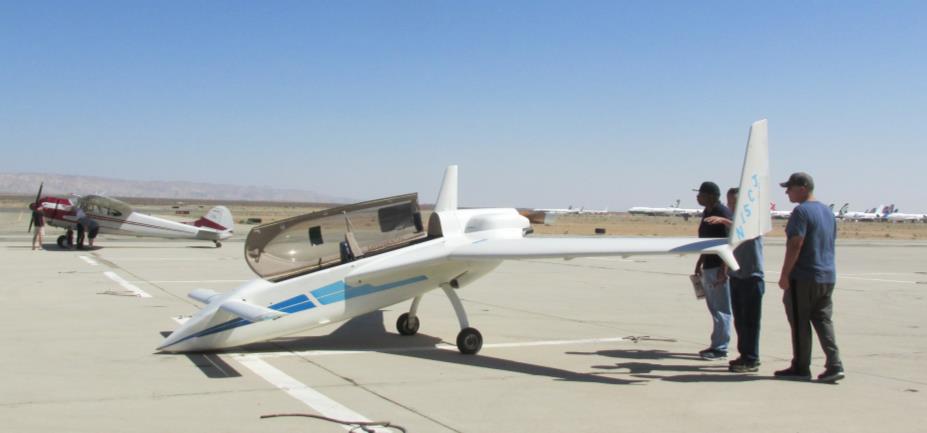 A rare Vari-Eze flew in from Lancaster. It is always a treat to see one of Burt Rutan's designs on the flight line!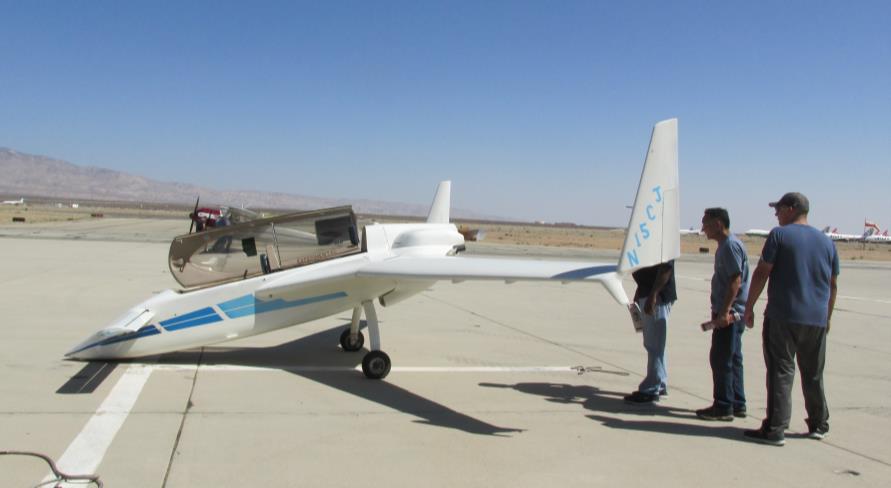 Greg Morris of Chicago had his eye-catching North American SNJ on the ramp the day before Plane Crazy.
The Pratt & Whitney R-1340-S3H-1 engine has no gearing from the actual crankshaft to the propeller, so at takeoff power at 2250 R.P.M. the tips of the propellers are actually breaking the speed of sound and that's what makes that nice loud roar.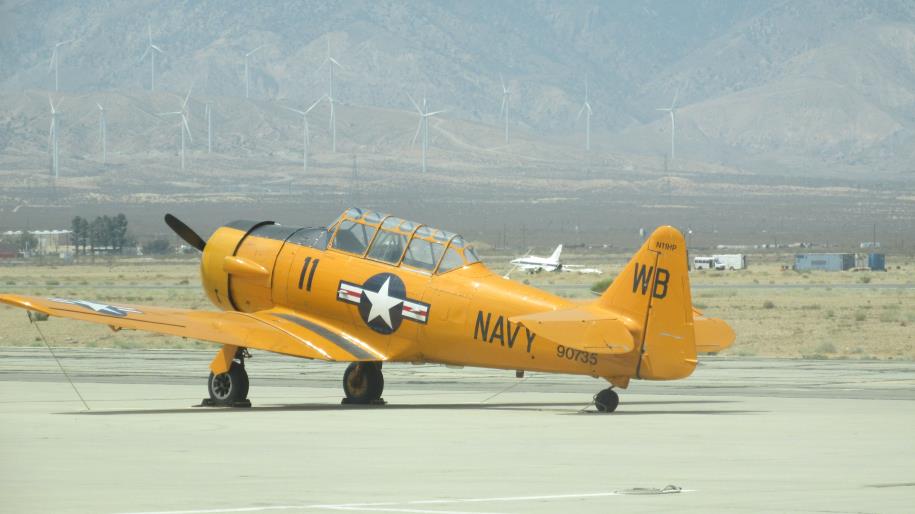 The T-6 Texan two-place advanced trainer was the classroom for most of the Allied pilots who flew in World War II. Called the SNJ by the Navy and the Harvard by the RAF, the T-6 was designed as a transition trainer between basic trainers and first-line tactical aircraft.
A North American T-28B and Canadair CL-13 Mk.VI (F-86) on display.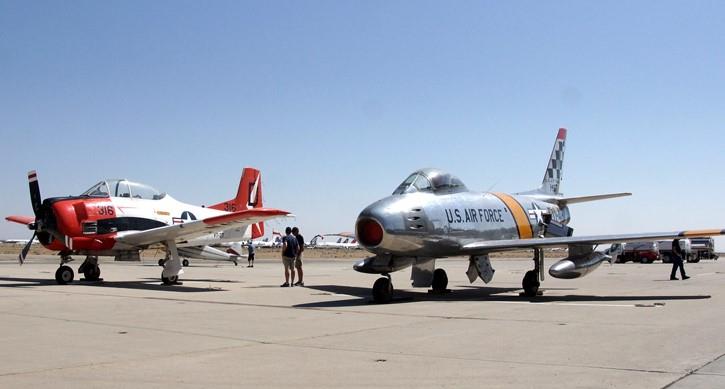 The Canadian built Mark VI and has a slightly wider fuselage to accept a powerful Avro Orenda 14 engine.
At first the North American F-86 was powered with an Allison J35-A-5 turbojet. Next Sabre test pilots began to take the F-86A into the relatively unknown region of transonic speeds once it had the more powerful J-47 turbojet installed. According to some, the Sabre first "officially" broke the sound barrier in April 1948. (Others believe George Welch broke the sound barrier before the X-1, in 1947.) The first operational F-86A Sabres entered service in May 1948.
All of Joseph McConnell's aerial victories in Korea were MiG-15s. He flew F-86's with the 39th Squadron, 51st FIW. On May 18, 1953, he achieved the feat of downing three MiGs in one day, in the process becoming the first 'triple ace' of the Korean War with 16 victories.
Plane Crazy Saturday presentation on August 21, 2018 was standing room only! Highlight of the day was Dan Kreigh telling about being a part of the SpaceShipOne Team with Burt Rutan.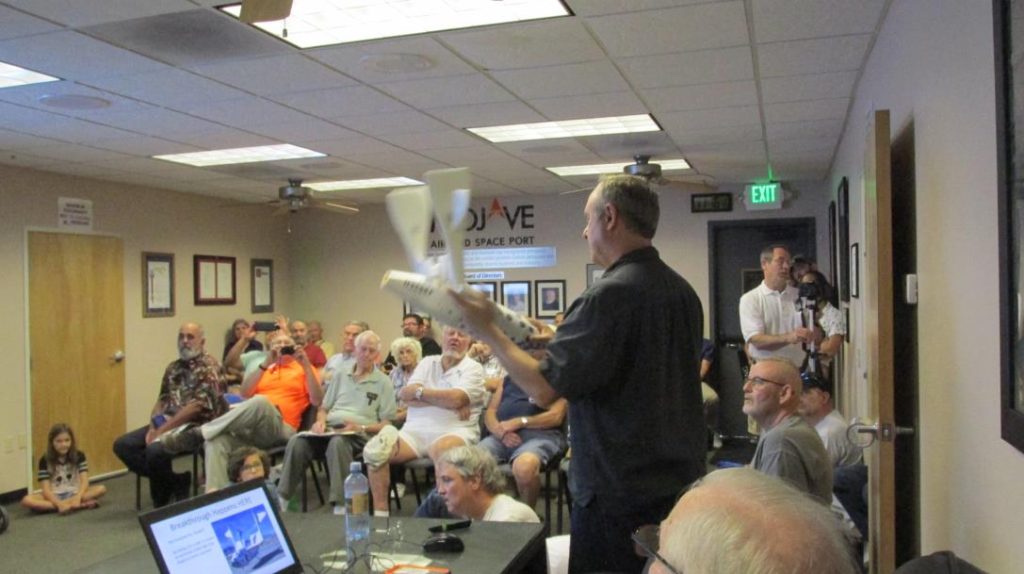 Dan celebrated his 30th year working at Scaled Composites on August 1st this year! He has been a pilot for 27 years, a master modeler, and was Lead Structural Design Engineer on SS1.
He brought a flying RC model that he built to demonstrate to Burt that his 'feather' concept really worked well. The original model was made of carbon rods and covered with blue Ripstop polyester. It was extremely tough, but truly looked delicate.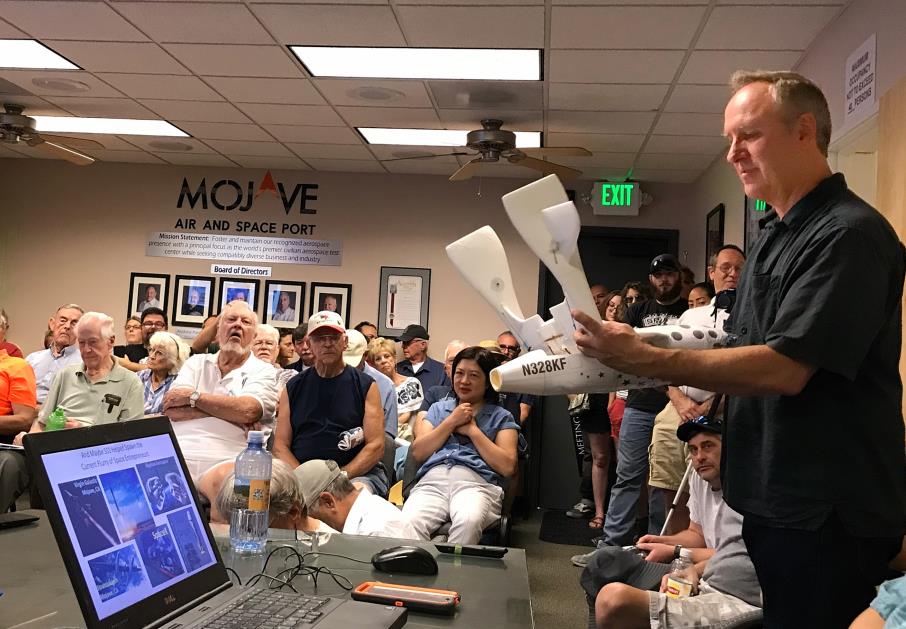 When Danno first showed the model to Burt over 14 years ago, Burt told Dan that it was too flimsy and probably wouldn't fly. In his own reserved way, Dan said, "It flew OK yesterday."
Next thing, Dan had Burt out on the flightline showing him how well it flew and how the model came down like a badminton birdie when the feather was up. He said that Burt was so excited that he had all of the pilots line up and watch Dan fly the model again, then use the feather.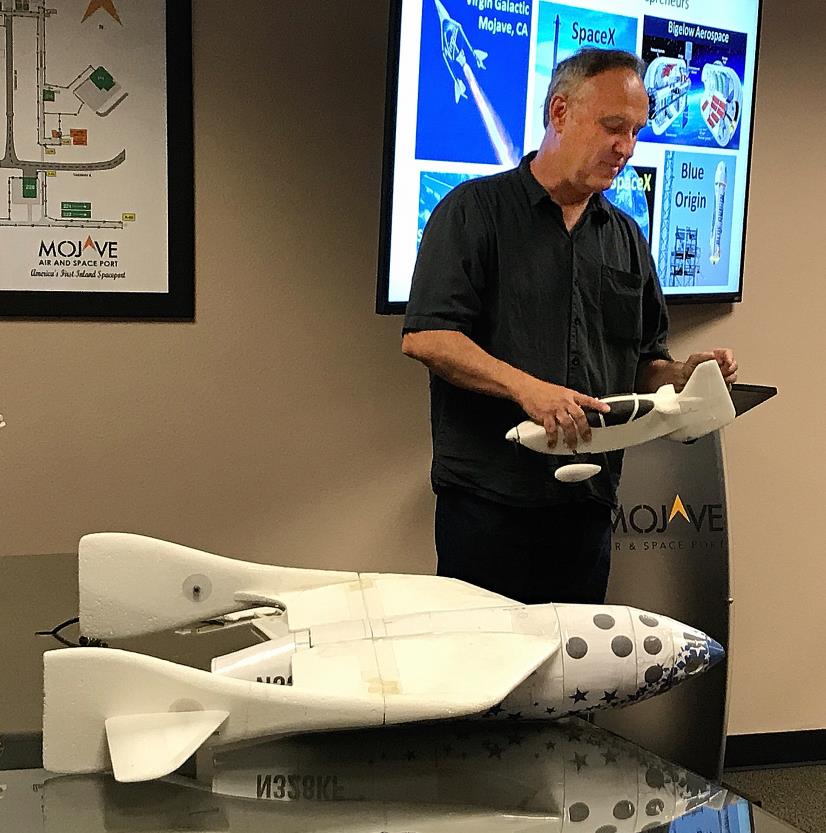 The model that Dan brought to Plane Crazy is one of several SS1 models he has made and is made from foam. See it fly: http://rutanboomerang.com/radical-revolutionary-rutan-rc/
So exciting to have been a part of this history that was made at Mojave Air & Spaceport! Burt Rutan's SpaceShipOne project, which won the Ansari X-Prize. SpaceShipOne was the first privately funded manned spacecraft, and revolutionized the notion of space tourism.
Today, the original SpaceShipOne hangs in the Smithsonian National Air and Space Museum, Milestones of Flight, in Washington, D.C. Replicas are on display at Mojave Air and Space Port, the FAA Museum in Australia and at the Bakersfield Meadows Field Airport.
Danno talked a little about his idea for a flying car too!
Thank you Ron Langford for setting up tables for Julia Pengilley and Sally Kendall in the hallway, so we could display our Voyager and 140th Anniversary shirts without the fear of them blowing down the ramp!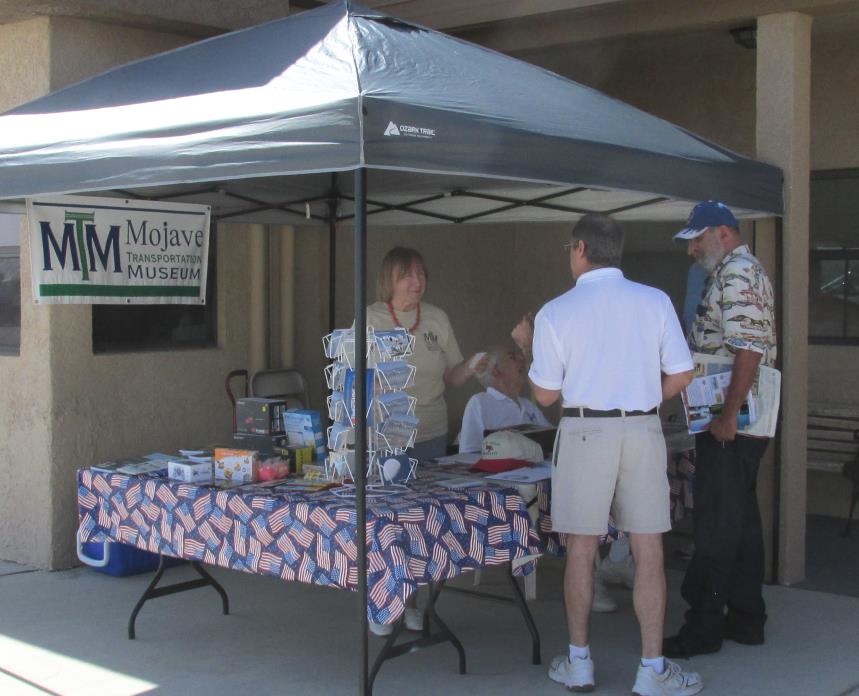 Thank you Julia and Sally for your willingness to visit with everyone who turned out for Plane Crazy. You always go out of your way to make them feel welcomed and we appreciate you!
Thank you Bill Deaver, Steve Rushford and Ursula Finkbeiner for all your work setting up and enduring the heat and wind (always the wind)! Thank you Bill for signing all of the Historic Aircraft Display forms and for sharing stories of Mojave with all the people who come from all over the world. We always have guests from Europe in the summer months.
Thank you Steve and Ursula for setting up the camera to video our guest speakers and for bringing new and exciting educational items for the promotional table! Everyone enjoys the gliders, solar toys and the new ball puzzles.
---
Thank you to our sponsors!
Voyager Restaurant – Mojave  |  Kieffe & Sons Ford – Mojave/Rosamond  |  Thom Lapworth  |  Karl's Hardware – Mojave/Rosamond/Boron  |  Scaled Composites  |  Mission Bank – Mojave  |  Rosamond News – Rosamond  |  The Loop Community Newspaper  |  Civ-Mil Support Group