AFTER ACTION REPORT: November 18, 2017
Photos by: Roy Gant, Bill Deaver and Cathy Hansen
What spectacular weather we are having for November!! A beautiful Plane Crazy Saturday with loads of airplanes flying in taking advantage of the bright blue skies, warm temperatures and light northeast breezes. What a switch from the howling west winds we are famous for!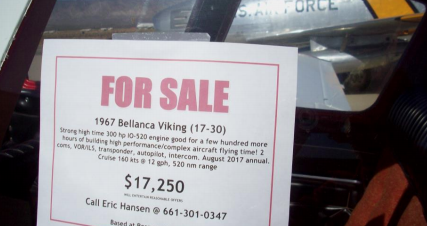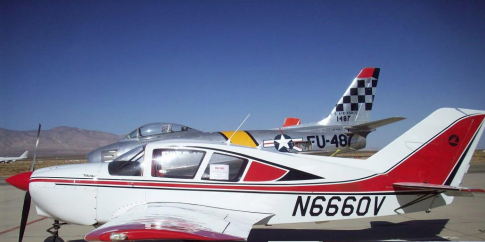 Eric Hansen flew in from Rosamond Skypark and has a great deal for anyone wanting a nice Bellanca Viking! Eric said he has too many airplanes! I didn't know that was possible. Having lots of airplanes must be in the Hansen genes!
This airplane has a strong high time 300 hp IO-520 (great engine!) good for a few hundred more hours of building high performance/complex aircraft flying time! 2 coms, VOR/ILS, transponder, autopilot, intercom. August 2017 annual. Cruise 160 kts @ 12 gph, 520 nm range.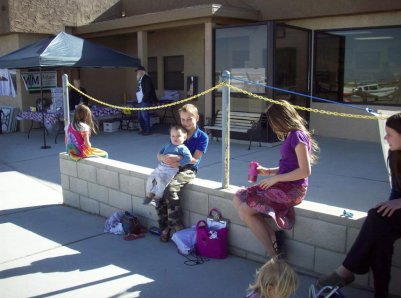 Lots of kids and families came out for a day at the airport. Hopefully, they are future pilots and flight test engineers! Actually two of these kids said they wanted to be astronauts! That is a great attitude! Set your sights high.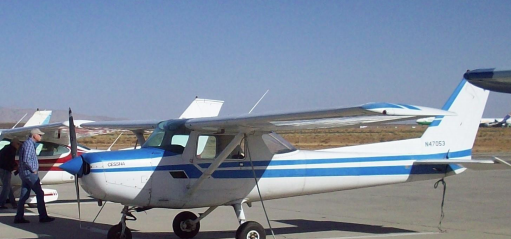 This Cessna 152 came from Redlands Airport (KREI). The pilot said his flight was
perfect to MHV!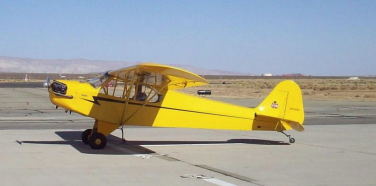 Chris McMurtry flew in his vintage 1939 Piper J-3 Cub. We are always happy
to see Chris and his Cub!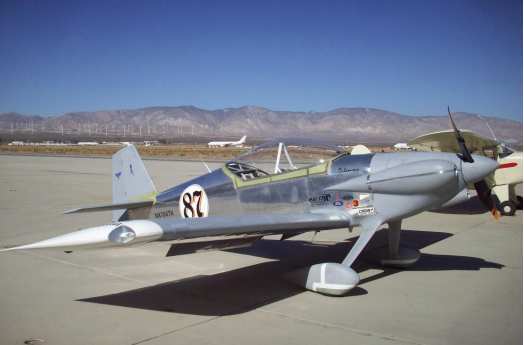 Great to see Axel Alvarez and his wife, from Inyokern and his Sport Class race plane, the
'Alvarez Special!' Axel has been involved with aviation since he was akid. He soloed at the age of 16, earned his Private certificate at 17, Instrument certificate at 18 and Commercial certificate at 19. He then earned an Aerospace Engineering degree from the University of Tennessee. Once he graduated from college, he moved to California and obtained a job performing flight test on high performance airplanes and helicopters.
That job provided the opportunity to apply to United States Naval Test Pilot School. He was accepted and graduated the following year. He has flown multiple general aviation and military aircraft, to include gliders and helicopters. He is a member of the West Cast Ravens Formation team and has performed in shows such as California Capital and
Oshkosh. He has also flown in large formations for events such as the 40-ship formation
over Oshkosh celebrating 40 years of Van's Aircraft and a 49-ship formation over the
Kansas City NFL stadium raising breast cancer awareness.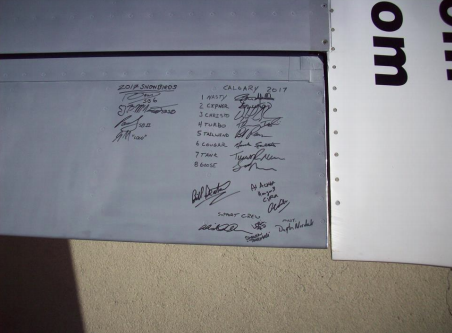 He and his wife spent approximately 10 years building an RV-4 derivative which he raced in 2016. Prior to Racing at Reno he raced street bikes. His advice for kids is "Look for opportunities, set goals and then go for it".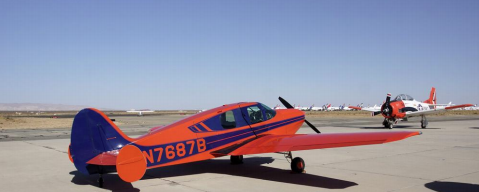 Jim Roberts flew his 1957 Bellanca in from Tehachapi. Jim has a 1957 pickup truck with a matching paint job too. Both the pickup and the Bellanca had belonged to his Dad.
He has kept them both in pristine condition in honor of his late Father. That is so awesome! Both Chris McMurtry and Jim Roberts were inspired to fly by their fathers.
Our hope is that we are inspiring the kids who come to Plane Crazy to fly and design
airplanes!
Roy Gant, our photographer friend from Bakersfield said, 'You can't take too many
photos of an F-86!' We believe that statement!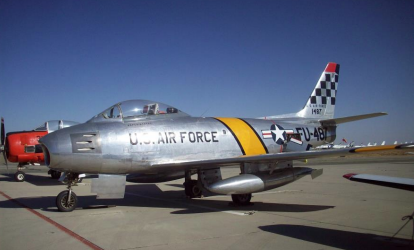 Al Hansen's 1952 Canadair Mk-VI Sabre is on display, next to his 1954 North American
T-28B.
Dick Ewers gave a fantastic presentation about flying science missions over the North and South Poles, low-level, in NASA's DC-8 flying laboratory! The photos and video looked like he was flying over another world!
Hard to believe these magnificent mountains of ice and snow are really part of our planet Earth!
Dick served as a USMC fighter pilot more than 21 years and after retirement from the military, he flew as an engineering test pilot for Westinghouse Electronic Systems Group for nine years. He joined NASA Dryden, now NASA Armstrong Flight Research Center at Edwards AFB as a research pilot in 1998. He piloted NASA's DC-8 on scientific missions for over 15 years and was 'over the moon' enthusiastic about flying that aircraft! He told how this airplane was capable of really long flights and he laughed when telling
how they would run out of food before they would run out of fuel.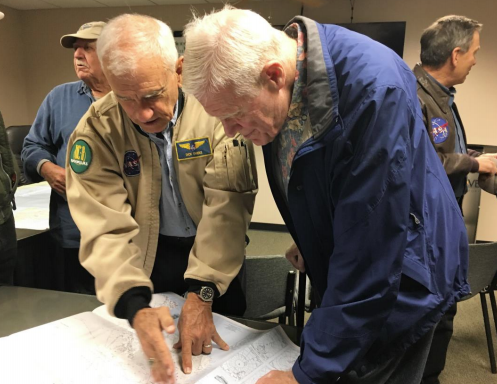 Many former NASA employees came to hear the stories from their good friend. One of the MTM board members said it was one of the best presentations we have ever seen.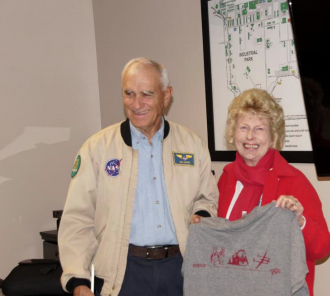 Thank you to Dick Ewers for sharing the beauty and grandeur of the North Pole and Antarctica. Only a few people have had the opportunity to see what you have seen.
---
Thank you to our sponsors!
Voyager Restaurant – Mojave  |  Kieffe & Sons Ford – Mojave/Rosamond  |  Thom Lapworth  |  Karl's Hardware – Mojave/Rosamond/Boron  |  Mariah Country Inn & Suites – Mojave  |  Mission Bank – Mojave  |  Rosamond News – Rosamond  |  The Loop Community Newspaper
SaveSave