AFTER ACTION REPORT: October 21, 2017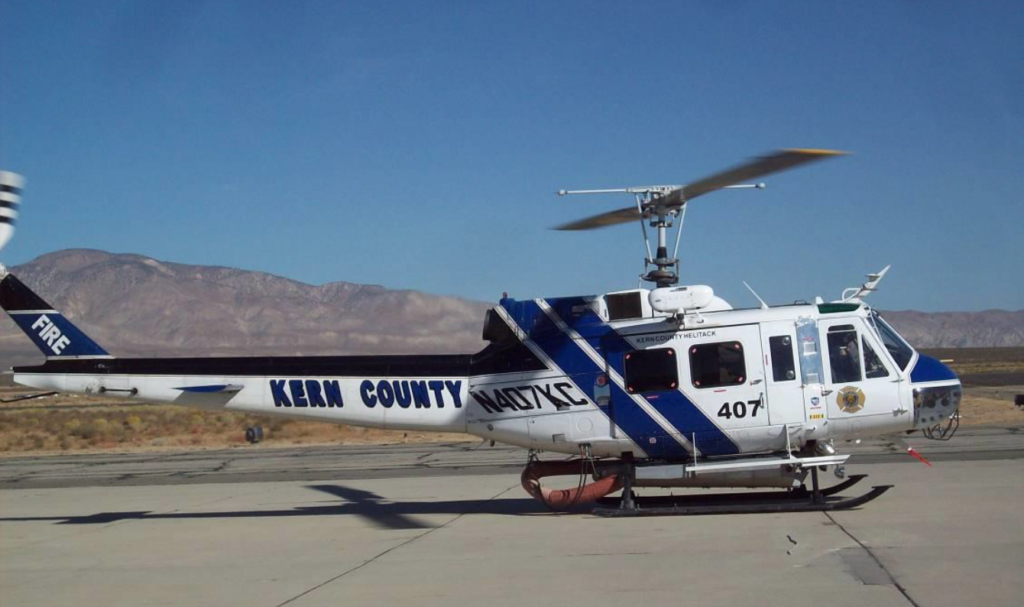 We Salute and Thank our Emergency Services and First Responders! How lucky we are in East Kern County to have the wonderful coverage with the Kern County Fire Dept. on the ground and in the air; Kern County Sheriff, patrol units and SWAT Unit; California Highway Patrol; Air Methods-Mercy Air aerial ambulance; Hall Ambulance; Mojave Air & Spaceport Fire, Crash, Rescue Team.
Thank you to all who help us when an emergency strikes and respond to our personal safety when we are injured!
Our Kern County Fire teams helped with the horrible fires in Northern CA just last month. There were several smaller fires in the Tehachapi area that they were able to thankfully contain quickly. Our good friend Blake Burris flew Helitack 407 for display. This is one of Kern County Fire Department's Air Operations Super Huey helicopters and it carries 360 gallons of water for fire suppression. When someone asked Blake how fast the doors on the water tank opened, he walked over to the helicopter reached up into the cockpit and released the doors and bam, in a blink of the eye water dumped onto the ramp.
When the 2,880 pounds of water is released, the pilot compensates for the immediate decrease of weight from the helicopter.
A demonstration water drop wasn't able to take place as the water pond that used to be at the airport has been removed.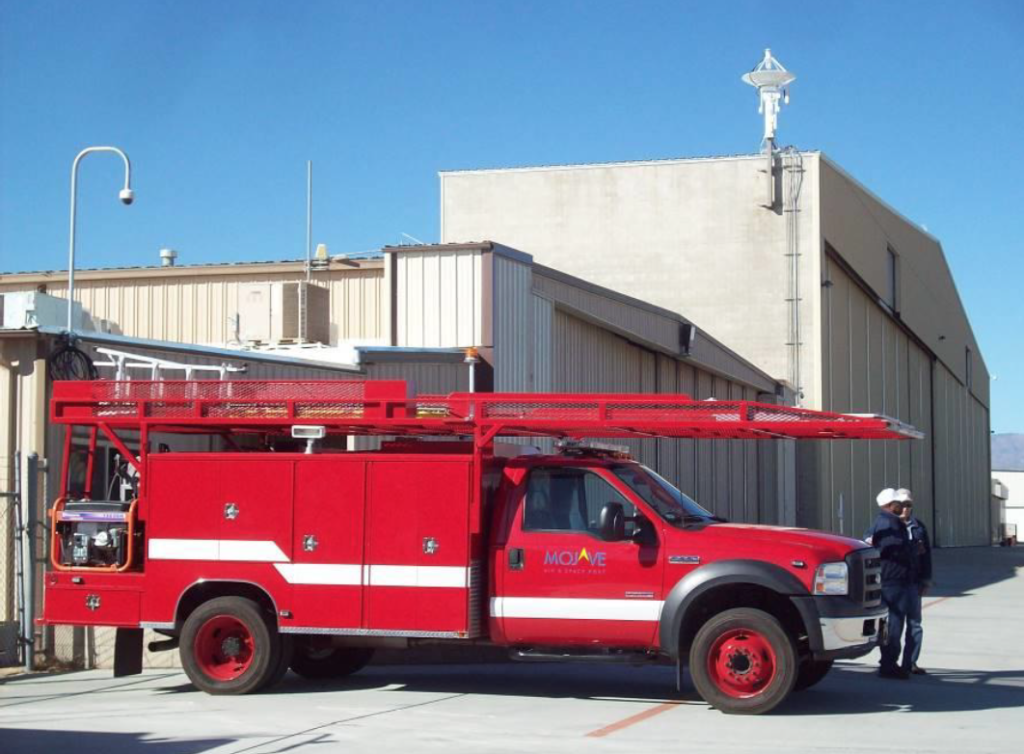 Mojave Air & Spaceport Fire Chief, Rich Fauble was on hand with the airport's smaller red fire truck.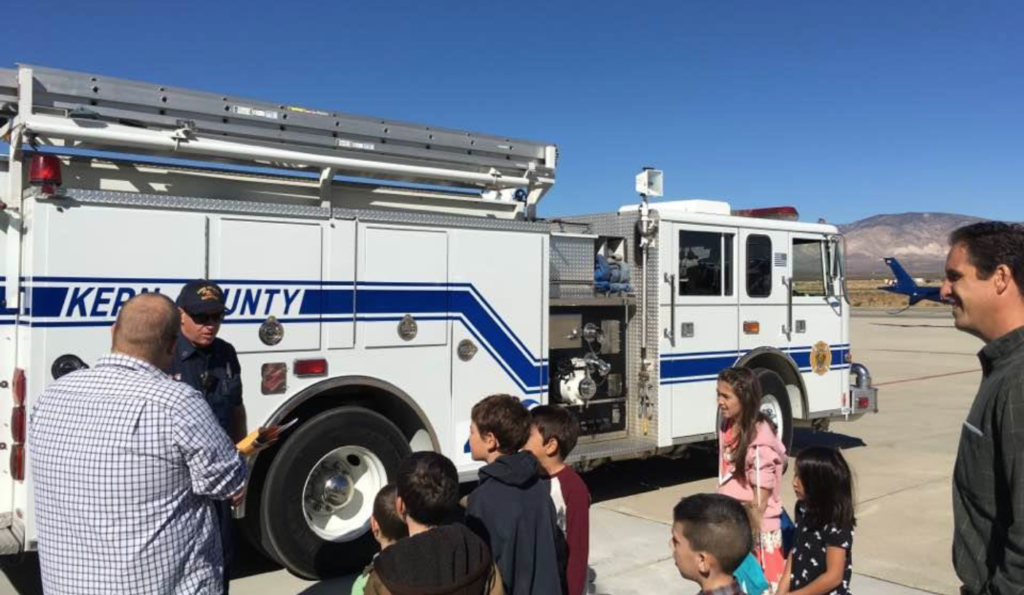 Kids love fire trucks! This event gives kids an opportunity to up close to emergency vehicles and personnel in a non-emergency situation, so if they ever have a real emergency they will have the knowledge necessary to know what to expect.
A group of youngsters are interested to hear from the Kern County SWAT Team Officers and have a chance to tour their armored truck. Hopefully, they will never have that experience later in life!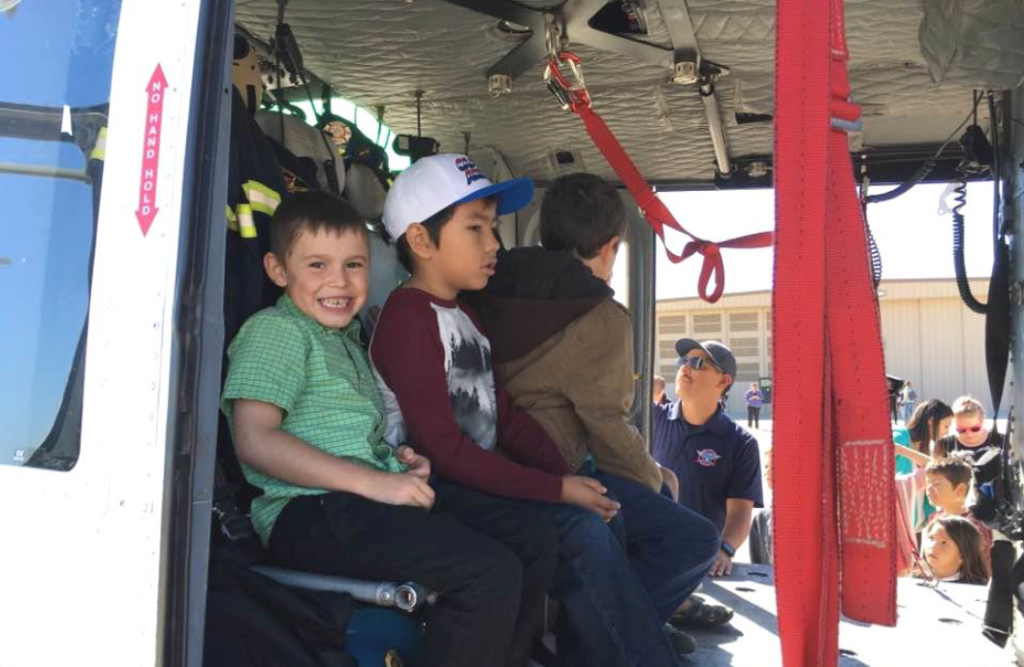 What kid doesn't love the opportunity to sit in a helicopter? Kern County Fire Helitack crewmembers helped young students climb into the back of the big helicopter that has a recorded history of being used by the U.S. Army in Vietnam. This UH-1H is a 1967 model.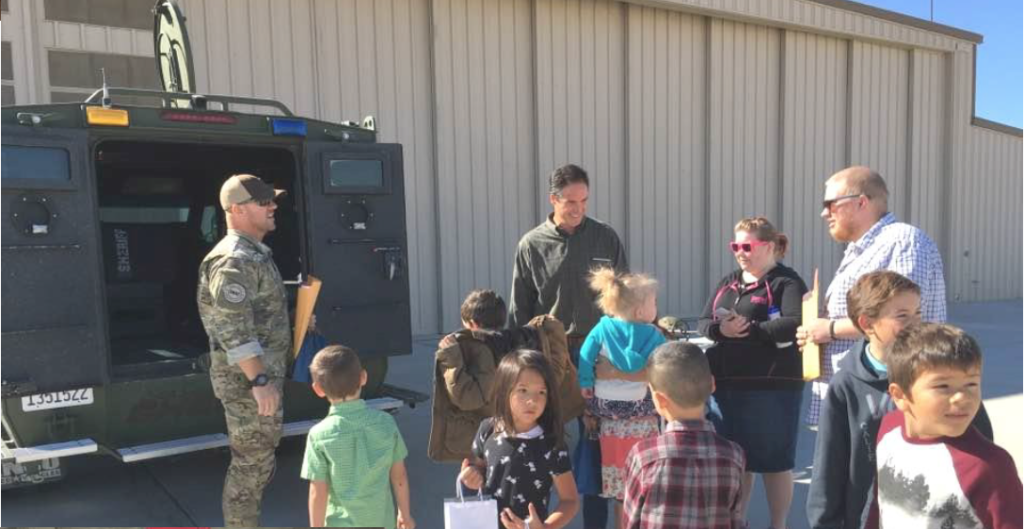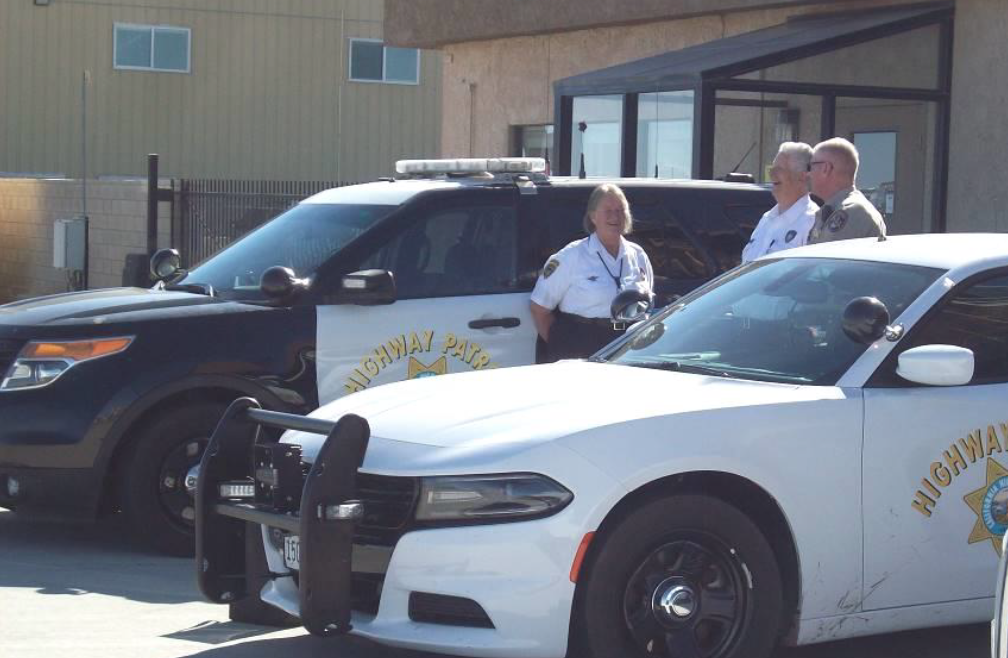 Volunteers with the CHP, along with CHP Officers were at Plane Crazy Saturday accepting unwrapped toys for the CHiP's for Kids toy drive to be used for needy families in the area during the holidays and Christmas.
Thank you CHP for this great program! Thank you one and all who donated to this significant project.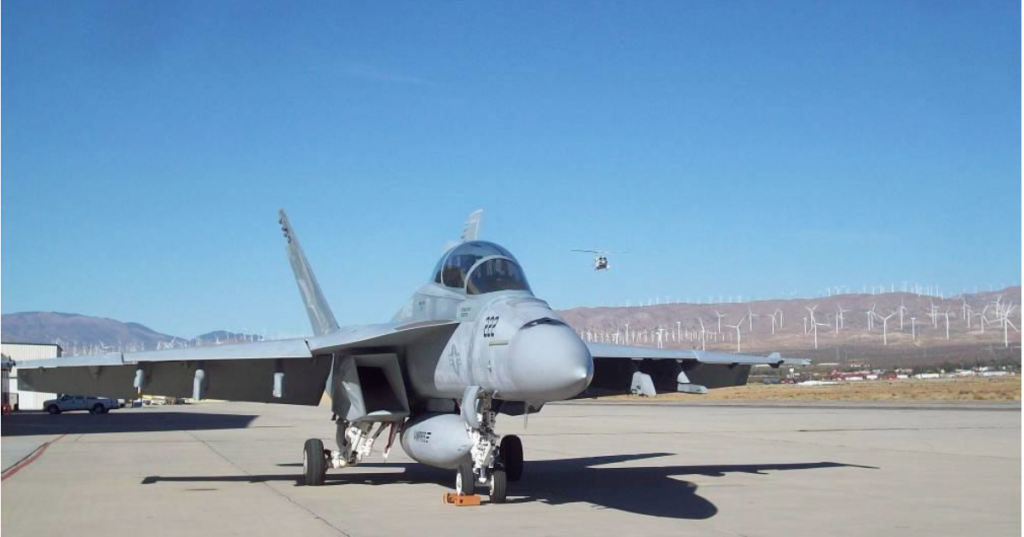 This beautiful FA-18 Super Hornet was visiting from China Lake NAWS, so we naturally took a photo!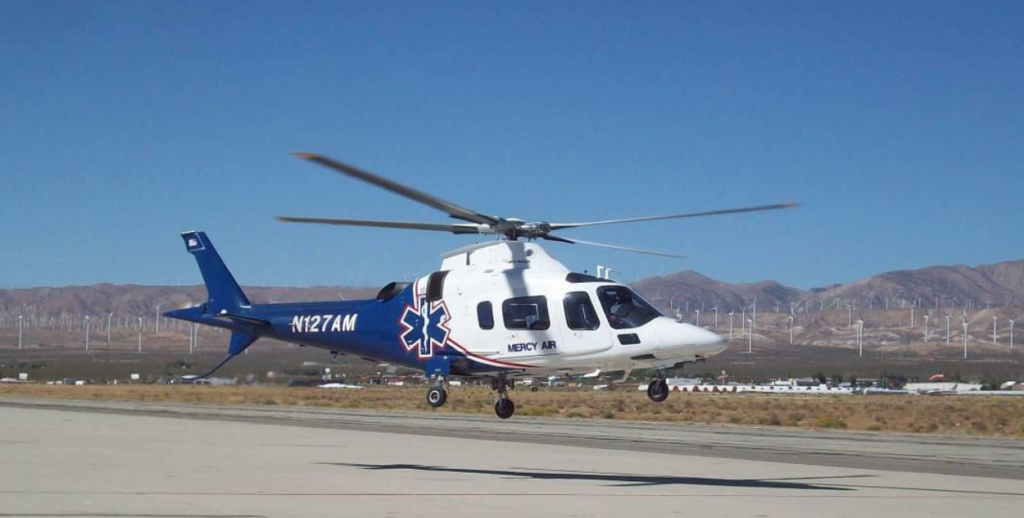 Mercy Air is based on Mojave Air & Spaceport and is always ready to help transport accident victims to the hospital. Their efforts have saved many lives through the years and we are so thankful that they are right here on the airport! Thank you Mercy Air!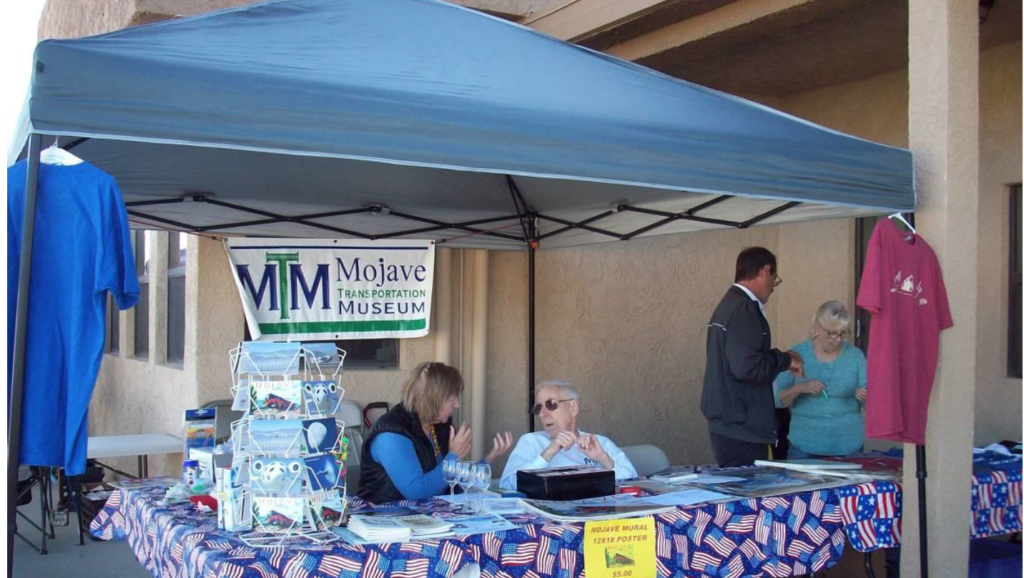 Bill Deaver, Ursula Finkbeiner, Steve Rushford and Sally Kendall held down the promotions table for MTM. Thank you!! Great job.
Ursula and Sally especially enjoy visiting with all of the folks who visit Plane Crazy from other countries. It is wonderful how many foreign countries are represented at PCS each month!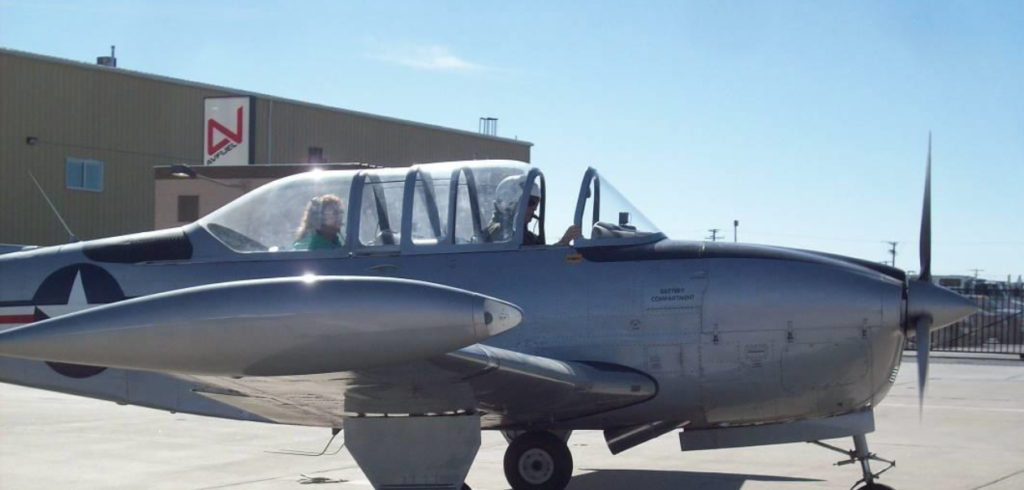 Bob and Donna Stambovsky came to hear Barbara Schultz tell about Amelia Earhart and they were flying in a pristine Beechcraft T-34 Mentor owned by Walt Waltosz of Fox Field in Lancaster.
Bob often flies this Mentor over Patriotic events in Antelope Valley with a smoke demonstration as a salute.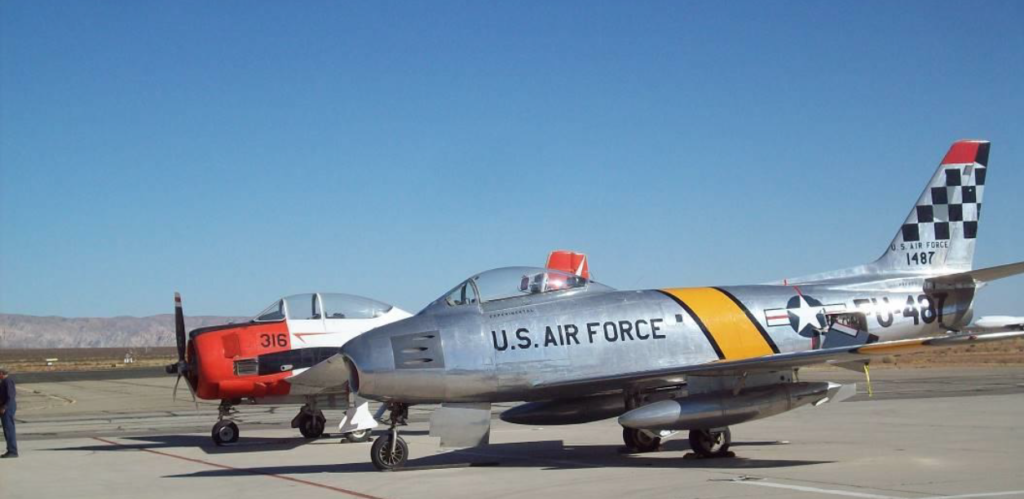 Many local aircraft were rolled out for display too. Al Hansen's Canadair Mk VI – F-86 Sabre and North American T-28 Trojan were on the ramp.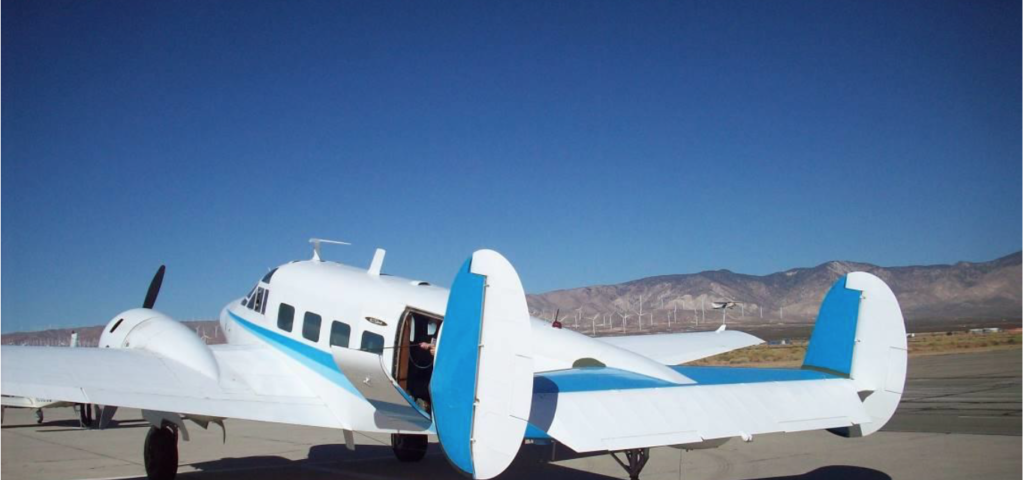 One of the real show-stoppers was Phil and Barbara Schultz with their immaculate Twin Beech 18! When Phil taxi's in, everyone stops and says, 'Wow! Look at that!'
I especially like the sound of the two Pratt & Whitney R-985 radial engines. Always makes me smile.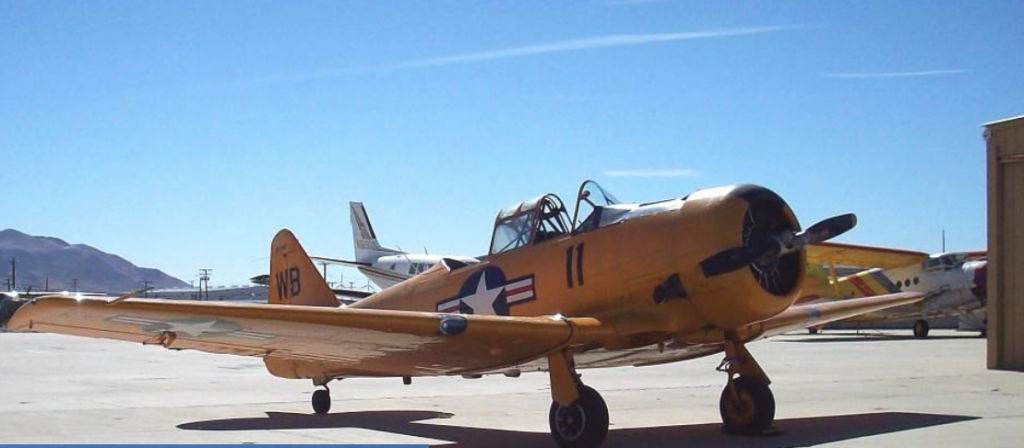 Another beauty on the ramp was a T-6 Texan owned by Greg Morris, Gauntlet Aviation of Chicago, Ill.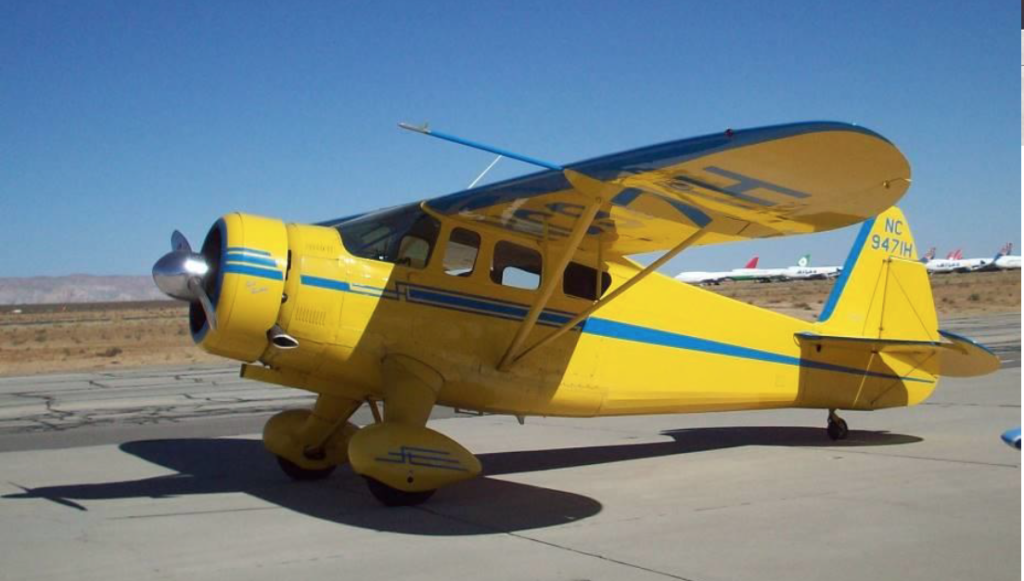 Oh, and another show-stopper is owned by Phil and Barbara's son, Todd Schultz. Check this out! A beautifully restored Howard DGA!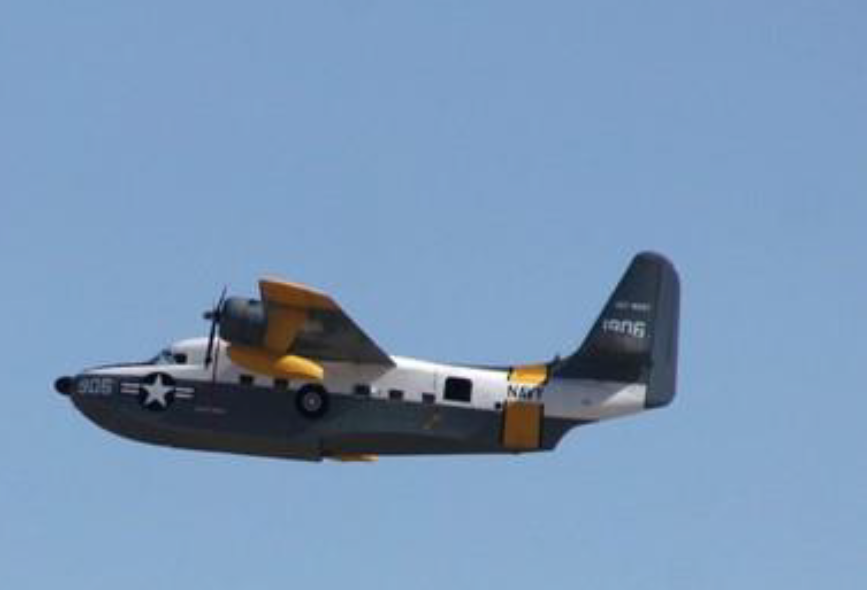 A Grumman Albatross HU-16 took off during Plane Crazy and was thunderous. The two Wright R-1820 radial engines made a lot of noise! It was wonderful! This aircraft flew in from Chicago for the National Test Pilot School. The owner/pilot described an Albatross as a Harley with wings!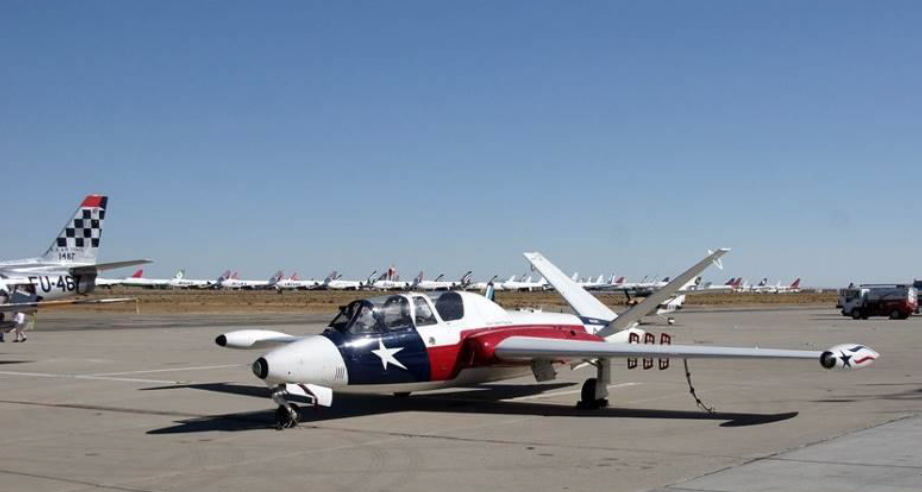 The red, white and blue Fouga Magister CM-170 on the ramp belongs to Greg Morris who will be using it for flight training at the USAF Test Pilot School.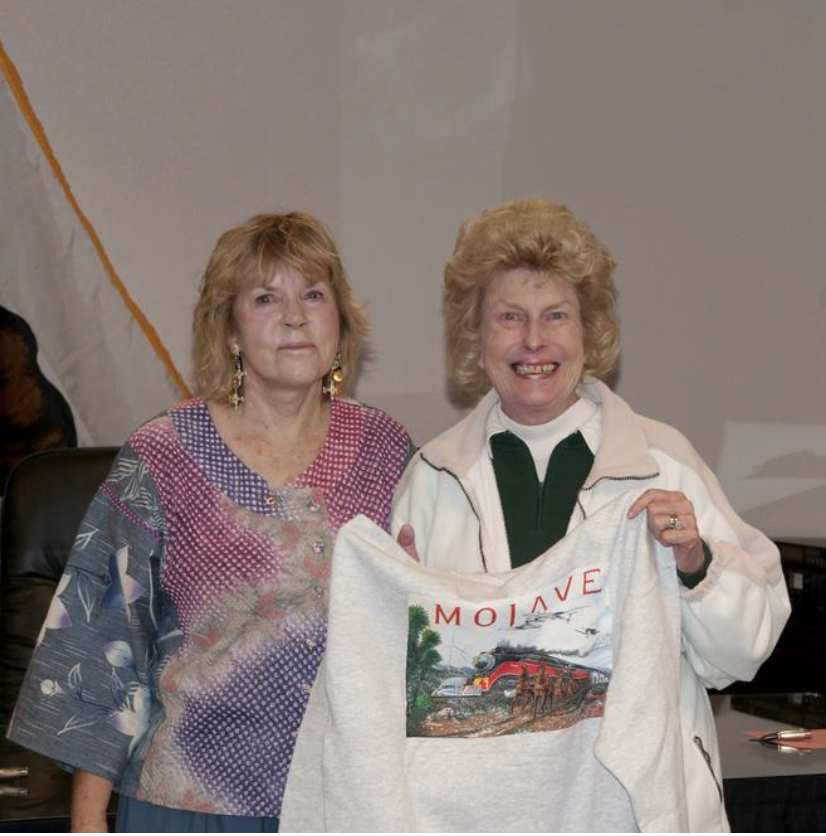 Barbara Schultz gave an interesting talk on how Amelia Earhart financed her flying by endorsing products for companies.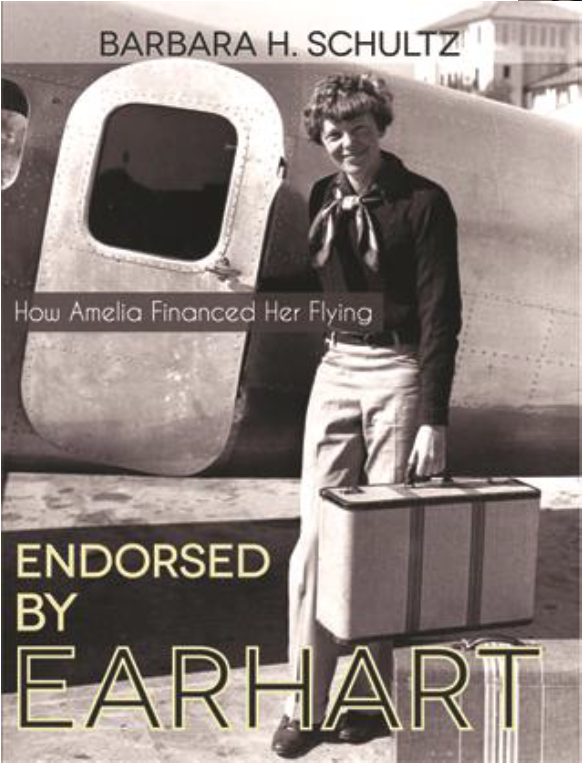 Earhart was a pioneer in celebrity endorsements.
Thank you Barbara! If you missed the program, you can still purchase the book online or at Barnes & Noble books stores.
---
Thank you to our sponsors!
Voyager Restaurant – Mojave  |  Kieffe & Sons Ford – Mojave/Rosamond  |  Thom Lapworth  |  Karl's Hardware – Mojave/Rosamond/Boron  |  Mariah Country Inn & Suites – Mojave  |  Mission Bank – Mojave  |  Rosamond News – Rosamond  |  The Loop Community Newspaper
SaveSave