Celebrating the 35th Anniversary of the epic flight of VOYAGER around the world non-stop and unrefueled!
---
When: Saturday, December 18, 2021
Where: Mojave Air and Space Port – 1434 Flight Line, Mojave CA 93501
10 AM to 2 PM
Free Aircraft Display
Guest Speakers, Luncheon and Silent Auction
Talk, Luncheon & Raffle – $35.00 at Stuart O. Witt Event Center
SEATING LIMITED
If you plan to pay at the door, please BE SURE TO RSVP via email or call for more info: 661-824-2481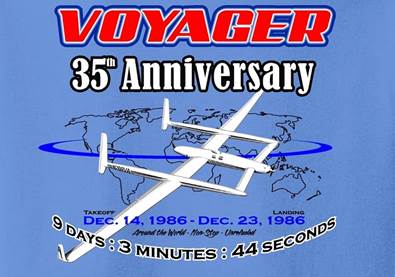 Honoring Burt Rutan, Dick Rutan, Jeanna Yeager, Crew Chief Bruce Evans and Voyager Volunteers. (Confirmed attendees: Burt Rutan, Dick Rutan, Bruce Evans and Mike & Sally Mellvil)
INVITE YOUR FRIENDS!
Catered Luncheon in Witt Event Center @ 12 Noon
Silent Auction with special Voyager and Rutan Collectables
commemorative T-Shirts will be on sale!
$35.00 per person
[ecwid_product id="421550207″ display="title price qty addtobag" version="2″ show_border="1″ show_price_on_button="1″ center_align="0″]
[ecwid_product id="425413758″ display="title price qty addtobag" version="2″ show_border="1″ show_price_on_button="1″ center_align="0″]