Dan Kreigh
June 17, 2023
10am – 2pm
Talk begins at 11am ($2 donation)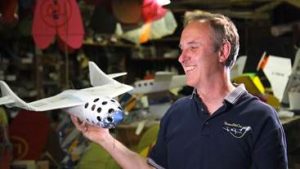 "Where is My @#$%& Flying Car?!!"
Dan Kreigh has worked as an engineer at Scaled Composites for over 30 years, has been a pilot for 30 years, and a model builder his whole life.
At Scaled, Dan has been a structural analyst and R/C test pilot, and has analyzed the structures of numerous different types of flying, composite aircraft. This is due to Scaled's amazing record of producing an average of one new flying aircraft type per year.
Dan's most notable project was being structural lead for Burt Rutan's SpaceShipOne, the first privately funded, manned spacecraft that won the Ansari X-Prize in 2004. SpaceShipOne now proudly hangs in the Smithsonian National Air and Space Museum, and a replica also hangs in the EAA Aviation Museum. There is also a replica in Legacy Park at Mojave Air & Spaceport at "Rutan Field."
Dan has worked on the Stratolaunch program, several other in-works Scaled projects, and Sierra Technical Services' 5GAT (5th Generation Arial Target).
In his free time, Dan has been constructing his dream project of a 190 mph, 2-place, roadable aircraft.
Talk begins at 11:00 a.m. in MASP Board Room (enter through the Voyager Restaurant)
Seating limited and RSVP required to attend talk.
Please RSVP: cathy@mojavemuseum.org or 661.342.0604

Donation for talk $2.00
Can't join us in person? Log in via Zoom.
DAY OF INFO
PLEASE NO SMOKING AND NO DOGS OR OTHER ANIMALS ON THE FLIGHT LINE
General Car Parking at Voyager Restaurant (1434 Flight Line # 58, Mojave, CA 93501)
Transient Parking Area – By Old Tower
KMHV – TWR 127.6 WX AWOS-3 (132.225) (661.824.5218)  |  Ground 123.9 Joshua Approach 133.65
www.airnav.com/airport/KMHV or www.mojaveairport.com
Thank you to our sponsors!
Voyager Restaurant (Mojave)  |  Comfort Inn & Suites (Mojave) |  Golden Queen Mining   |  Thom Lapworth  |  Karl's Hardware (Mojave/Rosamond/Boron)  |  Scaled Composites  |  Mission Bank (Mojave)  |  Rosamond News   |  The Loop Community Newspaper  |  Civ-Mil Support Group  |  Mojave Air & Space Port