The Mojave Experimental Fly-In was held April 20-21, 2018!! Beautiful weather greeted pilots and visitors. Flour Bombing Contest Friday was on April 20th, the Indoor Fly-In Friday night and the Awards Banquet was held on Saturday evening with Zach Reeder speaking.
Thank you to the many volunteers who made this event a success! Scott Glaser, Rich Aldrich, Bob Waldmiller, Zach Reeder, Brian Bin, Steve Rushford, Sally Kendall, Rebecca Reeder, Ursula Finkbeiner, Bill Deaver and the MASP staff and Carl Ingram in the tower!
QUICK LINKS:
2018 Mojave Experimental Fly-In Winners
Best Overall–Mike Patey, Lancair Legacy Turbine Turbulence
Best Design–Mike Patey, Lancair Legacy Turbine Turbulence
Best Build–Bruce Hill, Van's RV-9A
Best Effort–Scott Liefeld, Pietenpol Air Camper
Best Test–Andrew Angelotti, Articulating Air Data Boom
---
Scott Glaser gave a safety brief before the Flour Bombing contest and after two 2-pound bags of flour were distributed to the bombardiers, we moved to the flightline.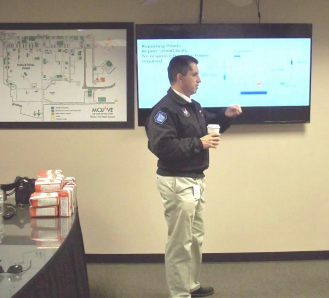 Owner-pilot Todd Erickson brought his 12-year-old son Micah to be his bombardier, in their 1981 homebuilt Stits SA3B. Todd helped his father built this aircraft and was able to do his solo flight in it when he was 16. Micah's older brother soloed in this same aircraft when he was 16 and Micah only has four years to go and he plans on following in his Dad's and big brother's footsteps, by soloing in the family plane when he turns 16. The family that flies together – stays together! I think that sounds right!
One other aircraft participated in Friday's Flour Bombing – Craig Spirko brought his 2013 Sling and world famous aerobatic pilot, Chuck Coleman, served as bombardier!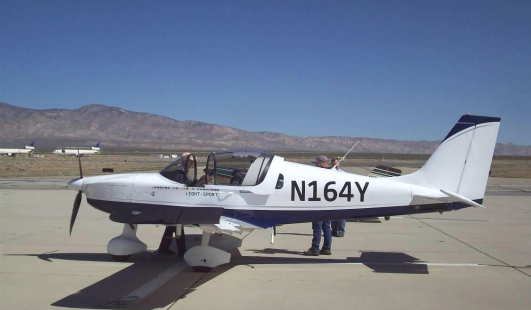 Todd & Micah Erickson; Chuck Coleman and Craig Spirko pose by the Rotax powered Sling.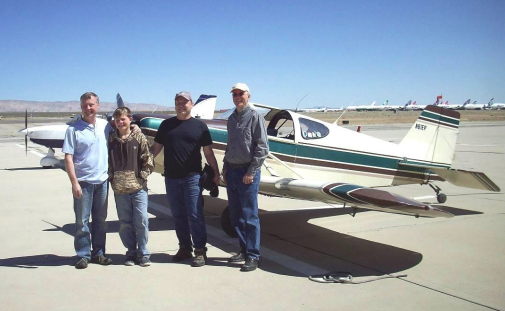 Such a lovely day, but only two entries in the contest. Next year hopefully will see more participants!
Friday night in the Stuart Witt Event Center was awesome! Brian Min and the Tehachapi Crosswind RC Model Club did an outstanding job with the 4th Annual Indoor Fly-In!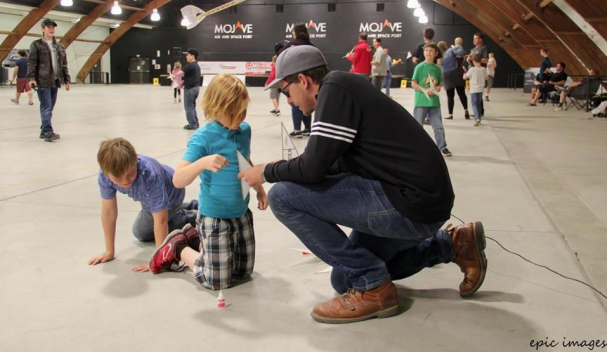 Brubaker Models had super laser cut balsa wood models of ARES, Aero Vodochody L-29 Delfin and the classic Supermarine Spitfire!
We gratefully appreciate all of the sponsors for MEFI and the Indoor Fly-In!

South Street Digital enlarged and displayed many historic photos in the event center from the World War II years when Marine Corps Air Station Mojave was active. The event center is the old swimming pool building, where the Marines trained the pilots how to survive a water ditching and how to correctly escape a submerged aircraft. The base's 75 x 156-ft. swimming pool, the largest in the State of California at the time, was used for training as well as recreation.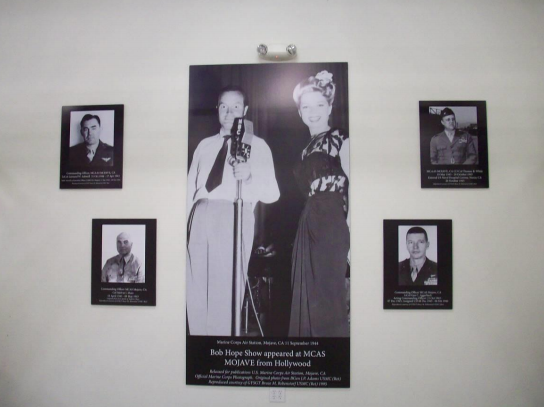 There was also a 900-seat auditorium that hosted several USO shows during the war including Bob Hope, Marilyn Maxwell, Frances Langford and others. On one wall of the event center, there is a giant photo of Bob Hope with Frances Langford, surrounded by photos of former MCAS Commanding Officers.
Thank you Scaled Composites for displaying ARES (Agile Responsive Effective Support) demonstrator aircraft.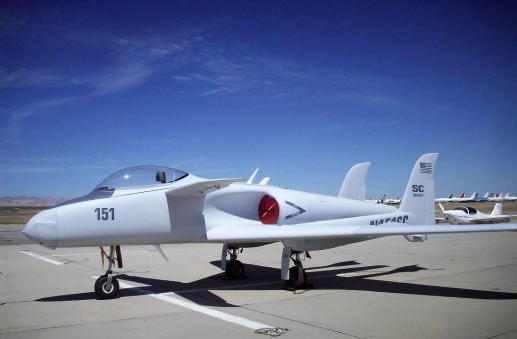 First flight of ARES was Feb. 16, 1990. ARES is a full-scale proof-of-concept demonstrator that was developed as a concept in support of a U.S. Army request for a Low Cost Battlefield Attack Aircraft (LCBAA). The LCBAA design goals were low-altitude, anti-tank, battlefield support with long endurance, and capable of operating outside of improved airfields environment. ARES is currently being used as a research test bed and is available for future projects.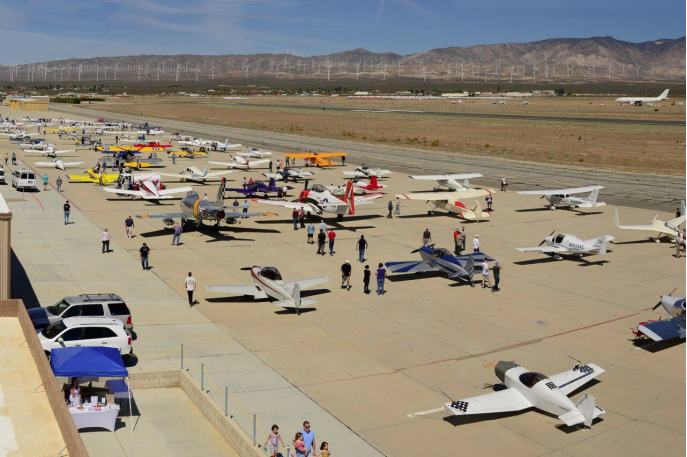 Nice view! Alan Radecki captured this photo on Saturday showing the flight line full of aircraft. Andrew Angelotti's KR-25 is at bottom right. Andrew received the trophy on Saturday night for Best Test for his Articulating Air data boom for calibration of self produced 5 hole and kiel probes.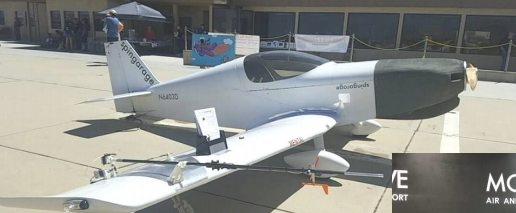 Andrew's KR-25 with Articulating Air Data Boom attached.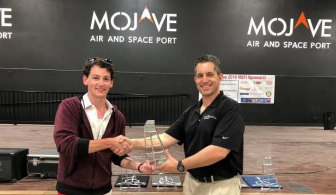 Scott Glaser presents Best Test Trophy to Andrew at Awards Banquet Saturday night.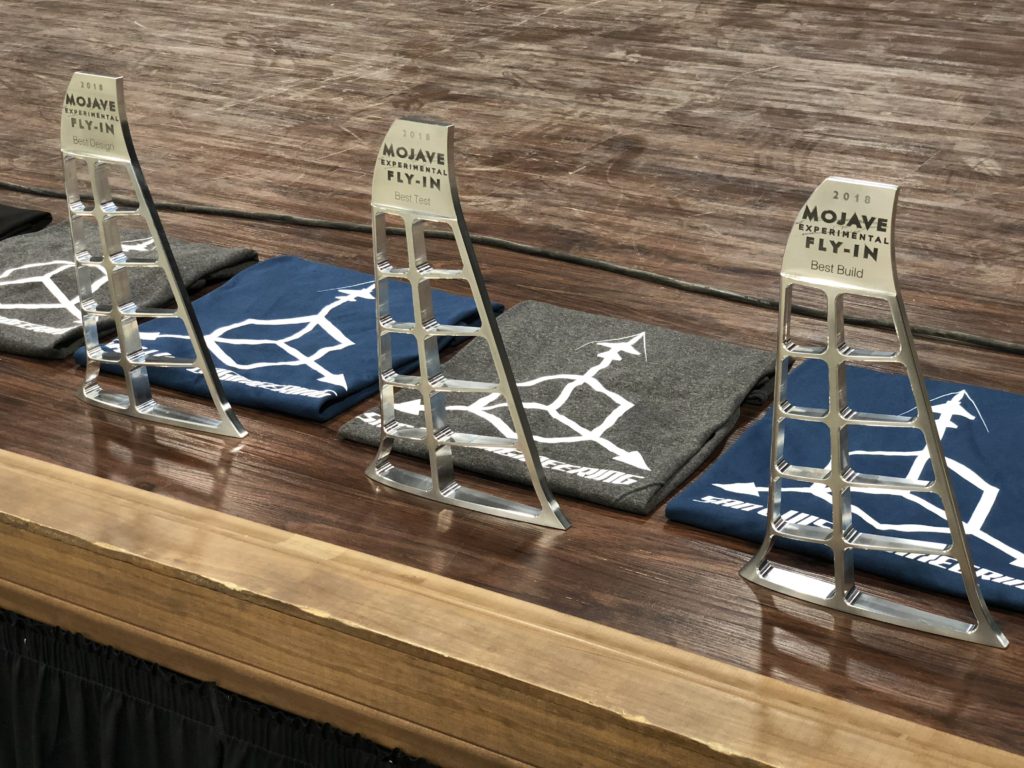 Beautifully machined trophies were made by San Luis Engineering and Tres Clemments delivered them in person, along with company T-shirts.
Trophies were awarded for Best Design; Best Build; Best Test; Best Effort and Best Overall.
No surprise when Mike Patey, owner-pilot of 'Turbulence,' the highly modified turboprop Legacy, walked away with Best Design and Best Overall!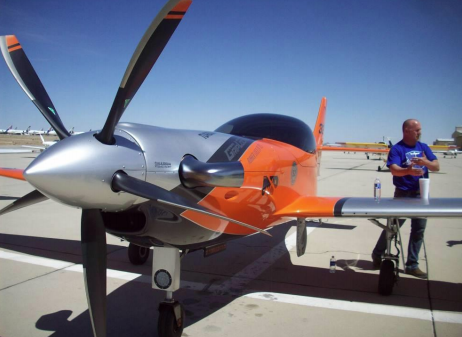 He absolutely stopped the show when he landed and taxied into parking at Plane Crazy. A crowd gathered before he even shut the engine down!
Showing the capabilities of Turbulence, Patey saw a parking space in a row that he had already passed, so he stopped, reversed the prop and backed up. You should have heard the crowd whooping it up! Nice display!
Thank you Zach Reeder for calling Mike Patey and telling him that we needed him and his beautiful airplane at MEFI! What an extraordinary man he is! Talented beyond belief and so willing to share all of his modifications with enthralling stories about why the modifications were necessary. Fabulous speaker. Kept people mesmerized on the flightline for nearly 45 minutes!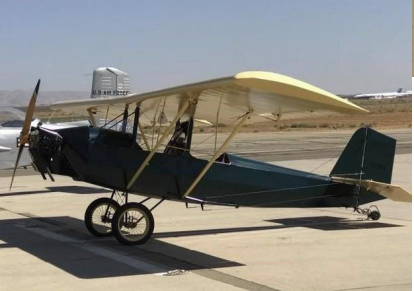 Best Effort Award went to Scott Liefeld of Lancaster with his 43 year Pietenpol project!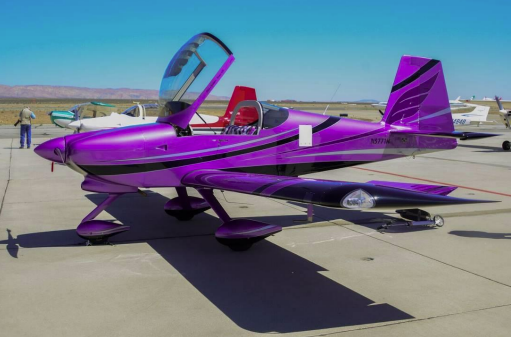 Best Build Award went to Bruce Hill and his fabulous purple Van's RV-9A from Ramona, CA. See website for more information on the project: https://www.overthehills.com/RV-9A-Project 
RV are the initials of designer and founder of Van's Aircraft, Richard Van Grunsven and the company Vice President and Chief Engineer, Rian Johnson, came to MEFI in this beautiful RV-10! Several other design engineers including our good friend, Rob Heap, came with Rian.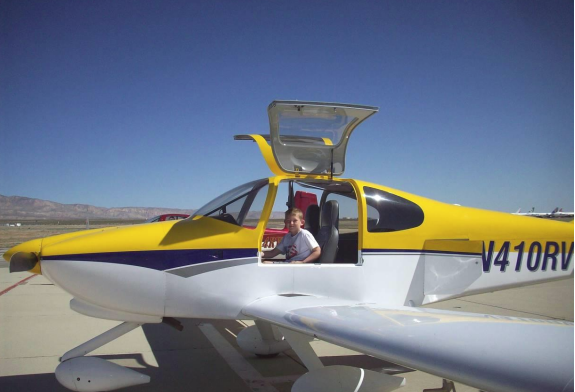 A future pilot is trying on the left seat for size!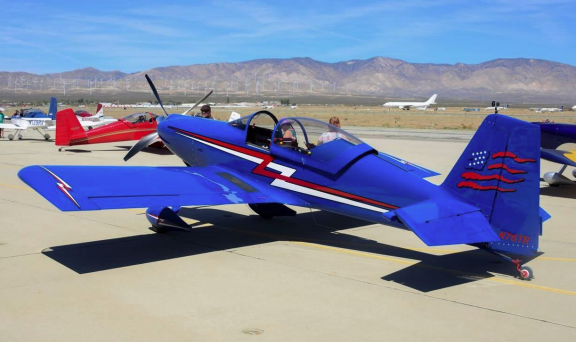 Thank you Alan Radecki for all of your super photos! Was great just to see you in person again! You are always so busy at work, we just don't get the opportunity to visit like we used to!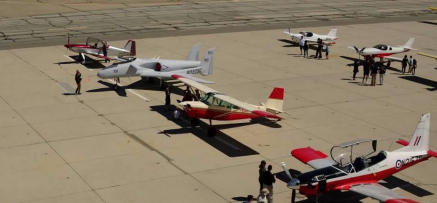 Another one of Alan's photos with a view from above the flightline. Great variety of aircraft! Thank you Flight Research, Inc. and Scaled Composites for displaying aircraft!
There were so many magnificent airplanes on the ramp that I became overwhelmed immediately!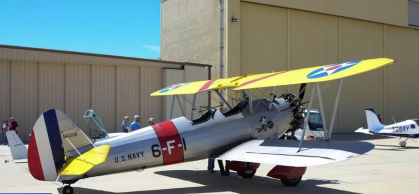 Thank you Dustin Mosher for showing us your new Stearman!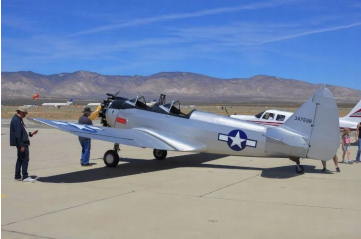 What's this? It's a PT-23 and it looks like Todd Schultz is the owner-pilot! Wow!
This is Carl Ingram's last MEFI. Carl works in the control tower and was on busy guy on Saturday! Carl will be moving to North Carolina in the next few months and we will miss him so much! Thanks Carl for all the years you have worked at Mojave Air & Spaceport! Job well done!
By the way – Carl reported that 344 aircraft came to MEFI and there were 16 locals. The aircraft were arriving and departing all day long!
Sally Kendall, Julia Pengilley, Steve Rushford and Bill Deaver were fabulous at the MTM promotions table! Thank you for your dedication and wonderful attention to helping people with shirts and posters! So sorry I didn't get a photo this time!
Thank you to Bill Norton for your detailed and informative presentation on Flight Testing during World War II.  Everyone learned something new about how flight test was handled during the 1940s.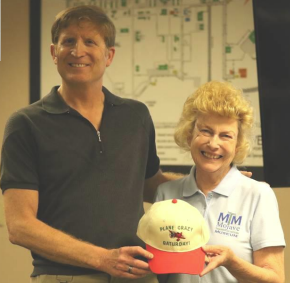 Also check out this great article about MEFI 2018 in Kit Planes Magazine.
Thanks to Elliot Seguin for starting MEFI years ago and the event would not be possible without our partners:
---
SaveSave
SaveSave
SaveSave
SaveSave
SaveSave